Many sleepers out there use futons, whether as their primary bed, a way to conserve space, or something extra for the guest room. But finding the best futon mattress is no easy task. For one, it's a very specific type of mattress — needing to have a flexible structure that accommodates a futon bed frame. Fortunately, we've gone ahead and rounded up the best futon mattresses for your reading pleasure.
Before we begin, it's important to note that when we say the word "futon," we're mostly talking about Western-style futons, which often have slatted frames and can switch back and forth between being a bed and a sofa. That being said, we did include one traditional Japanese floor futon.
But enough with the introductions. Read on to decide which of these futons is the best fit for you!
Best Futon Mattresses – 2023
Because futons have to be flexible and fit into the unique design of a futon frame, they usually don't have all of the luxurious features found in some regular mattresses. But the Mozaic Trupedic manages to go the extra mile with its construction of CertiPUR-US Certified foam. Wrapped in cotton, the material is breathable and more environmentally friendly than standard types of foam. It should help you sleep cool while also offering a nice balance of comfort and support.
You can choose from a variety of visually soothing colors for the Mozaic Trupedic, including Dusty Blue, Camel Khaki, Dusk Blue, and Space Navy Blue. For care, simply spot-clean the cover with cold water and detergent.
Click here to get the best deal!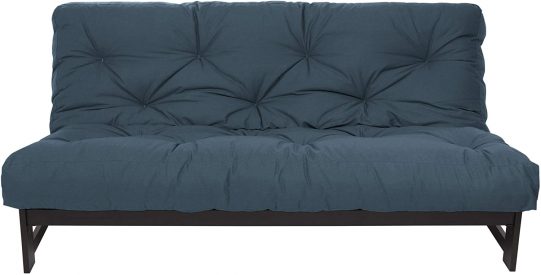 Made with CertiPUR-US Certified foam, this futon mattress is more environmentally friendly than many others and comes in a variety of colors.
You can use both sides of the Serta Sycamore, thanks to its strong core and sturdy made-in-the-USA construction. Two layers of finger foam, a layer of cloud foam, and two layers of the brand's proprietary cotton blend all work together to ensure that the mattress is durable yet comfortable. This is another bed where the foams are CertiPUR-US Certified, so you can literally rest assured that the mattress was made with both resilience and the environment in mind. For colors, choose from Brown, Khaki, Natural, and Black.
Click here to get the best deal!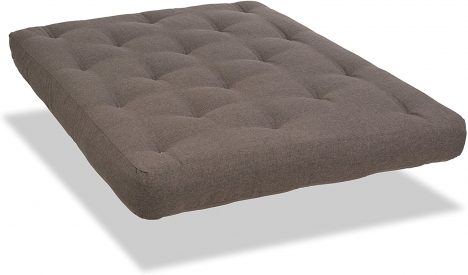 This futon mattress is made in the USA and has two sides, each anchored by a strong core. The versatility should appeal to many different sleepers.
Best Cheap Mattress – Mainstays
If you're looking for a futon design that's classic and simple, look no further than this tufted black mattress from Mainstays. Built with a sturdy polyester cover and cotton core, it rises and collapses easily with a standard futon frame. You can nab one from many different vendors for a value price, including Amazon, where it's currently available for under $200. Size-wise, its dimensions are 75" x 54" x 6".
Click here to get the best deal!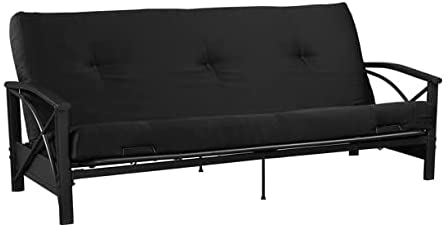 A classic, simple design, the Mainstays futon mattress is sold at an extremely affordable price. 
Best Mattress for Side Sleepers – Kodiak
Due to their simplicity, it's often difficult to recommend futon mattresses for specific sleeping positions. But the Kodiak isn't just any futon — it's built with a combination of coils and flexible CertiPUR-US Certified foams that make it a fantastic fit for side sleepers. Both the coils (13-gauge Bonnell, to be exact) and the foams conform to your body to offer pressure relief at the shoulders and hips. And because the foams are high-density and made in the USA, there's also enough support here for other positions such as back-sleeping. At the time of this writeup, the Kodiak was only available in Navy, but be sure to keep a lookout for other colors.
Click here to get the best deal!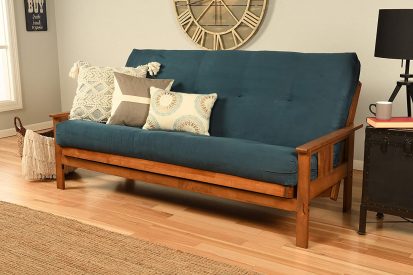 This futon mattress stands out for its hybrid construction of both foam and coils. This gives it a great balance of comfort and support that side sleepers should love.
The D&D Rolling Futon Mattress is a traditional Japanese floor futon, which means that it doesn't need any kind of frame. Simply unroll it on the ground and get to resting on its resilient foam, covered on all sides by cotton and fiber batting. But just because it's portable doesn't mean that it's not spacious. This mattress measures 3" x 60" 80" — the same size as a Queen bed. You'll have plenty of room to spread out without even having to assemble a futon frame.
Fun fact: the traditional Japanese floor futon is actually the original type of futon, dating back all the way to the 1800s. The more contemporary Western-style futons that most of us know today didn't pop up until the late 20th century.
Click here to get the best deal!
D&D Rolling Futon Mattress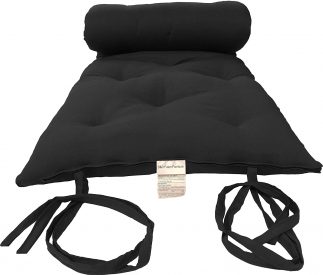 D&D Rolling Futon Mattress
A throwback to the traditional Japanese futons of old, the D&D Rolling Futon Mattress can be spread out on the ground without a bed frame. 
Who Should Buy a Futon Mattress
Budget Shoppers
Regular mattresses can cost upwards of $1,000 if you're looking for a truly great bed that's going to last a while. For many people, this price isn't ideal for their sleeping purposes. Futon mattresses — essentially an alternate version of the sofa bed — are often in the $150–$300 range and make an excellent and affordable alternative to other mattresses.
Related: Best Cheap & Affordable Mattresses
Those with a Smaller Space
Futons are fantastic for small apartments, college dorms, and just about any room requiring versatile and space-saving furniture. They're also multifunctional, so rather than having one giant couch and one giant mattress taking up all of the room in your apartment, why not have both in one?
Related: Best Twin Size Mattresses
Those Looking for a Great Guest Bed
There are a number of great futon mattress models that are incredibly comfortable and supportive, which are perfect for hosting. If you don't have the space for a guest room, futons can make things feel a bit more like home for your visitors.
Who Shouldn't Buy a Futon Mattress
Those Who Want a Bouncy Feel
The price difference between a futon and a regular mattress exists for a reason; unfortunately, you may not get all of the features and qualities you're looking for, or at least to the degree you'd like. Those searching for a responsive mattress and a bouncy feel should know that futons likely won't be able to deliver the same quality. However, if you want to come close, we suggest you purchase a futon mattress including springs.
Those Who Want Extreme Durability
Again, with a price this good, futons likely aren't going to last as long as a regular mattress. However, if you purchase a quality futon with good materials (especially a futon with springs), it could last you as long as some normal mattresses. To make sure your futon has a lengthy lifespan, we recommend taking time to care for your futon. This can mean airing it out once in a while, cleaning it properly, and flipping it over if advised.
Related: Best Mattresses That Won't Sag
How to Care for Your Futon
Above all else, we highly recommend you follow the manufacturer's instructions. Each mattress has a different construction, and therefore an ideal cleaning process. When in doubt, however, these are some tips that could be good to follow:
Vacuum.

After taking off any sheets or pillows, we recommend tackling larger dirt particles first with a vacuum cleaner. Using the hose attachment on the vacuum can make it easier to get into hard-to-reach areas.

Remove odors and stains.

Sprinkling baking soda over the futon mattress, letting it sit, and then vacuuming once more can help with any smells. Spot-cleaning by dabbing mild laundry detergent over the stain and washing it with a little bit of warm water can help remove stains.

Wash.

You can steam clean the mattress in many cases, and this is a great eco-friendly method for disinfection.

Dry.

It's best to let a mattress air-dry, but if you want to speed up the process, you can use a fan or two to assist. Mattress covers, on the other hand, are often machine-washable. Again, it does depend on how delicate the material is.
General Mattress Guidelines
Firmness
The industry scale for firmness is between 1 (super-soft) and 10 (super-firm), with a medium-firm mattress falling at a 6.5/10. Depending on your personal preferences, your body type, and your sleeping position, there's an ideal firmness for you somewhere in this range.
Related: Mattress Firmness Guide
Sleep Position
Back-sleeping, side-sleeping, and stomach-sleeping are the three most common sleep positions. Combination-sleeping is popular as well, which involves a person switching positions throughout the night.
The general rule is that side sleepers need a softer mattress, stomach sleepers need a firmer one, and back sleepers need something in between. Combination sleepers prefer a mattress with a bit of bounce for mobility.
Related: Sleeping Positions Guide
Body Type
Your body type is so important to keep in mind when making a mattress purchase. For instance, a great mattress for a lightweight sleeper won't be a great mattress for a heavier sleeper. Lightweight sleepers are going to need a softer surface so they're able to get enough contouring, whereas heavier sleepers will need a firmer mattress for additional support. Even a lightweight side sleeper might need a different mattress than a lightweight stomach sleeper.
Related: How to Choose a Mattress
Materials
Each mattress model has its own special construction. Some use a lot of foam, others use a lot of springs, and so on. There is no best material when it comes down to it, because again, it's all about your individual needs and preferences. Here are some of the most common materials used in mattresses:
Foam.

With new technology and variations such as poly foam, gel-infused foam, and memory foam, there's a foam for everyone out there! Most mattresses have at least some foam included, but all-foam mattresses utilize both cushy comfort foams and high-density support foams. We recommend memory foam mattresses for those looking for great pressure relief, but you should look elsewhere for a super bouncy and durable mattress.

Innerspring.

These mattresses are what you'll likely think of as traditional mattresses. The construction consists primarily of strong coils and a thin layer of foam for added comfort. As a result, this is a highly supportive, durable, and responsive mattress.

Hybrid.

If you like what you hear about the foam mattress and the innerspring, then we highly recommend checking out a hybrid mattress. This takes some of the best qualities from each construction and creates a balanced feel. It's truly the best of both worlds.

Latex.

Looking for an all-natural, long-lasting mattress? Latex constructions are likely going to be the best fit. Not only that, these mattresses boast some incredible cooling features, making them fantastic for hot sleepers.
Related: Mattress and Bedding Materials
Shopping Online
Online shopping offers a seemingly endless amount of mattress options to choose from, and this can be incredible…or incredibly overwhelming. To help you on your mattress journey, we recommend taking our mattress quiz to determine your individual needs. Then, you can start utilizing our mattress reviews as well as our mattress roundups to narrow down your choices. And when you're finally ready to make that purchase, head on over to our coupons page, where you'll find many exclusive deals and discounts from your favorite brands.
Related: Best Online Mattresses
FAQ
What size is a futon mattress?
Futon mattresses are typically the same size as regular mattresses: 60" x 80" for a Queen, 76" x 80" for a King, and so on. The uniqueness of a futon mattress comes more from its construction, which allows the bed to easily fold in the middle and adapt to a convertible wooden or metal frame.
How thick should a futon mattress be?
The ideal thickness for a futon mattress is between 6" and 8". If you're someone who prefers a cushier mattress with more material (and in some cases, more pressure relief), you'll want to opt for 8".
Do futon mattresses have springs?
Most of them don't, as it's harder to collapse and open up a mattress that contains springs. However, some futon mattresses — such as the Kodiak — have incorporated flexible coils into the construction in order to give the bed more comfort and support. As relaxing as this type of futon can be, know that it's likely going to cost more than a traditional futon mattress without springs.
How long does a futon mattress usually last?
A good futon mattress should last between five and seven years — maybe longer if it's in a guest room and isn't used all that often. And just like regular mattresses, beds with coils in their construction will probably last longer than those made entirely of foam.
Can you use a regular mattress on a futon frame?
No. The mattress needs to be able to fold up without compromising its structure, and standard mattresses aren't equipped to do that. However, a futon mattress can work on a normal bed frame — just not the other way around.
Dan Caffrey
Dan is a Performance Editor and Certified Sleep Coach at Sleepopolis, where he writes and edits mattress roundups to give readers the most up-to-date information on sleep products. In 2020, Dan earned his MFA In Playwriting from UT Austin, and his plays have been seen around the country in Chicago, Austin, Washington D.C., and elsewhere. He's also a pop-culture fanatic, having written for publications such as The A.V. Club, Consequence, Pitchfork, and Vox. He co-hosts two popular horror podcasts on the Bloody Disgusting Podcast Network — The Losers' Club: A Stephen King Podcast and Halloweenies: A Horror Franchise Podcast. When he's not catching up on the latest King novel, you can find Dan in and around Brooklyn walking his dog Hank, seeing a play with his wife, and going to way too many concerts.