For reading in bed, gaming, or simply sitting comfortably, it's tough to beat a backrest pillow. Featuring a firm back support and typically armrests, sometimes with added neck support components, backrest pillows are a great option to up your lounging game while simultaneously addressing issues with back pain or posture.
Our breakdown of the best backrest pillows will look at a host of comfortable options. Let's see what made our list: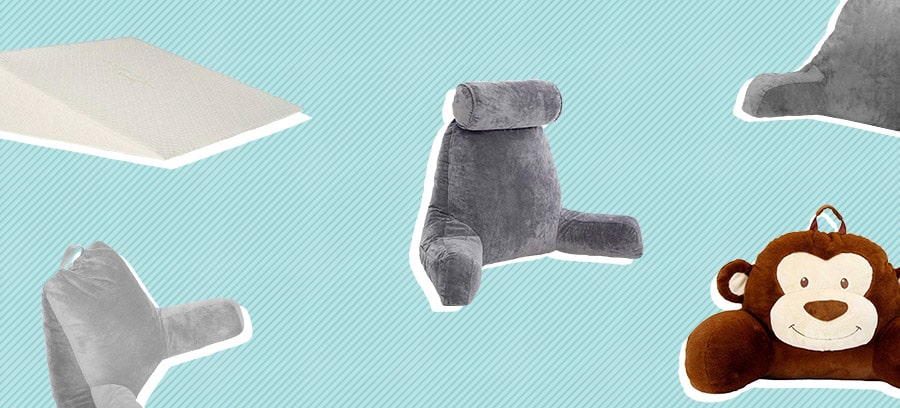 Editor's Pick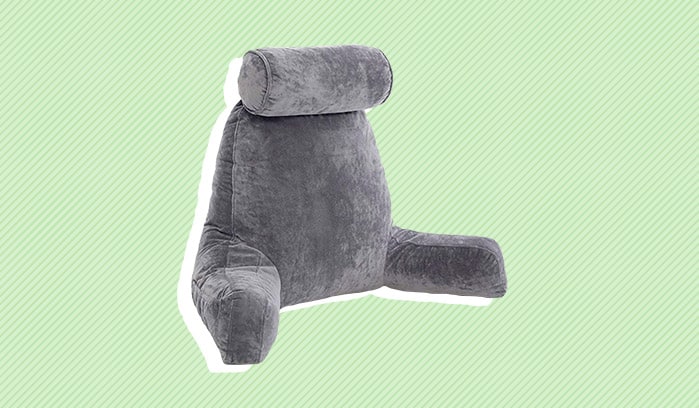 Husband Pillow Memory Foam Backrest Pillow
Pros:
The backrest pillow is stuffed with shredded memory foam, which provides great cushioning and support for sitting up in bed.
The washable microplush cover comes in 16 different colors (including some reversible options) so you can match it to your bedroom, or update it at any time for a change of pace.
Not only is this a great backrest pillow, but it features a removable neck roll pillow on a bungee for added neck support, and a pocket on the side for holding a phone or magazine.
Cons:
Because of the presence of memory foam in the pillow, there is a pretty intense, chemical smell when you first open the package; however it will dissipate after a short period of time.
Top Contender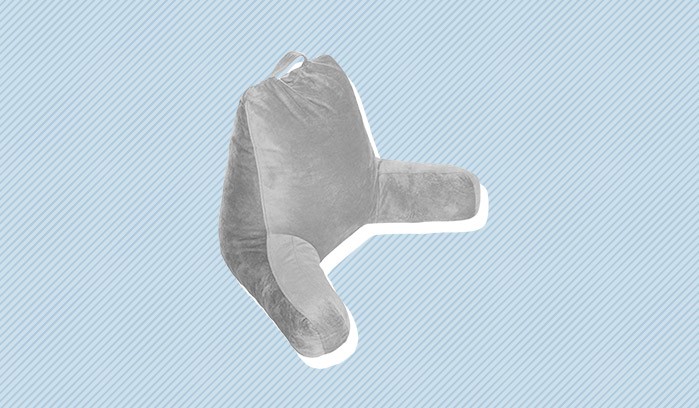 Milliard Reading Pillow
Pros:
The fact that the backrest pillow comes in three sizes is a great benefit, especially for those looking to get a pillow for a child or to outfit an entire family.
With a shredded memory foam interior and a plush velour cover, this backrest pillow really maximizes the cozy comfort you look for in a pillow.
Being able to access the shredded memory foam means you can customize firmness by adding or removing extra material.
Cons:
The pillow only comes in a light gray color option, which is neutral enough, but being able to match a room or bedding with different color choices would be better.
Best Backrest Pillow With Added Neck Support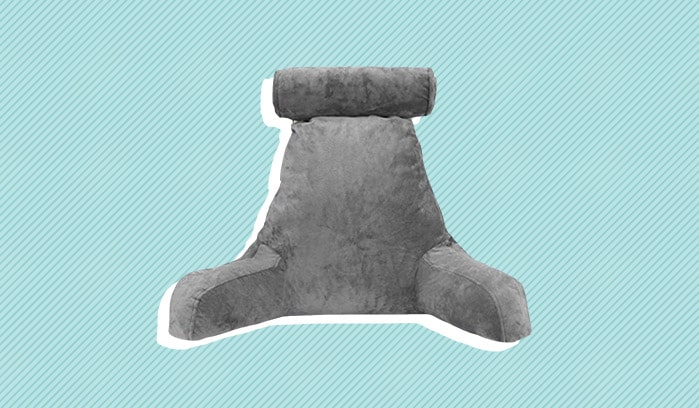 Springcoo Reading Pillow
Pros:
The included soft neck roll pillow can be removed or attached at different heights, which is great if the pillow has multiple users or if it's being used for lumbar support instead of as a neck pillow.
The pillow features pockets on each of the arms for storing a phone or television remote.
The shredded memory foam interior provides a great level of firmness for promoting good posture and addressing back pain.
Cons:
Because the neck roll pillow attaches on preset positions on the main backrest pillow, if the height isn't set perfectly for your needs, it may not provide perfect support.
Best Wedge-Style Backrest Pillow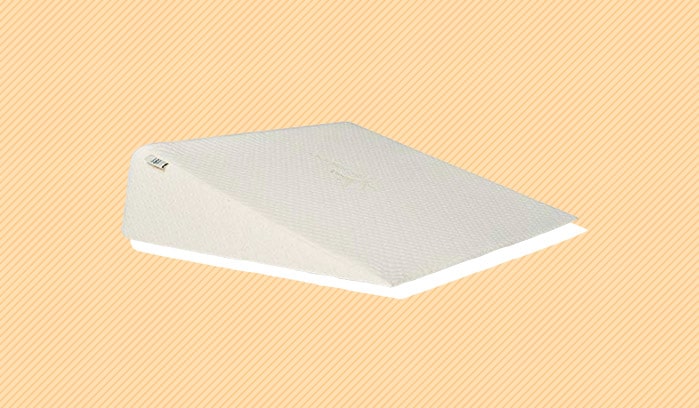 Brentwood Home Therapeutic Foam Wedge Pillow
Pros:
The wedge backrest pillow is made of a sturdy, CertiPUR-US-certified foam which provides firm support and is hypoallergenic for those with latex sensitivities.
The pillow features a soft, natural bamboo-fiber cover that can be removed and washed.
Not only can the pillow be used to provide comfortable sitting up in bed, but it can be used to elevate legs or prop up the back and head while laying on the floor watching TV.
Cons:
The pillow comes in three sizes, seven, ten, and 12 inch inclines, so be sure to measure the height you're looking for ahead of time to optimize the support you need.
Best Children's Backrest Pillow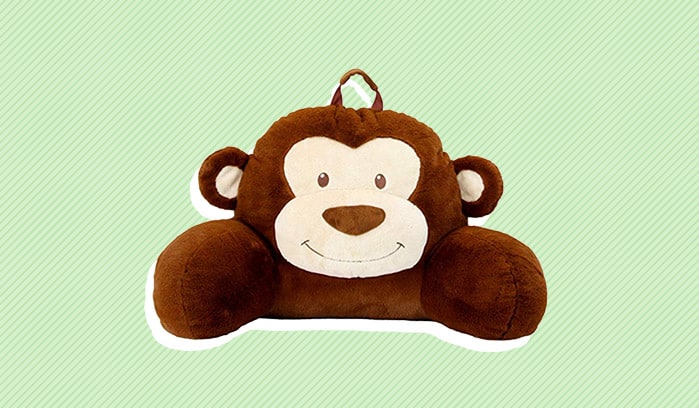 Animal Adventure Backrest Pillow
Pros:
The biggest pro here is the multitude and quality of the designs of these pillows. The ten character options are all fun and can be selected based on your child's unique interests.
The pillows are plush for children looking to snuggle up, but also firm enough to provide adequate support.
These pillows are a great size for children 18 months and older, and it's lightweight for easy portability.
Cons:
The pillow is certainly plush, but it's a little bit too light to be freestanding. You'll need to prop it up in a bed or on a couch for optimal use.
How We Picked the Best Backrest Pillows
Not all backrest pillows are created equal, and that's a good thing. Different people will have different needs when it comes to upright bed support, and as a result the backrest pillow market reflects these differing preferences. When it came to choosing the best backrest pillows, there were some criteria we considered most valuable:
Customization: There are a number of ways to make a backrest pillow better for your purposes, and one of them is the ability to control firmness. We put special weight into shredded memory foam-filled pillows that could have filling added or removed to control firmness.
Extra Support: Some backrest pillows feature additional supports for the neck, lower back, or arms. We liked pillows with these additional cushions, especially if they could be removed or adjusted to fit your exact preferences.
Color Options: Of course, this is a superficial consideration, but having the ability to select your backrest pillow color is important to matching it to your decor. We liked the pillows that came with some options to control the aesthetics.
Tips on Selecting the Right Backrest Pillow
Whether you want it for reading in bed, getting a little more comfy on the couch, or adding some extra back support for gaming, there is a backrest pillow out there for you. But everyone's needs are different, and pillow preference will vary by person. Generally though, there are some considerations you can make when selecting a backrest pillow:
Size and Height: One important thing to keep in mind when you're selecting a backrest pillow is height. Backrest pillows need to provide coverage of your entire back, so measuring the height of the space it's going to sit compared to the height of the pillow is important to ensure you're getting the support you need.
Is It Standalone?: Backrest pillows are by and large used on beds, couches, or propped up against another surface like a wall. If you're looking for a backrest pillow that can be used as a standalone piece of furniture, look into the weight of the pillows you're considering. A pillow with a significant weight or some kind of bottom grip option may be a better choice if you want a standalone pillow.
Recapping the Best Backrest Pillows
If you're like me, you're always trying to find reasons and enablers to help you read more. A backrest pillow is a great way to add comfort and support to your couch or bed to make reading an easier, comfier experience. Or, if you're using a backrest pillow for gaming or watching TV, that's fine too. We won't judge.