If you're on a mission to recreate your favorite hotel-sleep experience, you'll need the perfect pillow. To help you find the right one, I'm presenting my four favorite hotel pillows here in this guide. Plus, I'll impart my personal tips and tricks behind pillow shopping so you've got all the information you need to make the best buying decision.
Best Hotel Pillows of 2023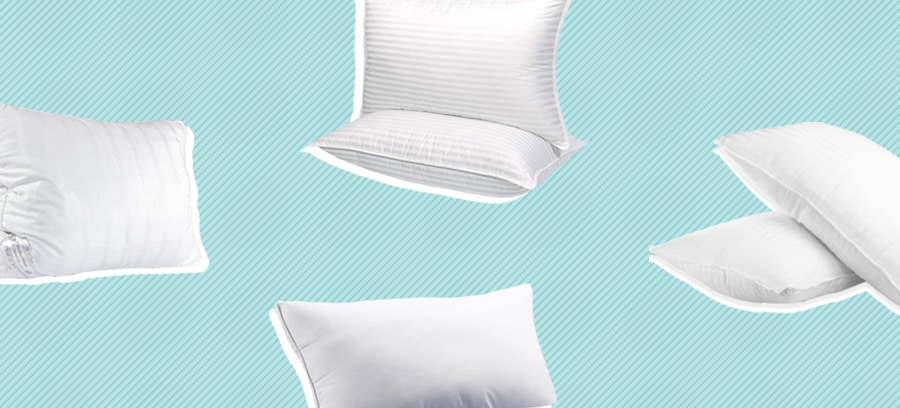 Best Plush-Feeling Pillow
Cozy Earth Silk Pillow
A Plush, Cooling Pillow
Covered in a 100 percent bamboo viscose outer cover and filled with 100 percent long-strand mulberry silk, The Cozy Earth Silk pillow is a very soft, luxurious pillow from the same brand whose sheets were called the "softest ever" by none other than Oprah Winfrey.
Pros
It has a low loft and is soft enough so that your head and neck sink right into the pillow when you sleep.
The pillow is moldable and has a similar feeling to a down pillow.
Stomach sleepers should love the plushness of this pillow since it won't force the neck upward when you lay on it.
Cons
Sleepers searching for an extra-firm feel probably won't enjoy how soft this pillow is.
This pillow is a luxury item and comes at a luxury price point.
Best Down Pillow
TEMPUR-Down Pillow
Great for Sleepers Looking for a Medium-Firm, Down Pillow
Tempur-Pedic is known for its famously comfortable TEMPUR Material foam, but with this pillow, the brand has stepped into new territory and created a down-filled pillow. The down is sewn into the cover, and at the core, you'll find medium-firm TEMPUR Material.
Pros
This pillow is designed for all sleeping positions: back, side, and stomach.

The TEMPUR Material in the core of the pillow adapts to your shape when you lay on it.

The cover of the pillow is removable and machine washable.
Cons
If you want a pillow with a filling that is all down, check out our reviews of the

best down pillows

.

If you don't love the pillow, Tempur-Pedic doesn't accept returns.
Best Cooling Pillow
Nest Easy Breather Pillow
A Cool Pillow, Great for Back and Side Sleepers
The Easy Breather is a shredded memory foam pillow that's adjustable, meaning you can add or remove fill to find the perfect loft. The best part? The Nest Easy Breather was specifically designed to keep hot sleepers from overheating during the night!
Pros
The Easy Breather's outer cover is made from Blended Adaptive Cooling Fabric, polyester, and spandex.

Back and side sleepers should really like that this pillow has a medium feel to it, and the adjustable loft is an added bonus!

It's a down-alternative pillow, which makes it a great option for anyone who wants the feel of down, but may have allergies or may want a vegan option.
Cons
Although the Easy Breather is a down-alternative pillow, it's not the most eco-friendly product from the company (check out our review of the natural version of this pillow).

The foam blend in this pillow has quite a different feel than down, so if you're looking for an alternative with a similar feel, this may not be the best fit.
Best for Combination Sleepers
Saatva Latex Pillow
A High-Quality Feel, With Great Support for Combination Sleepers
The Saatva Latex has all the luxuriousness and quality of a hotel pillow, but gives way more support. The Saatva is a down-alternative pillow, and the materials are great for sleepers who sleep on their backs or sides, or who change positions throughout the night.
Pros
The pillow's core has two layers: a down alternative outer layer made of microdenier fibers, and a shredded Talalay latex inner layer.

The shredded latex in this pillow makes it a great option for keeping the pillow temperature-neutral and avoiding overheating.

The pillow is medium firm, which is great for combination sleepers.
Cons
This pillow isn't the best option for shoppers on a budget.

Though this pillow has a shredded fill in its core, it's not adjustable.
Best Microfiber Pillow
Lagoon Chinchilla Pillow
An Ultra-Soft Microfiber Option
The Lagoon Chinchilla is the brand's "ultra-soft" pillow model, and the brand claims it to be "the softest, and most light and airy pillow you'll ever experience." The adjustable pillow is made from 100 percent polyester down-alternative fibers, with an outer cover that's made from a bamboo and polyester blend.
Pros
The pillow has a bamboo and cotton inner liner, which you can sleep on alone, even without the outer cover.

Bamboo is a material that is known for its cooling benefits, so this may be a great pillow if you sleep hot.

All of Lagoon's products are sustainable, eco-friendly, and made with safe materials.
Cons
If you prefer a firm-feeling pillow, this option probably won't suit your sleeping needs. You can take a look at our reviews of the best firm pillows instead.
How We Picked
Okay, sleepers, now that you've seen my top four picks, let's talk about the methodology behind my choices. While a lot comes down to personal preference, there are some key factors to consider when you're shopping for the perfect hotel pillow.
Sleeping Position
When you're trying to find the best pillow, the first thing to consider is your go-to sleeping position. Obviously, sleep is something we all do differently, and each position requires a different level of loft and firmness in order to promote healthy posture. So, let's take a look at what each sleeping position requires below:
Side Sleeping – Side sleepers should search for a pillow that has a firmer feel and lofty profile. A pillow with a loft (height) of four inches or higher will hold the head in neutral alignment with the spine, while relieving pressure at the shoulder and hips as well. Plus, a firmer level of support will prevent the head from sinking down throughout the night.
Back Sleeping – Back sleepers are generally most compatible with a medium level of loft and firmness, but have some room to experiment with that feels best. Just remember that neutral spine alignment is your pillow's most important job! So, if you feel your head being craned upwards, there's a good chance you need a slightly softer and lower-lofted pillow.
Stomach Sleeping – Stomach sleepers need a soft, low-lofted pillow in order to maintain neutral spine alignment and prevent the neck from being strained. Ideally, a stomach sleeper pillow will be soft enough to compress into a loft of two inches deep or less. Not only will this alleviate back and neck pain, but it can relieve pressure in the lower abdomen as well.
Once you've found the loft and firmness that best suit your preferred sleeping position, you're ready to focus on the material details.
Materials
Pillows come in a wide variety of materials, from memory foam and latex to feathers and wool. But in the world of hotel pillows, down and down alternatives are the most popular! So, let's examine each one in order to point you in the direction:
Down – Down pillows are widely considered to be the most luxurious because of their exceptionally fluffy, cloud-like feel. They're filled with goose or duck down, or a combination of both. Luxury hotels frequently use real down pillows because of their feathery feel and high quality, but it's important to note that shopping for down pillows can be pretty pricey. That's why many sleepers turn to a down alternative!
Down Alternative – Down-alternative pillows are filled with synthetic materials that are engineered to mimic the feel of real feathers. They're often ideal for sleepers on a budget or those with allergies, as down-alternative pillows are hypoallergenic and tend to be considerably less expensive than real down. Plus, they're much easier to wash as compared to real down.
As you can see, both options bring their own set of perks and pitfalls to the table. So take some time to consider your sleep priorities and determine which might be the best fit for you. Once you've settled on the internal fill, you can focus on cover fabric.
In general, hotel pillows are covered in cotton because of its soft feel and great breathability. That said, you might find cover fabrics made from polyester or bamboo, both of which are naturally moisture-wicking materials. So when you're shopping, be sure to pay attention to all the details in order to pick the cover fabric and internal fill that's best for you.
Sizing
Hotel pillows are typically offered in standard or king sizes, the dimensions for which are listed by each bedding brand. Oftentimes, a standard size equates to a queen size, but be sure to note the specific measurements in order to get the best sense of its length, width, and depth.
Additionally, don't feel compelled to get the pillow size that matches your mattress size. Just because you sleep on a queen size mattress doesn't mean you can't opt for the luxurious king pillow! After all, hotel pillows are all about comfortable sleep luxury.
Finally, make sure that the size you choose corresponds with the pillowcase you have (or intend to purchase). If you opt for the king size pillow, make sure you have a king pillowcase to match. For the best hotel aesthetic, your pillowcase should fit snugly, and not gap in the corners.
Wash Care
As I mentioned earlier, there are two main types of hotel pillows, and one is much easier to wash. In general, down alternative pillows can be washed and dried by machine, while real down pillows have to be spot cleaned or sent to the dry cleaners. So, when you're shopping, take some time to consider how important easy wash care is to you.
If you don't think you'll have the time and/or money to dry clean your pillow every time it gets dirty, you might be best suited to a down-alternative pillow that can be washed and dried right at home. If, however, you're more concerned with feel and support and have your heart set on real down, don't let wash care deter you! In fact, I'll list spot-cleaning instructions below for those who want to avoid dry cleaning:
To spot clean your down pillow, use a damp cloth and mild detergent.
Be careful not to get your down pillow too wet. Use a small amount of detergent and spot clean one area at a time.
Wipe your pillow down with a fresh damp cloth.
Allow your pillow to air dry completely before dressing it with a pillowcase.
Spot cleaning isn't quite as easy as tossing your pillow into the washing machine, but it can be just as effective. Just be sure to follow the exact care instructions as given by the manufacturer itself in order to properly wash and dry your pillow.
Pricing
Hotel pillows can cost anywhere from $20 to $200 depending on the materials used. Down-alternative pillows tend to be the most cost effective, but they can also be less durable as compared to real down. Meanwhile, down pillows are often quite expensive, but can last a very long time. So, take some time to consider your personal budget along with your sleep needs before you start shopping.
Additionally, be sure to make note of each brand's return policy, as each one is different. For example, some brands offer full refunds on products that have been personally tested, while others will only issue a refund for unused products in their original packaging. So remember to check the exact terms of each retailer's return policy before you make your purchase.
Sleepopolis Buying Tips
Well, folks, we're nearing the end of my guide and you're one step closer to picking the perfect hotel pillow. But before you start shopping, let's recap some helpful tips:
OEKO-TEX Certification – Sleepers with sensitive skin should look for the OEKO-TEX certification, as this seal guarantees that no harsh dyes, insecticides, or chemicals were used in the manufacturing process.
Gel Infusion – Down alternative hotel pillows are often infused with a gel that can serve to regulate body temperature. If you're a hot sleeper, you might want to keep an eye out for gel infusions!
Trial Period – Be sure to take advantage of a brand's trial period whenever it's offered, as personally testing a pillow can be a great way to decide if it's really worth the money.
Final Thoughts
Now that you're all experts on hotel pillows and you've seen my personal favorites, you're ready to find the one that's best for your sleep needs. Just be sure to keep a close eye on loft, firmness, and all the material details that appeal to your unique needs. Happy shopping! Check out our best hotel mattress picks as well!
Sarah Riccio
Sarah is the former senior writer and bedding expert at Sleepopolis. She received her degree in Creative Writing from Brooklyn College and spends her free time doing stand-up, making pasta, and hanging with her cats.