With tens of millions of people in the United States alone suffering from obstructive sleep apnea (OSA), it's arisen as one of the most prevalent and debilitating sleep disorders of the modern era. Thankfully, with CPAP, BiPAP, APAP machines, and the host of doctor-recommended accessories designed to treat OSA, there are multiple ways to manage this disorder.
That said, even though there are treatment options available, they can be uncomfortable and tough to adjust to. These machines can be made much more comfortable when paired with the proper pillow, which can help position your head in a way that can make the hardware on your head less obstructive. Or, if you suffer from more mild forms of OSA, the right pillow can help manage your disorder without the use of machines, though as always, your doctor is the best person to make that decision and should always be consulted before simply relying on a pillow.
If you suffer from OSA, here are some of our favorite sleep apnea pillows on the market that can potentially help you regain a bit of comfort while you sleep.
Best Pillows for Sleep Apnea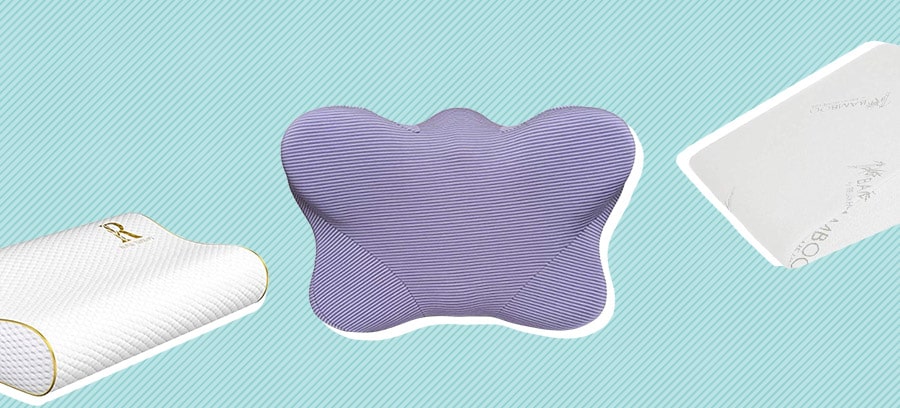 Pros
Its fill is adjustable, so you can remove or add it until the pillow is just the right height for your breathing to be clear (a plus for sleep apnea).
The fill is made of shredded memory foam and polyester, leaving plenty of room for air to flow through the pillow. This also makes breathing easier.
The cover is removable and washable, making cleaning a breeze.
Cons
Starting at $120, this pillow is a bit pricey.
Pros:
The pillow is ergonomically designed for side sleepers to provide support and cushioning for the neck.

The recessed contour design is made to accommodate CPAP machine tubes without them getting twisted during the night.

The zippered, removable pillow cover can be removed and washed for convenient cleaning.
Cons:
Size-wise, the pillow is a little smaller than other cervical pillows, which makes it a great option as a travel pillow but might be a bit small for a larger user.
Pros:
The pillow's 7.5-inch height wedge structure elevates the torso which is designed to help with issues relating to acid reflux, snoring, and similar symptoms associated with sleep apnea.

The bamboo cover can be removed and washed, and the pillow's 40% bamboo, 60% polyester material is breathable and hypoallergenic.

The pillow has a 1.5-inch memory foam layer, which provides cushion and comfort on top of its more durable interior structure.
Cons:
The pillow can be used in conjunction with other everyday neck and head pillows, which is to say this wedge-style design may not be a nightly pillow replacement.
Pros:
The main draw here is the pillow's adjustable height; remove its internal memory foam layer to select the ideal height to fit your comfort level.

Made of 100% rayon sourced from bamboo, this pillow is hypoallergenic and breathable.

The pillow features a soft, breathable bamboo fabric cover which is easy on the skin and easily washable.
Cons:
While the pillow isn't specifically designed for CPAP machines or specific apnea relief, its adjustable height makes it a great option for configuring your pillow to accommodate your comfort.
How We Selected the Best Sleep Apnea Pillow
Dealing with OSA and the symptoms associated with it can be nerve-racking; not to be too dramatic, but it could be a life or death issue. It's always important to consult a doctor to make sure you're doing everything medically advisable to treat your condition. That said, when you have the necessary tools you need to treat OSA, you can still be left with a world of discomfort throughout the night. The right pillow can not only help provide comfort and support, but it can work in tandem with your OSA treatments to allow them to work to the best of their abilities. Here are some of the considerations we made when selecting the best sleep apnea pillows.
CPAP Considerations
CPAP, BiPAP, and APAP machines are often used to treat sleep apnea. But when they're used with everyday pillows they can potentially lose some of their efficacy; masks can slip off, cords can get tangled, or tubes can get smashed in soft, pliable pillows. When selecting the best sleep apnea pillows, we looked for those that offered some sort of consideration to the needs of CPAP users, through some sort of contours designed to accommodate tubes, or other design distinctions made with machines in mind.
Related: Everything You Need to Know About CPAP Machines
Firmness and Comfort
Sleeping when you have symptoms of OSA can present its own sets of challenges, especially for side sleepers. We took into consideration pillows with firm builds and ergonomic designs made to cradle the head and neck while providing ample support. Having too much give or softness in a pillow could mean that tubes in CPAP machines can be twisted, or it can put added pressure on a mask, which can cause it to lose tension. While firmness was important, we also wanted our select pillows to have some softness and give to encourage comfort as well as support.
Safety and Sensitivity
The last thing you want to add to a sleep disorder is extra problems. If you have skin sensitivities or allergies, a pillow that further restricts your airflow can be an unnecessary complication. We tended to favor pillows with more natural fabrics or hypoallergenic covers, as well as covers that could be removed and washed to ensure safety.
Tips for Picking the Best Sleep Apnea Pillow
Everyone has their own preference when it comes to the best pillow for their needs, and no matter your preference, there is a pillow out there made to meet those needs. Having sleep apnea can cause your priorities to shift, however. If you're required to use a CPAP machine, you might find that you have started to favor more sturdy pillows where before you may have enjoyed more plush options. It's important to try out sleeping on different types of pillows and assess what works best to ensure the efficacy of your device as well as maximize your comfort. Here are some tips when choosing the right sleep apnea pillow for you:
Pillow Height: There are a number of sizes to sleep apnea pillows, from more slim designs to thicker wedge style pillows. Thicker pillows can work to help with some symptoms associated with sleep apnea such as snoring or acid reflux. When you're selecting a pillow, consider what not only feels best for your comfort, but also what helps address your symptoms.
The Type of Sleeper You Are: Are you a side sleeper, a back sleeper, or a stomach sleeper? If you have a definite preference, make sure the pillow you're selecting is designed with that style in mind. There are pillows specifically designed to meet the needs of every style of sleeper, so make sure you're reading descriptions carefully to ensure it's the right pillow type for comfort.
Recapping the Best Sleep Apnea Pillows
Pillows made to aid in the treatment of sleep apnea aren't going to be a one-size-fits-all solution, and they're certainly not going to cure symptoms of OSA. They can be a great tool to help you get more comfortable, however, and finding the right pillow can make it so living with the disorder is a lot more manageable. If you find the right sleep apnea pillow, what turns out to be your new normal may not be such an uncomfortable experience.
FAQs
Do sleep apnea pillows really work?
If you find the right sleep apnea pillow that fits with your style of sleep, it can increase your comfort level and potentially assist in keeping your airways open throughout the night. Some sleep apnea pillows can also be more effective when used with CPAP machines, because they can help keep tubes untangled and help prevent masks from losing pressure compared to common pillows.
What pillow is good for sleep apnea?
There are a number of styles of pillow that can help with sleep apnea. Wedge style pillows can be a great option, because the incline can help open the airway through gravity which can reduce the instances of apnea events. Beyond that, companies like EnduriMed design pillows to be used specifically in conjunction with CPAP machines.
Does sleeping with head elevated help sleep apnea?
Sleeping with a head elevated through the use of adjustable beds or wedge pillows can help with sleep apnea in some cases by opening the airway through gravity. Elevating the head can also help with snoring, which in turn can help reduce apnea events.