The Leesa and Yogabed mattresses are two of the most popular bed-in-a-box options on the market today! And while I consider both of them to be high-quality models built with major comfort in mind, they do endear themselves to different kinds of sleepers. So, which one is right for you? Well you'll just have to read on to find out! 
In this comparison, we're going to cover these beds' similarities and differences, dissect their constructions, and close things out with my expert recommendations for who might like them most. 
Sound like a plan? Then keep scrolling for my full Leesa vs Yogabed mattress comparison. If you're short on time, feel free to skip right down to my review summary at the end of this page. 
Summer Sale! Up to $400 Off Mattresses!

Leesa Mattress

Great for Back Sleepers
Sleeps Cool

Free Shipping!

Yogabed Mattress

Sleeps cool
Good for combo sleepers
Leesa vs Yogabed: Similarities and Differences
Though these mattresses might appear identical on the surface (after all, they're both built of foam), they actually have pretty unique vibes. So, let's dig into the things that bring them together and the ones that set them apart! 
Main Similarities
As mentioned above,

both of these mattresses are built with foam

, so they'll have a slightly softer feel than beds made of springs or pocketed coils. 

The Leesa and Yogabed feature layers of

memory foam underneath bouncier layers of response foam

. This establishes a balanced vibe that could work well for combo sleepers. 

For that reason, I'd say that both of these beds were designed with

pressure relief and support

in mind. 

Both the Leesa and Yogabed are affordable, and have about the same price point.
Main Differences
In my opinion, the

Leesa is slightly firmer than the Yogabed

, so it could be a better fit for strict

back sleepers

.

On the other hand, the softness of the Yogabed could endear it to

side sleepers

or those who like to switch positions in the night. 

Additionally, I found that the Yogabed has overall better

motion transfer

than the Leesa, which means it could be a better fit for couples. 
Which is Better for you?
Though we'll be exploring this question throughout this comparison, let's quickly go over a few of my recommendations before we really get the ball rolling. Depending on your height, weight, and preferred sleeping position, one of these mattresses is likely to suit your needs better than the other.
If you're a

back sleeper

, I think you might enjoy the Leesa mattress. It's a firm mattress with a supportive feel that could do a lot to alleviate tension at the hips and lower back. 

If you

sleep with a partner

and need a mattress that will absorb motion as you both toss and turn, the Yogabed might be the one for you. 

If you're looking for

bounce

, I'd recommend checking out the Leesa. It's slightly more buoyant than the Yogabed mattress. 

If you're a side sleeper, I'd opt for the Yogabed, which offers some nice pressure relief at pressure points at the hips and shoulders while side sleeping.
Summer Sale! Up to $400 Off Mattresses!

Leesa Mattress

Great for Back Sleepers
Sleeps Cool

Free Shipping!

Yogabed Mattress

Sleeps cool
Good for combo sleepers
What do These Mattresses Feel Like?

Now that we've gotten the briefest of introductions out of the way, let's get to know these mattresses on a more intimate level. Below, I'm going to give you a rundown of how these beds feel by discussing all the different factors that impact a bed's vibe. That's right, we're going to talk firmness, pressure relief, cooling, support, and much, much more! 
But before we do, I want to acknowledge that a bed's feel is always going to be subjective and can change a lot depending on one's body size, shape, and weight. So, my interpretation of these mattresses may very well differ from your own! 
Leesa
In my opinion, the Leesa mattress gets a 7/10 on the firmness scale. When compared to the industry standard of 6.5 for medium firmness, it's clear this bed is slightly firmer than medium-firm.
This firmness level is a little surprising, because when you first lie down on the Leesa, you'll likely feel it as quite soft. After a moment, you'll begin to sink into the layers of breathable foam and memory foam, which should bring some nice pressure relief to your shoulders, hips, and lower back. I experienced about 1 – 1.5 inches of sinkage as I rolled around into different positions, though of course this measure could change for you depending on your weight. After I "settled" into the bed, I began to experience how responsive the mattress is. I never felt stuck or trapped in the mattress and actually found it super easy to move around and change positions. 
And that, my friends, is why the bed gets a 7/10 for me. Overall, I think the most impressive feature of the mattress is how supportive it is! No matter the position, I felt as though my hips were lifted out of the structure and set in alignment with my shoulders, which is the key for healthy and restorative slumber. In fact, I never once felt as though the mattress was struggling to support me. This could be a major plus for folks who deal with chronic issues like arthritis or hip pain. 
In terms of cooling, I thought the Leesa was excellent. Memory foam has a slight reputation for trapping and absorbing body heat, but Leesa manages to curb this issue by placing its memory foam under a layer of breathable foam. This helps to dissipate body heat evenly throughout the structure instead of concentrating it around the sleeper. This breathable layer of foam is also really bouncy, which brings some nice mobility to the party. Combination sleepers could be particularly well-suited to this buoyant structure!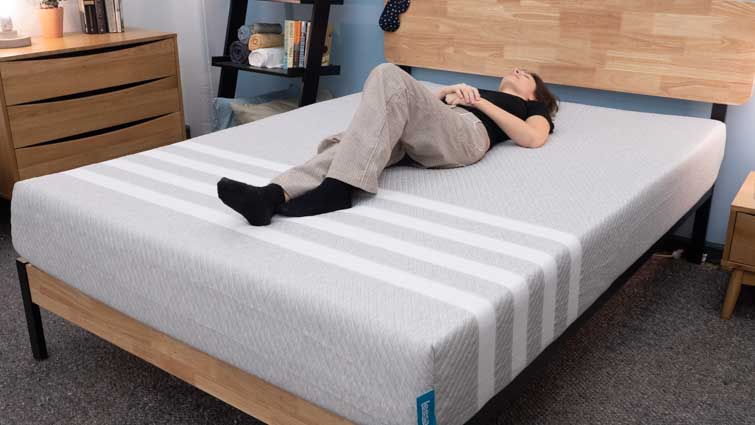 Yogabed
After rolling around on the Yogabed, I decided to give it a 6.5/10 on the firmness scale. As discussed above, this syncs it up perfectly with the industry standard for medium firmness! 
As we saw with the Leesa mattress, you may experience the Yogabed as a pretty soft structure when you first hop aboard. I initially experienced somewhere between 1 – 1.5 inches of sinkage into this mattress, though, again, this could change depending on your unique size, shape, and weight. But once I settled into the bed, I found that the firm support of the interior layers helped to even out some of this sinkage, establishing a balanced vibe from shoulder to hip. When I use the term "balanced," I'm really just referring to the bed's ability to provide both pressure relief and support without one overwhelming the other. 
In my opinion, this is one of the most noticeable differences between the Leesa and Yogabed mattresses. While the Leesa is resoundedly bouncy and supportive, the Yogabed takes an overall more gentle approach to its support. It's not as responsive, so could be a good fit for folks who want to feel cuddled by their mattress (I'm thinking side sleepers here). Back sleepers could also find a lot to love in how the top layers of foam both fill in the space at the lumbar region and lift the hips in alignment with the rest of the spine. Stomach sleepers, on the other hand, may find the structure too soft for their needs. 
In terms of cooling, I didn't experience anything exceptional here. I didn't feel hot when I was lying on the Yogabed, but I also didn't feel as though the mattress was actively cooling me down. If you're someone who needs some major thermo-regulating properties, you may want to stick with the Leesa, which is the better cooling mattress. 
I did, however, think the Yogabed shined with its motion transfer results. This could be a fantastic thing for sleepers who share their bed with a partner, animal, or child as it suggests that you won't be too disturbed by your bed mate's movements in the night.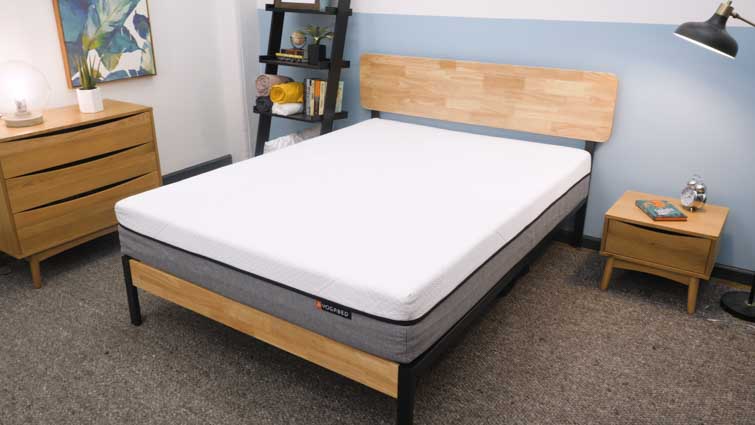 Summer Sale! Up to $400 Off Mattresses!

Leesa Mattress

Great for Back Sleepers
Sleeps Cool

Free Shipping!

Yogabed Mattress

Sleeps cool
Good for combo sleepers
Pricing
Of course, your choice may very well come down to price. So, let's get a handle on how much these mattresses cost. Check out the breakdown by size below.
Price listed will be before discount or offer for each size.
| Size | Leesa | Yogabed |
| --- | --- | --- |
| Twin | $799 | $599 |
| Twin XL | $849 | $599 |
| Full | $999 | $849 |
| Queen | $1,099 | $999 |
| King | $1,299 | $1,099 |
| California King | $1,299 | $1,099 |
What Are These Mattresses Made Of? 
To understand these mattresses from the inside out, let's take a moment to dissect their respective constructions. I'll provide a brief overview of their builds below, but would also encourage you to check out my full mattress review of both the Leesa and Yogabed. 
Leesa
Cover – The Leesa has a soft and breathable grey twill cover, which provides some immediate comfort as you stretch out on the bed. 
Comfort Layer – The first layer you'll encounter is a two-inch section of the brand's breathable foam. This perforated material has a quick response to pressure, which quickly establishes a lively and buoyant vibe. I personally didn't have any issues moving around and changing positions, so I think combo sleepers could find a lot to love in this mattress. And, as the name suggests, this material is very, very breathable, which helps to keep the temperatures low at night. It helps mitigate the heat trapping tendencies you tend to get in a memory foam mattress.
Recover Layer – Up next, you'll find a memory foam layer. This material has a slow response to pressure, providing ample space for folks to sink in for pressure relief at the shoulders, hips, and lower back. But, because it's placed beneath a bouncier top layer, this sinkage isn't too overwhelming. Therefore, it's kind of like a best of both worlds scenario –  you'll get the cozy comfort and contouring of memory foam without feeling totally swallowed by it. Another bonus? Though memory foam is known for trapping body heat (as I mentioned earlier), its position underneath the breathable layer helps to all but mitigate this issue. 
Foundation Layer – And finally, we arrive at the foundational layer, made up here of six inches of high-density poly foam. This firm material gives the bed its shape and stability, working to establish an overall supportive vibe.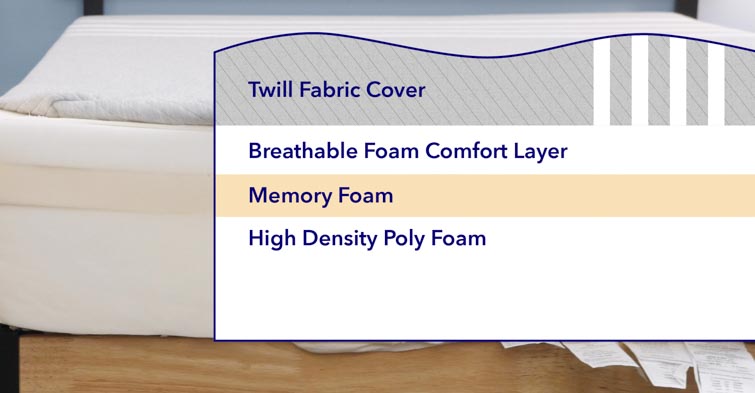 Yogabed
Cover – The Yogabed mattress cover is made from a cotton polyester blend that's thin and breathable. Therefore, it works to draw heat away from the sleeper. 
Comfort Layer – Underneath the cover, you'll arrive at a layer of Yoga Instant Response foam, the brand's proprietary foam. This material has a quick response to pressure, so while it does allow for a bit of sinkage, it's bouncy enough to position the sleeper on top of the structure. This material is pretty similar to the breathable foam we saw in the top layer of the Leesa mattress. 
Pressure Relief Layer – Beneath this soft response foam lies a thick layer of Yogagel foam. This material has a much slower response to pressure than the one above it, working to extend the sinkage of the top layer deeper into the mattress. However, because it's positioned underneath a livelier layer, this sinkage shouldn't be too overwhelming for the average-sized sleeper. The cooling gel infusion here also helps make this foam sleep cooler than traditional memory foam. 
Support Layer – Up next, you'll spy a layer of high-density poly foam, which helps bring some firm support to the Yogabed. It also works to even out the softness of the top two layers, infusing the bed with the balanced feel we've been discussing throughout this comparison. 
Base Layer – The foundational layer is made of another section of high-density foam. This material provides the mattress with its shape, stability, and support.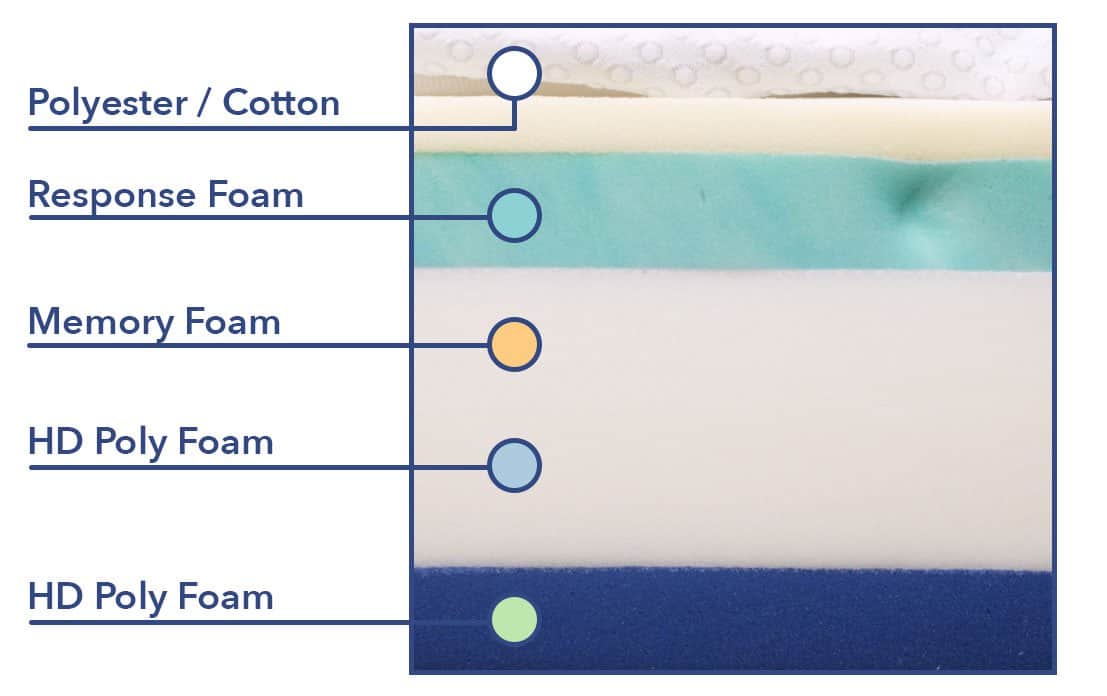 Leesa vs Yogabed: Best Qualities
We've arrived at the end of my Leesa vs Yogabed comparison! After checking out these online mattresses side by side, it's time to wrap things up with a few final recommendations from me to help you decide which is the best mattress for you. 
The Leesa mattress is going to work best for folks who like a little firm support. As we discussed above, this bed got a 7/10 on the firmness scale from me, which marks it as a solidly firm option. The top layer of breathable foam establishes a bouncy and supportive vibe that could be particularly well-suited to back sleepers and combo sleepers. I also like that it's such a fantastic cooling mattress, so I'd certainly recommend it for individuals who struggle with overheating at night. 
The Yogabed mattress could be a nice option for sleepers who want a gentle, balanced foam feel. If you need a bed that's going to be as pressure-relieving as it is supportive, this could be the one for you. Additionally, I think the low motion transfer results on this mattress could be a big plus for couples, as they indicate that you won't be too bothered by your partner's movements in the night. And as with the Leesa, the Yogabed sleeps pretty cool, though I'd still give the Leesa a slight edge in this department. 
Leesa Best Features
I think

back sleepers

are going to find a lot to love on the Leesa as it works to lift the hips in line with the lower back. 

The Leesa also sleeps quite cool

, which could make it a nice option for hot sleepers. 

I also like how

affordable

the Leesa is! Budget-savvy shoppers won't be disappointed with this price tag. 
Yogabed Best Features
The Yogabed's

balanced feel

is its most impressive feature and could work wonders for all different sorts of sleepers. 

I also really like its

low motion transfer

, which means movement isn't easily detected from one side of the bed to the other. 

Combo sleepers

could find that the bed's balanced vibe allows them to find comfort across multiple positions. 
Company Policies
Leesa Policies
Trial Period

– 100-night sleep trial
Shipping

– Ships free and arrives compressed in a box
Warranty

– 10-year warranty
Yogabed Policies
Trial Period

– 101-night sleep trial
Shipping

– Ships free and arrives compressed in a box
Warranty

– 10-year limited warranty 
Sleepopolis Customer Service Rating
At Sleepopolis, we rank a brand's customer service rating based on our personal interactions with the brand's customer service team. A brand can either be ranked as Stellar, Great, Satisfactory, or Poor. 
Leesa Sleepopolis Customer Service Rating
Stellar: They were quick to respond on both chat and phone and provided clear answers to all of my questions. Super personable and sweet! 
Yogabed Sleepopolis Customer Service Rating
Satisfactory: Yogabed doesn't have a live chat option on its site, which means reaching customer support is a little less convenient than it is with other brands. Still, you can send a message via the website or call them. 
More From Leesa and Yogabed
Though the Yogabed is the only mattress from its brand, Leesa actually sells a few different models other than the original all-foam Leesa. So, let's meet them below! 
Leesa Hybrid
The Leesa Hybrid is designed with both

innerspring coils and foam

, whereas the Leesa is only built with foam. Coils can tend to add some durability to the mattress and allow for more airflow.

But though you'd think this would make the Hybrid firmer, I actually found the Leesa Hybrid to be slightly softer than the original all-foam Leesa, marking it as a great option for

side sleepers

.

The Leesa Hybrid also has great

edge support

, which could be a big plus for heavier folks or couples. 

Read all about it at my

full Leesa Hybrid review

.
Leesa Legend
The Legend a

luxury hybrid mattress

made with high-quality materials, like organic cotton and merino wool.

For this reason, the Legend is

more expensive

than the original Leesa, so isn't the most budget-friendly option.

The Legend is also probably the softest mattress from Leesa, which makes it a great option for folks after a

super plush

vibe. 

For more, check out my full

Leesa Legend review.

 
Other Common Comparisons
Curious to see how these mattresses stack up against other popular brands on the market? Then check out these comparisons below! 
Leesa vs
Yogabed vs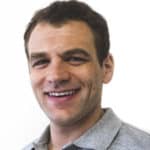 Logan is the content director of Sleepopolis, which means he not only reviews new mattresses every week, but also curates all the comparisons, best of pages, and video guides on the site. He takes a straightforward, honest approach to his reviews and endeavors to give viewers an objective look at each new product he tries out. Logan has perfected his method by personally testing over 200 different mattresses, so he's not only able to discern the overall vibe of a specific bed, but to contextualize its feel within the bed-in-a-box market as a whole. When he's not hopping on a new bed or working with our editorial team to whip up an engaging sleep education guide, you can find him reading books on world history, walking his dog Pepper, or searching for the best cheeseburger in New York City.