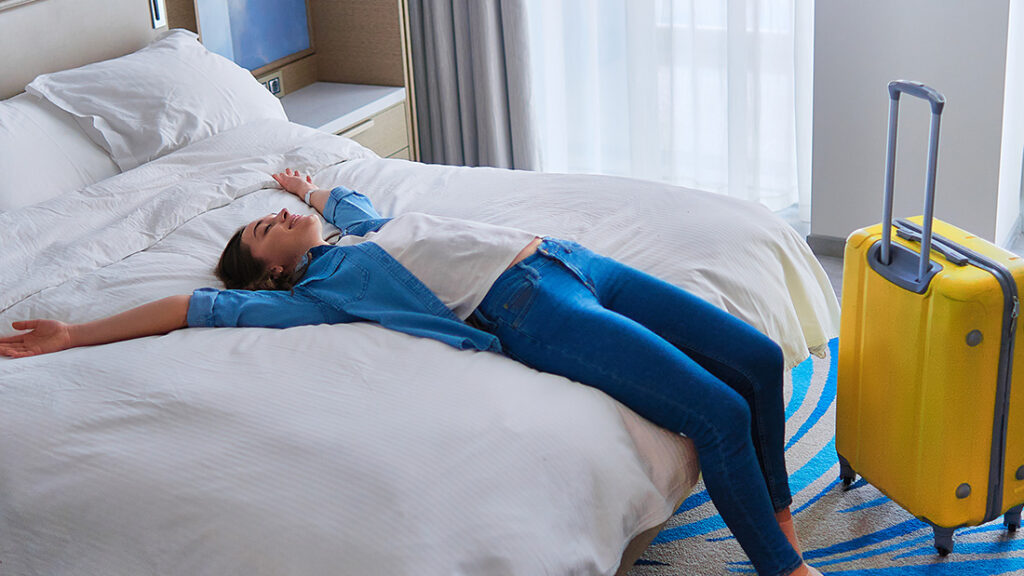 Before having a guest spend the night, you might want to think through all of the possible places they could sleep. A new viral TikTok gaining 26.3 million views humorously points out the differences in how two people accommodated their friends spending the night. 
Charlie Parkin posted the first TikTok, where she is getting her apartment ready for a friend to spend the weekend with her. Parkin can be seen converting a daybed into a full size bed, outfitted with a nice set of sheets, comforter, and all the pillows her guest could possibly need. (1)
TikTok user lexiegee123 stitched Parkin's video showing off the drastic difference between their guests' sleeping arrangements. Lexie's TikTok has her friend sound asleep inside of a dog cage, while her dog is sleeping on the couch right next to the cage. Don't worry though, her friend had a blanket to cozy up with. (2)
The comment section was quick to point out the humor in comparing the two videos. While there's no explanation for how Lexie's friend ended up sleeping in the dog cage, commenters speculated that the dog might have kicked the guest off of the couch, leaving him in the dog cage instead.
Despite the unlikely bed for the night, Lexie's guest looks quite content with multiple comments exclaiming how comfortable he looks and pointing out that he is "knocked out." (2)
Some comments even point out that the guest sleeping in the dog cage could have it worse, saying, "At least they got a blanket, didn't have to cover up with throw pillows off the couch." To which someone replied, "they should be grateful honestly." (2) 
These videos were made in good fun, but it does bring up a few questions. Where should your guests sleep and what should you provide to your overnight guests if you want to be a best-in-class host? 
The Basics of Having Overnight Guests
Having friends or family visit your home can be exciting and fun, but along with that come small — and sometime enormous — stresses. To help alleviate any anxieties, we talked with some experts about some things you can do to help you and your guest feel right at home. 
Martin Seeley, founder and CEO of Mattress Next Day, told Sleepopolis that if your home doesn't have a spare bedroom you can consider investing in alternatives such as an air mattress or comfortable sofa bed. 
Additionally, having a clean set of sheets, pillows, and blankets are essential for sleep. Seeley suggests providing additional blankets in case they get cold at night.
To break it down even further, Seeley gave us his dos and don'ts for having a guest spend the night. While you know your guests better than anyone, these tips can help make you a superb host.
Do provide pillows with differing levels of firmness.
Do communicate in advance any potential noise disturbances.
Do ensure privacy by providing a comfortable space for your guests.
Don't neglect to mention the morning routine in your home as well as any early commitments that may affect their sleep.
Don't forget to create a soothing atmosphere in the guest bedroom, if you have one.
Sources

Parkin, Charlie. charliecchloe on TikTok. July 29, 2023. https://www.tiktok.com/@charliecchloe/video/7261259440274312474?is_from_webapp=1&sender_device=pc&web_id=7143244303988459054.

Lexie. lexiegee123 on TikTok. August 12, 2023. https://www.tiktok.com/@lexiegee123/video/7266453377297468714?is_from_webapp=1&sender_device=pc&web_id=7143244303988459054.

Seeley, Martin. Personal Interview. August 2023.