In need of a temporary bedding solution? Then an air mattress may be the product for you! Though these beds sometimes get a bad rap for being uncomfortable and cheap, the best models are actually incredibly comfortable. And while they're not necessarily intended for long-term use, most air mattresses these days are designed to be as durable, cozy, and supportive as a traditional bed. But how do you separate the high-quality air mattresses from the not so great ones? Well, one way is to narrow your search to those with built-in pumps.
As the name suggests, a built-in pump is a device inserted into an air mattress to inflate it without help from an external outlet. It makes for a versatile bed capable of being used indoors and outdoors. While not inherently better than those air mattresses without internal pumps, these beds are both easier to set up and slightly more durable than other models.
To that end, I'm going to introduce you to some of the best air mattresses with built-in pumps on the market. They inflate (and deflate!) with ease, hold up overnight, and bring about plenty of sweet, sweet Zzz's. After we go over my picks, I'll also make sure to share the methodology I used to pick them, so you know exactly what factors to consider in your own search.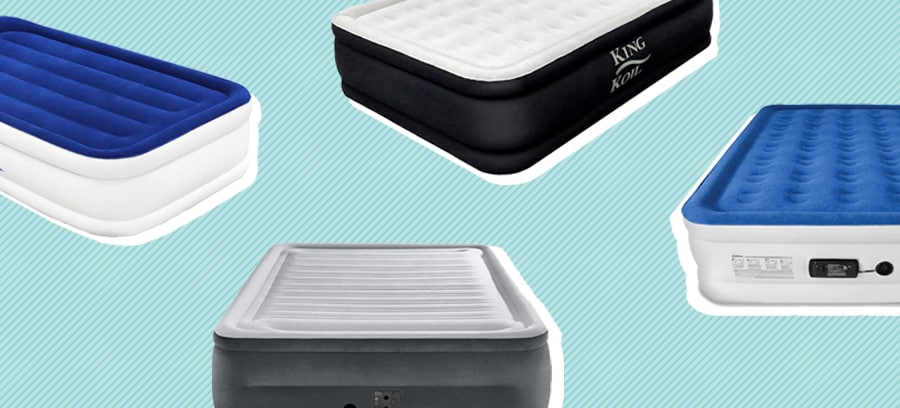 Editor's Choice
SoundAsleep Dream Series Air Mattress
If you want a tall, sturdy air mattress that won't sink in the night, check out the SoundAsleep Dream Series Air Mattress. Built with ComfortCoil Technology, this bed's got both volume and durability on its side. Plus, it also features a no-slip bottom cover, which means it's not going to slip around while you snooze.
Pros
Supported as it is with "air coils," this bed's interior is designed to retain its shape all night long.
The top and bottom covers are also puncture and water-resistant, which means this mattress is super durable.
I also like that this bed is available in multiple sizes, including Twin, Twin XL, Queen, and King.
Cons
It's not the most affordable air mattress on the market, so may not be the best for folks on a strict budget. 
SoundAsleep Dream Series Air Mattress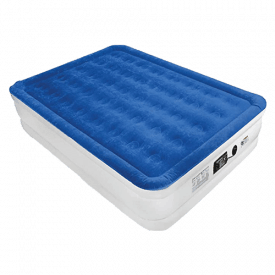 The SoundAsleep Dream Series Air Mattress is a tall, sturdy air mattress that won't sink in the night.
Most Luxurious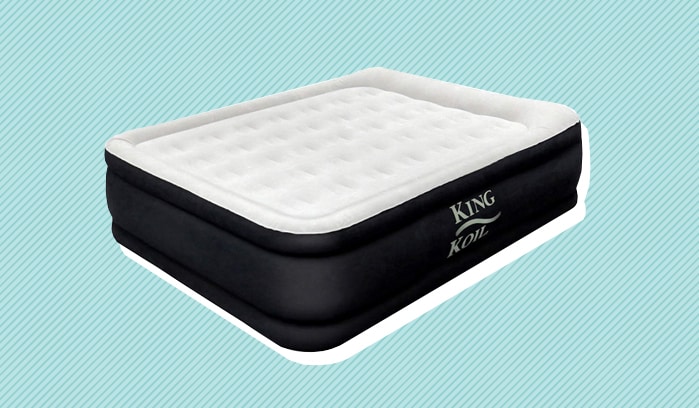 King Koil Air Mattress
Looking to snag an air mattress that feels pretty darn similar to a "real" bed? Well then, allow me to introduce you to the King Koil air mattress. Outfitted with a quilted cover, raised "pillow" edge, and water-resistant suede, this bed is functional and cozy. Add to that an easy-to-use built-in pump and you've got yourself one dreamy air mattress!
Pros
Thanks to the built-in pump, this is an incredibly versatile mattress great for both outdoor and indoor use.
It's also got a raised edge and soft flocked top, which means it can be used comfortably without pillows or sheets.
I also like that you can get this mattress in a California King size, which is pretty rare for the air mattress market.
Cons
Unfortunately, the King Koil doesn't come in Twin XL or King sizes, which could be a bummer for folks in need of those sizes. 
King Koil Air Mattress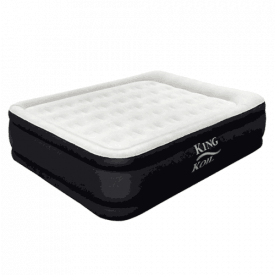 The King Koil Air Mattress is an incredibly versatile air mattress as the built-in pump makes it great for outdoor and indoor adventures.
Most Affordable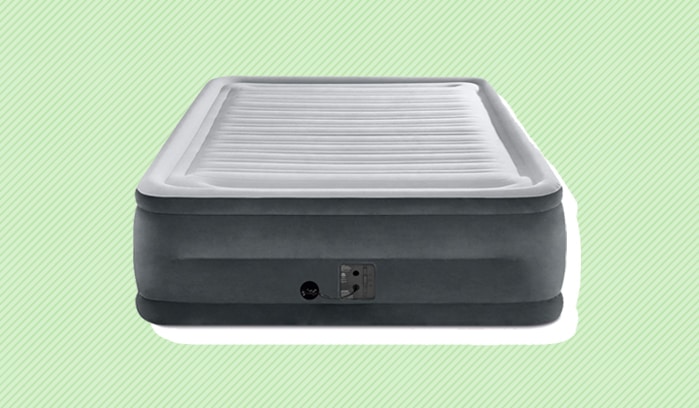 Intex Comfort Airbed
Budget-conscious shoppers should definitely give the Intex air mattress a look. This model features a lot of fantastic characteristics (soft top flocking, elevated sides to secure bed sheets and blankets) at a price that won't break the bank. Sure, it's not as durable as some other options, but is perfectly fine for occasional use.
Pros
I like that this bed has a built-in raised pillow and soft flocked top, which helps increase the comfort of the bed.
It's got a built-in pump, but you can also use an external pump if you so desire.
All in all, it's great for folks on a budget, so I'd recommend this air mattress for college students or other young people looking to accommodate guests.
Cons
According to some customer reviews, there are slight discrepancies in size after ordering. 
Intex Comfort Plush Elevated Airbed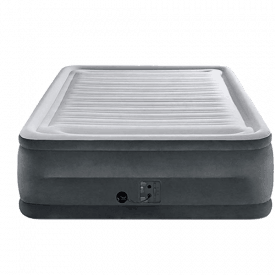 The Intex Comfort Plush Elevated Airbed features a lot of fantastic characteristics at a price that won't break the bank.
Best for Camping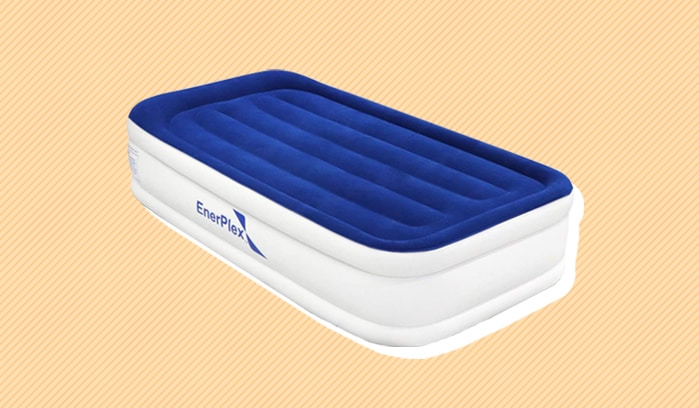 EnerPlex Never-Leak Air Mattress
If you need an air mattress for camping, I recommend checking out this beauty from EnerPlex. It's got a no-frills construction complete with a special "no leak technology," which should ensure some sound stability while you sleep. Plus, it comes in at a whopping 15" tall, so could help bring a bit of extra comfort to your next outdoor adventure.
Pros
I like how well this bed maintains its shape over night, which can be great for folks in need of firm support.
The built-in pump is another nice feature, meaning it can work both with or without an external outlet.
I'm also intrigued by the no leak technology, which could be a real boon on a camping trip.
Cons
This bed only comes in a Twin or Queen size, so may not be a great option for folks in need of a little more variability. 
Enerplex Air Mattress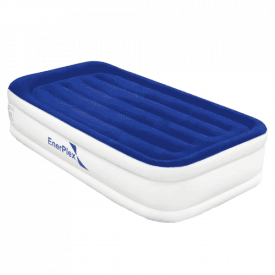 The EnerPlex Never-Leak Air Mattress has a special "no leak technology," which should ensure some sound stability while you sleep.
Sleepopolis Score
4.30 / 5
How We Picked
When browsing the market we found a set of qualities that is pretty standard among high performing air mattresses. These include internal reinforcements, grip bottom, flocked tops, cord storage and carrying bag.
Internal Reinforcement
Each air mattress has its own particular technology to help with stability and shape, whether it's air coils or fiber beams. These designs offer a supportive surface all across the mattress, helping to prevent slouching in the center.
Surface Material
A flocked top is another pretty standard design feature. It provides a velvet-like texture that helps with temperature, comfort, and keeping sheets in place. This material is layered on top of puncture-resistant PVC to create a mattress top that is both sturdy and soft to the touch.
Height
We opted to highlight air mattresses that were double-high, or close to it, rather than the low-to-the-ground options that are more like sleeping pads. While those options have their own virtues, such as being more lightweight and therefore easier to carry around (useful for outdoor activities or frequent traveling), when we searched for built-in pumps, most products we found were double-height air mattresses most suitable for indoor home use. The benefit of added height is that it provides an experience closer to that of using a traditional bed.
Bed Size
Everything we reviewed is available in Twin and Queen sizes. Our top picks have additional sizes available. Twin size is good for single sleepers; Queen-size and up can sleep a pair or one person who wants extra room. For people looking specifically for a King or California King, we've included one selection for each of those options.
Price
Air mattresses with all the bells and whistles are, naturally, on the higher end of the price range, so we also included several products at different price intervals for those who aren't looking to make an expensive purchase. In our search, we found bargain options, with low price being the main priority, as well as products we think of as great value options, which offer the most features at a bit of a higher cost (though still much cheaper than the top prices).
Buying Tips
An air mattress can be a minor or major purchase, depending on your budget, the product price, and the importance and timing of the situation it's needed for. With that in mind, we put together a few questions that may be useful to think about to guide your decision.
How many people will be sleeping on the air mattress?




This will determine one of the main considerations: size. Twin-sized mattresses are good for one person, while a larger size can accommodate a couple or a small family. A Twin XL is a good idea for a single sleeper who is taller. If the air mattress is meant to act as a spare bed for a variety of guests, the answer may vary depending on the situation. In that case, a larger size allows for the most versatility.

Do you want the option to use the air mattress outdoors?




All the products on our list have built-in pumps that can be used by plugging into a power outlet, but not all of them have the option to be inflated using another type of pump. It's important to keep this in mind for situations such as camping or when an air mattress will be used in some other area that doesn't have access to an electrical socket. When looking for an air mattress with an additional valve, it's also a good idea to double check the valve's particular compatibility with external pumps.

Is customer service support an important consideration, particularly for more expensive purchases?




If deciding on the right air mattress is a significant purchase for you, it's advisable to think about what kind of customer service support you want. Manufacturers that have this service in place may be able to help with detailed questions, concerns, defects, and warranties, which can be quite helpful for those committed to getting the perfect air mattress for their particular needs.
A good night's sleep should be an option even when a person isn't sleeping in their normal bed. Whether it's buying one for guests or for personal use, breaking down the pros and cons of the leading products can help sort through which air mattress best aligns with any given situation.