If you've ever been woken up on a Sunday morning with sunlight beaming in through your bedroom window, you understand the importance of quality curtains. Easy to install and relatively inexpensive, the right curtains for your bedroom can be the difference between a full night's sleep and a rude awakening. If you live in an older, draftier home, curtains can also help with insulating your windows, which in turn keeps your home warmer and lowers heating bills.
There are countless bedroom curtains on the market designed for every price range and style. Only you can know what fits your home's aesthetic and your exact needs; for example, your bedroom might not get a lot of sun, so you'll want a more sheer curtain to maximize light while also maintaining privacy. Here are some of our favorite bedroom curtains for any type of home.
The 5 Best Bedroom Curtains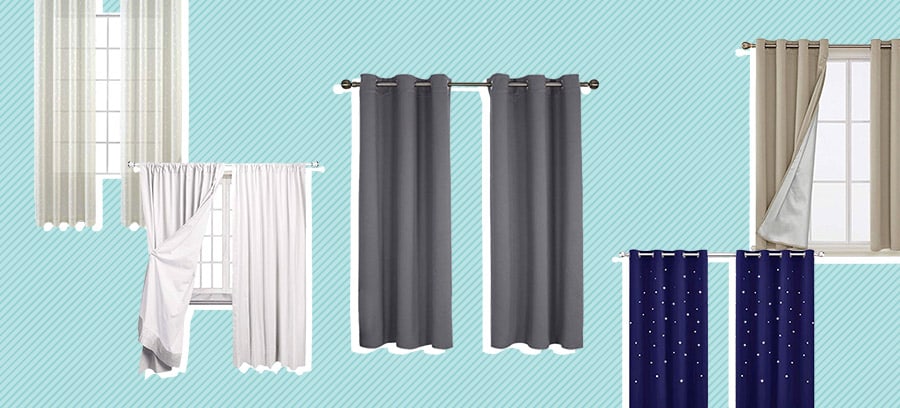 Made of triple-weave polyester, NICETOWN curtains block out 85-99% of light and UV rays. Their thick design also helps to impede sound bleed to contain TV noise from the inside or street noise from the outside. Their energy-smart design helps keep cold air in in summer and cold air out in winter. Each panel contains six grommets on top for easy installation.
Pros:
Triple-weave polyester material is built to keep out sun, as well as insulate heat and impede noise.

The dozens of color and size options make them an easy fit into any home decor, and their six-grommet design makes them easy to hang.

The curtains are machine washable so they can be easily taken down, cleaned, and rehung.
Cons:
While the darker colors are much stronger at blocking out sun, lighter options may see more light bleed.
With four discrete layers including the interior facing fabric, a blackout layer, and a secondary fabric layer in addition to the outside facing silver layer, these curtains boast anywhere from 87 to 98% blackout. Choose from nearly 30 color options and multiple size options to get the right fit and look for your home. Made of 100% imported polyester, these curtains are also designed to contain noise and temperature.
Pros:
The four-layer design includes a blackout layer and an exterior silver layer to maximize sun blackout.

With dozens of color and size options, it's easy to fit these curtains into your room's decor.

Each curtain panel contains eight rust-proof grommets for easy hanging and adjustment.
Cons:
These curtains are hand wash only, which may make cleaning them more of a chore than machine washable options.
Unlike comparable curtains that rely on grommets for installation, these AmazonBasics curtains feature a rod pocket design, which many find preferable for their hanging versatility. These curtains also include velcro straps that can be used to hold the curtains open. Choose from nearly ten color options and six sizes to fit your window.
Pros:
The rod pocket design provides an easy way to hang the curtains on standard curtain rods or decorative rods, and the included velcro straps makes holding the curtains open easy.

Triple-weave, 100% polyester fabric blocks out sun while insulating heat and noise.

These machine washable curtains can be cleaned without the effort of hand-washed models.
Cons:
Because of the curtains' material, they can wrinkle easily, which can take away from their overall appearance.
While blackout curtains are great for bedrooms that get a lot of sunlight, many people have rooms that get minimal outside light that needs to be maximized. Sheer curtains are a great way to allow as much sun in as possible without compromising privacy in the process. Machine washable and hung easily with its grommet design, these curtains provide the right amount of light and style to any bedroom.
Pros:
The 100% polyester faux linen material is lightweight and sheer enough to let sunlight in while also providing adequate privacy.

The grommet design makes the curtains easy to hang and take down.

The curtains are machine washable for simple cleaning.
Cons:
While the design of the curtains is nice, they are billed as being for a girl's room, which may make them less unisex than solid color curtains.
If you're a parent, you know that you'd do anything to encourage your kids to get a full night's sleep, if only for your sake. Available in seven colors and multiple size options, these curtains are made from 100% polyester and are eco-friendly, not featuring any chemical coatings or foil printing.
Pros:
With 85 to 99% blackout capability based on color selection, these curtains provide great light shielding as well as heat insulation.

The eco-friendly material is safe for kids, without any kind of chemical coatings.

The curtains can be machine washed for easy cleaning.
Cons:
The star pattern in the curtains are actually cutouts, so if you're expecting them to look like a starry night at night you may be disappointed.
How We Chose the Best Bedroom Curtains
If you've ever shopped for curtains, you know the number of options available can be overwhelming. Thankfully, simply by the grace of these being bedroom curtains, the list of attributes you need to consider is considerably smaller. By and large, bedroom curtains need to be more functional than decorative in comparison to curtains installed in living rooms or more communal spaces in your home. The kind you'll need will be dependent on the light your room gets, your style, and the way you want to hang them.
When selecting the best bedroom curtains, here were some of the qualities we considered:
Blackout Ability
For most people, the main function of bedroom curtains is blocking out as much morning sunlight as possible. There's nothing better than creating a totally blacked out room for sleeping, which can help your body's natural sleep processes function as optimally as possible. The curtains we chose employed multiple tactics to achieve this blackout effect, from multiple layers of fabric, to reflected exterior layers to counter intense sunlight.
Insulation
Curtains are designed for lighting first and foremost, but their ability to insulate both temperature and sound is also a huge asset. When a curtain is able to keep your heat and air conditioning inside—especially in an older home with draftier windows—you're not only retaining temperature, but you're lowering heating or energy bills as well. Likewise with noise; curtains can not only help block some street noises from entering your room, but they can help you be respectful of neighbors by insulating your TV or stereo sound. We liked curtains that provided heavier fabrics with multiple layers to maximize insulation.
Style and Options
Not everyone's taste is going to be the same when it comes to curtains, which is why we generally avoided bold patterns in our selections. Instead, we favored curtains that came in a number of color options for matching your home decor. Basic colors, especially with darker color options that work best for blocking sunlight, were preferable for their versatility. We also tried to choose curtains with the most size options for fitting the largest amount of windows.
Tips for Selecting the Best Bedroom Curtains
Everyone has a different set of criteria when it comes to bedroom curtains; living in rural areas, privacy may not be as essential as it is in a dense urban environment, or the curtains for a child's room will be different from curtains for a single woman's room. Luckily, the breadth of available curtains available means there is something to fulfill everyone's needs. Generally speaking, however, here are some universal things to consider when picking bedroom curtains:
The Type of Light in Your Bedroom:

Do you get intense, direct sunlight at the same time every morning? Does your room face away from the sun to where it only hits in the afternoon? If you're the former, you may want to invest in darker curtains with the best ability to block sun as you can. Getting moderate sunlight could mean you can opt for lighter colored curtains. If your room gets minimal light, you may want to consider something more sheer that will provide privacy while also maximizing what little light you get.

The Size of Your Windows:

When selecting curtains, always be sure to measure the size of your windows and read product descriptions carefully. Most curtain sets come in two panels, while occasionally there will be one-panel options. Make sure you're getting the right curtains for your window, otherwise you could be left with gaps of light coming in that can be a real menace. If you're not sure what size to get, always opt for the larger size that will provide the most coverage.
Recapping the Best Bedroom Curtains
The right bedroom curtains for your room can create an almost cave-like atmosphere; closed off and comfortable, the perfect environment for sleeping without distractions. When you add in heat insulation and noise reduction, the perfect bedroom curtains are one of the most essential investments you can make to ensuring the best night's sleep possible. And the best part is, you can find great curtains without breaking the bank or wildly compromising the aesthetics of your bedroom.
FAQs
What color curtains are best for a bedroom?
The best color bedroom curtains are the color curtains you like the best. That sounds obvious, but choose a color that works well with your existing bedding and furniture. Beyond that, if you're trying to get the most effective blackout curtains, opt for darker colors, which can increase sunlight and UV blackout by 15% in comparison to lighter colored curtains.
Should bedroom curtains touch the floor?
Think of curtains like suit pants. You want them to be just at the floor without extending so far down that they cause the material to bunch up. If curtains are too long they can collect floor dust and other ground-borne dirt and grime. If they're too short, however, they can look awkward as well as let sunlight in.
How do I hang curtains in my bedroom?
There are a number of ways to hang curtains depending on the style of window you have. Generally speaking, you'll either have a drilled-in curtain rod holder or a twisted tension curtain rod. When hanging curtains on a rod, you'll either slide the rod through the rod pocket at the top of the curtain, or thread the rod through grommets at the top of the curtains. If you're using a tension rod, simply place the rod back in place (as high in the window as possible) and twist it into place after the curtain has been hung. Drilled-in curtain rods can simply be placed back on the curtain rod holders once the curtain has been hung on the rod.