Do you hate having to make your bed every morning to get your top sheet properly tucked? Or maybe you're like me and you hate your top sheet coming untucked, but you can't stand making the bed even more. Well, Sierra Wallizer, founder of Kitelinens sheets, felt the same way and decided to do something about it. Thus, Kitelinens Stay-Tucked Cotton Sateen sheets were born.
I personally tested these sheets to find out if they really do stay tucked. In this review, I'll also go over what they're made of, how they feel, and who I think should consider buying them.
Short on time? Skip to the end for my review summary to find out if these should be your next new sheets.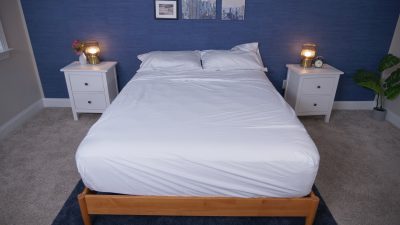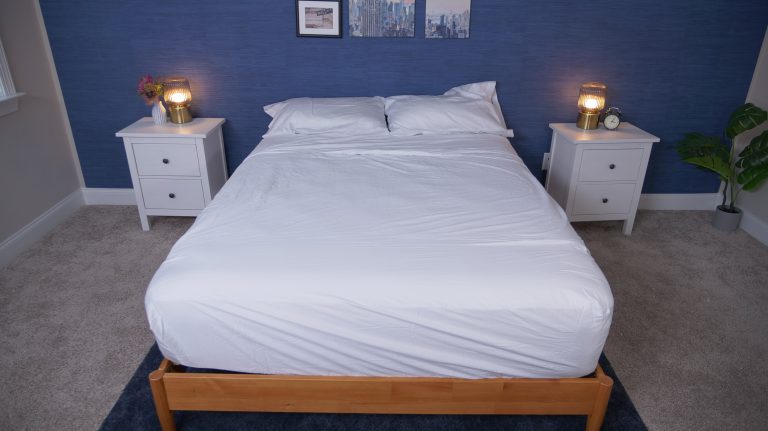 What are the Kitelinens Sheets Made Of?
Sheets can be made from lots of different materials, from cotton to bamboo to linen and more. The material used in a set of sheets can be one of the main determinants of how they feel and ultimately, how much you'll like them, as every material has its pros and cons.
The Kitelinens sheets are made from 100 percent cotton — 95 percent of which is certified organic cotton. The sheets have a 300 thread count and are made with a sateen weave. A sateen weave can give cotton sheets a smoother finish that makes them feel more silky, as opposed to the "crisp" feel of the other most popular cotton weave, percale. (Learn more about these two weaves in our Sateen vs Percale sheets breakdown.)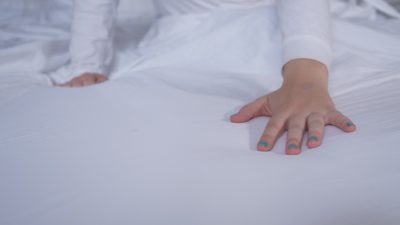 A set of Kitelinens Cotton Stay-Tucked Sateen sheets includes a fitted sheet, a "hybrid" flat sheet, and two pillowcases. Or instead of the whole bedding set, you can opt to just purchase the flat sheet.
One nice feature is that the fitted sheets have deep pockets, to ensure they stay on the bed. But the flat sheet is where things really get interesting. The flat sheet is made in a "hybrid" design, where the end of the flat sheet is actually fitted. This fitted end on the flat sheet also has deep pockets, to ensure it will never come untucked and to prevent your toes from feeling constricted.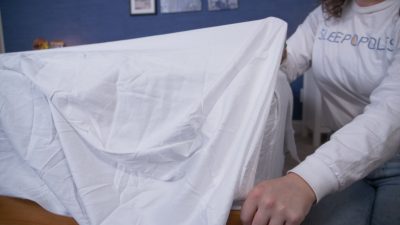 The flat sheet also features two side slits, which is another detail included to prevent your feet from feeling trapped. With the slit, you can kick a leg out if you're feeling too warm without untucking the top sheet. The slits also allow for some more airflow, which helps with temperature regulation.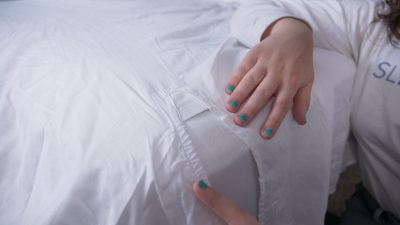 And the final fun component of this flat sheet is they're designed to be extra long, so you can snuggle up in them and not have to worry about a bed partner hogging the sheets.
Additionally, Kitelinens sateen cotton sheet sets are manufactured in Portugal. The sheets are Global Organic Textile Standard (GOTS) certified to be 95 percent organic cotton bed sheets. They are also OEKO-TEX 100 certified to be free from harmful chemicals. That certification is awarded by OEKO-TEX's independent institutes to products that meet their standards for textile product safety.
Right now, the Kitelinens sheets are available in one color, which is white.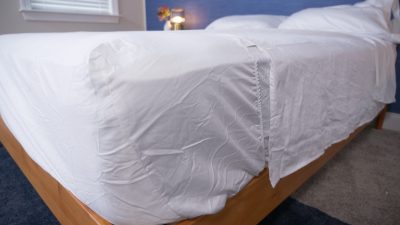 What Do the Kitelinens Sheets Feel Like?
When I tested out these Kitelinens sheets, I immediately noticed how sleek and lustrous they feel — that classic sateen silkiness. I wouldn't say these are the softest sheets I've ever tested, as they do have a more smooth and satiny feel than soft, but I personally found this to be a nice texture.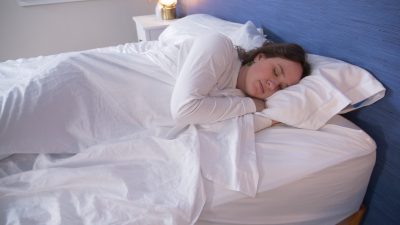 I also really liked the extra-long top sheet, because I love to pull my sheet basically up to my chin and snuggle into it while I'm sleeping. Having that extra length worked really well to let me get cozy in these sheets without untucking the sheets or stealing them away from my boyfriend.
Are the Kitelinens Sheets Good for Hot Sleepers?
I think these sheets are a solid option for hot sleepers. Cotton is always a great material for breathability, and even though percale weaves tend to be more airy than sateen, I still felt like these sheets allowed for a good amount of airflow when I was testing them. The slits on the side help to prevent hot air from being trapped, especially since the flat sheet is tightly tucked, thanks to its fitted end.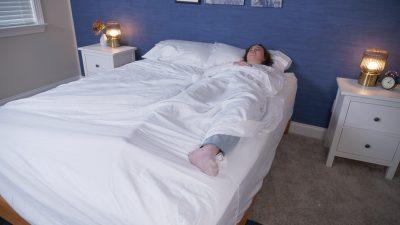 If you want to find some more options for hot sleepers, take a look at our best cooling sheets.
How Durable are Kitelinens Sheets?
These felt like very high-quality sheets to me. The cotton feels very sturdy, even though it is so silky and smooth. Cotton is a very durable material, which is great for longevity in products like sheets. I also really appreciate that Kitelinens includes a laundry bag to wash your sheets in to help preserve them.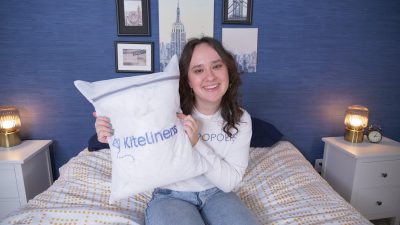 Do the Kitelinens Sheets Stay on the Bed?
An important question, since that's basically the whole point of Kitelinens sheets. I'm happy to report that Kitelinens stay on the bed pretty darn well. The "hybrid" design of the flat sheet is very effective, as it's essentially a fitted sheet on the end. With deep pockets to hold the sheet in place, the flat sheet doesn't get tangled up under the covers — even if you toss and turn all over the place.
The fitted sheet's deep pockets also worked well to keep it in place. The corners didn't pop off at all, which also makes things easier when you're making the bed.
Are Kitelinens Sheets Good for You?
With all that in mind, here's who I think should consider buying the Kitelinens Stay-Tucked Cotton Sateen sheets, as well as some of my complaints.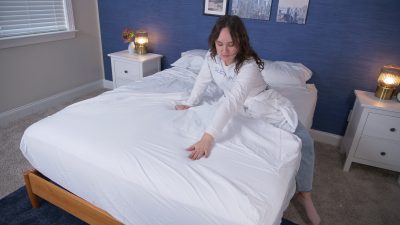 Who should try Kitelinens sheets
If your sheets coming untucked is one of your major pet peeves, or if you hate having to make the bed every time your sheets get wonky, I think the

Kitelinens sheets

are a great option! I was very

impressed with how effectively the "hybrid" flat sheet worked

to stay tucked, but without making me feel trapped under it.

I also think

hot sleepers

will like these sheets, as the cotton is fairly

breathable

and the side slits allow for a little extra airflow.

And

if you love a glossy, sleek feel

from your sheets, I think you'll find this

sateen weave

sheet set

to be quite comfortable. I found myself just wanting to roll around in these sheets because they're so smooth.
Kitelinens sheets complaints
Kitelinens

currently

only offers their sheets in twin, full, queen, and king sizes

, so if you have a twin XL,

California king

, or another size mattress, there isn't a set that will fit your bed.

Additionally, they currently

only offer these sheets in one color (white)

, so if you know you want a specific color to match your bedding, your options are a little more limited.

Finally, if you're looking for a set of super

soft sheets

, these might not be the

best sheets

for you, as they have a much more smooth and silky feel.
Kitelinens Sheets Prices and Sizes
Curious how much these sheets cost? Here's a price breakdown by size. All prices listed are before offers or discounts.
| Size | Price |
| --- | --- |
| Twin (Complete sheet set) | $103 |
| Full (Complete sheet set) | $113 |
| Queen (Complete sheet set) | $133 |
| King (Complete sheet set) | $143 |
| Twin (Top sheet only) | $68 |
| Full (Top sheet only) | $73 |
| Queen (Top sheet only) | $78 |
| King (Top sheet only) | $88 |
Kitelinens Sheets Policies and FAQs
How do the Kitelinens sheets ship?
Kitelinens ships for free within the contiguous United States. Customers in Hawaii, Alaska, and U.S. territories will have to pay an additional shipping fee.
Do the Kitelinens sheets come with a warranty?
Yes, Kitelinens offers a 30-day warranty on these sheets.
Are the Kitelinens sheets machine washable?
Yes, they are. Kitelinens recommends machine washing in warm water on a gentle cycle. Then, tumble dry on low. They also include a laundry bag with your sheet set, which they advise washing your sheets in to preserve softness and protect them from damage.
Can I return the Kitelinens sheets after opening them?
Kitelinens only accepts returns for sheets that have been unused. To initiate a return, email hello@kitelinens.com within 30 days of receiving the sheets.
Kitelinens Sheets Vs
Now let's compare the Kitelinens sheets to competitor sets from Nolah and Brooklinen.
Kitelinens Sheets vs Nolah Bamboo Sheets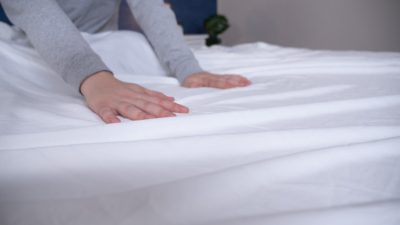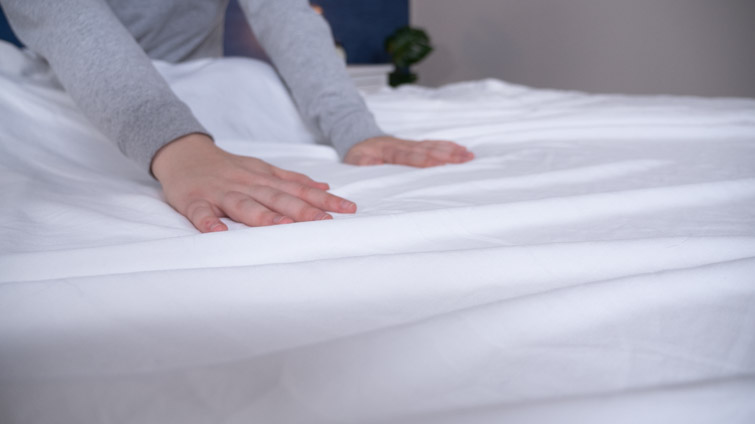 This

sheet set

from Nolah is made from

bamboo viscose

, which is a super soft,

moisture-wicking

,

breathable

, and hypoallergenic fabric made from bamboo wood pulp.

Like the

Kitelinens sheets

, the Nolah Bamboo sheets have a silky feel, but they're simultaneously quite soft. The fabric feels very

light and airy

, compared to the

Kitelinens

'

sateen weave

.

However, the Nolah Bamboo sheets don't have any of the unique features of the

Kitelinens

to stay tucked. They're also much more

wrinkle

-prone.

Want to learn more about this

sheet set

? Read my full

Nolah Bamboo sheets review

.
Kitelinens Sheets vs Brooklinen Classic Percale Sheets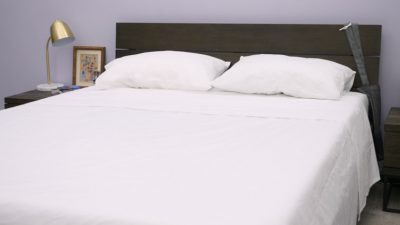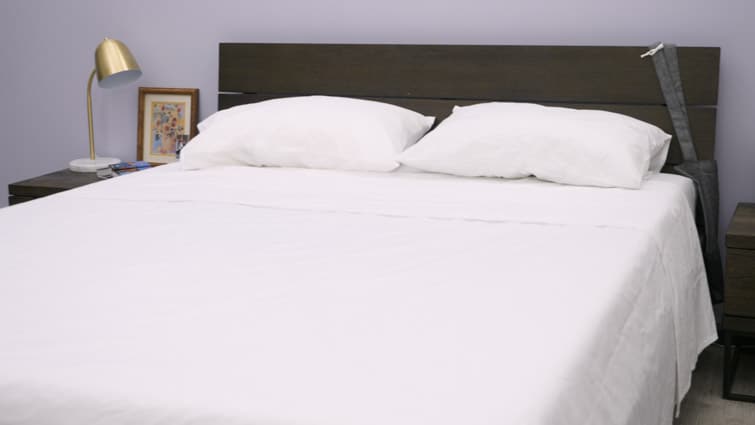 Brooklinen

's Classic

Percale

sheets are made from

100 percent long-staple cotton

with a 270 thread count.

They've

got

the classic

percale

feel —

cool, crisp, and breathable

. This makes them a great choice for

hot sleepers

. They also have a matte finish, which is typical of

percale

weave.

But one con to these sheets is they're crinkly and make some noise as you move them around.

Curious about these sheets? Read our full

Brooklinen

sheets review

to learn more.
Finally, here are my star ratings for the Kitelinens sheets.
Materials

Comfort

Value

Cooling

Durability

Warranty