Let's be honest – most of us have no idea what we do while we're asleep. Are we ever reaching REM sleep? Do we really snore like our partner claims? How much are we tossing and turning? Luckily, there are an abundance of sleep trackers on the market that are designed to answer these questions.
In this review, I'll be testing the Withings Sleep Tracking Mat. This mat slips under your mattress and automatically sends data to your phone throughout the night. In the morning, you can see various stats about your sleep, such as any sleep interruptions you experienced, how deep your sleep went, and a calculated total sleep score. I'll be covering everything about this product from how to use it, to company policies, to my personal experience.
Short on time? Head straight to my review summary.
Note: Although sleep trackers may help you notice specific patterns or pinpoint behaviors you'd like to change, they shouldn't take the place of a doctor or medical professional for advice, guidance, or help.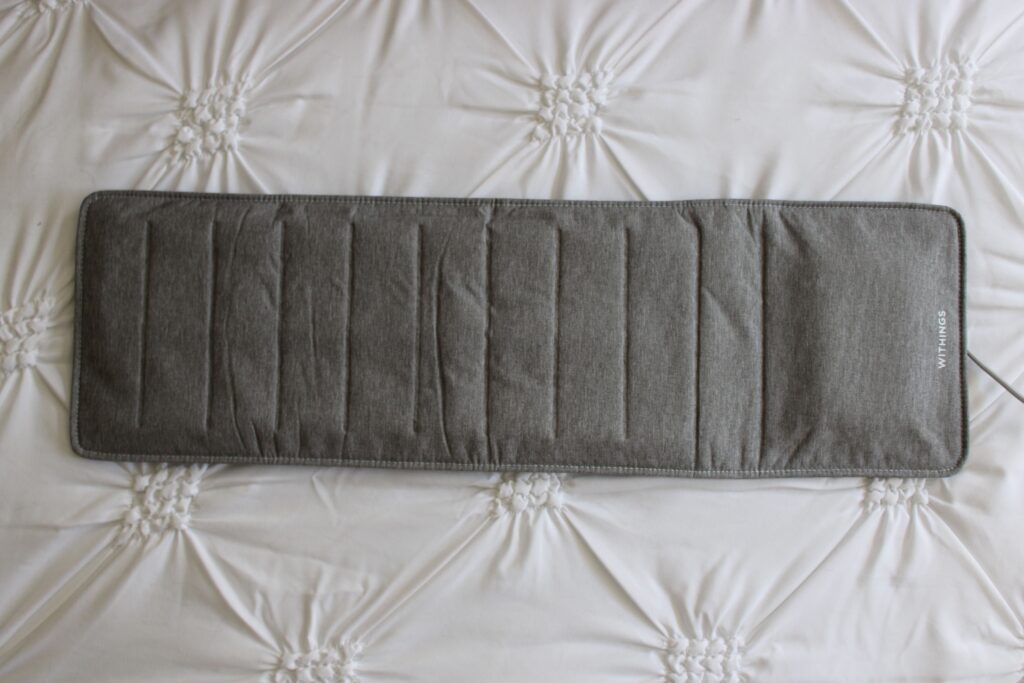 Is the Withings Sleep Tracking Mat Right For You?
Before we discuss the nitty-gritty of this product, I want to provide a brief guide to who I think would like this product and who may want to avoid it. Feel free to check out our best sleep trackers roundup for some more great options.
Who Should Try the Withings Sleep Tracking Mat
People who want to track their sleep without wearing a device: Many sleep trackers are wearable gadgets, like a watch or ring. With the Withings Sleep Tracking Mat, you just lay down on the mattress and the mat automatically starts tracking your sleep habits.
People with weight goals: Whether your goal is to lose, gain, or maintain weight, this sleep mat measures your weight and explains how your sleep may be affecting your goal.
Data lovers: The corresponding Withings Health Mate app does a great job of breaking down all the data into a digestible format. They even provide a little bar graph detailing each night's sleep.
Who Should Not Try the Withings Sleep Tracking Mat
People who just want a sleep tracker: Not everyone wants or needs a sleep tracker with all the bells and whistles like this one. If you want something that only tracks sleep, you may be able to find a better (and possibly cheaper) option on the market.
Couples: If you're sharing a bed, your sleep mat may pick up stats from your partner. The mat also cannot track two people at once, so you'll both have to get your own mats.
People without an iOS or Android smartphone: The corresponding Health Mate app is only available for iOS and Android smartphones or tablets. If you have a different phone or want to track it from a computer, you'll be unable to do so.
How to Use the Tracker
Installing the Withings Sleep Tracking Mat
I found the setup process to be extremely easy and not too involved. The Withings Sleep Tracking Mat comes with a "quick installation guide" that guides you through installing the mat.
Take the mat out of the box and place it directly underneath your mattress. It should be positioned right at chest level. Make sure the mat is completely under the mattress and not hanging out. Only the power cable should be hanging out the side of the bed.
Plug the mat's charging cord into an outlet. The USB cord comes with a charging adapter that can fit into a U.S. outlet.
Visit go.withings.com from your smartphone. It will direct you to install the Health Mate app. This is where your sleep data will be found.
Open the Health Mate app and follow the instructions to sync it to your sleep-tracking mat. Calibration takes about 10 minutes. You will have to create a Withings account, but this is free. Note: This product can only be used if you have WiFi and Bluetooth 4.0 on your phone.
Begin sleeping!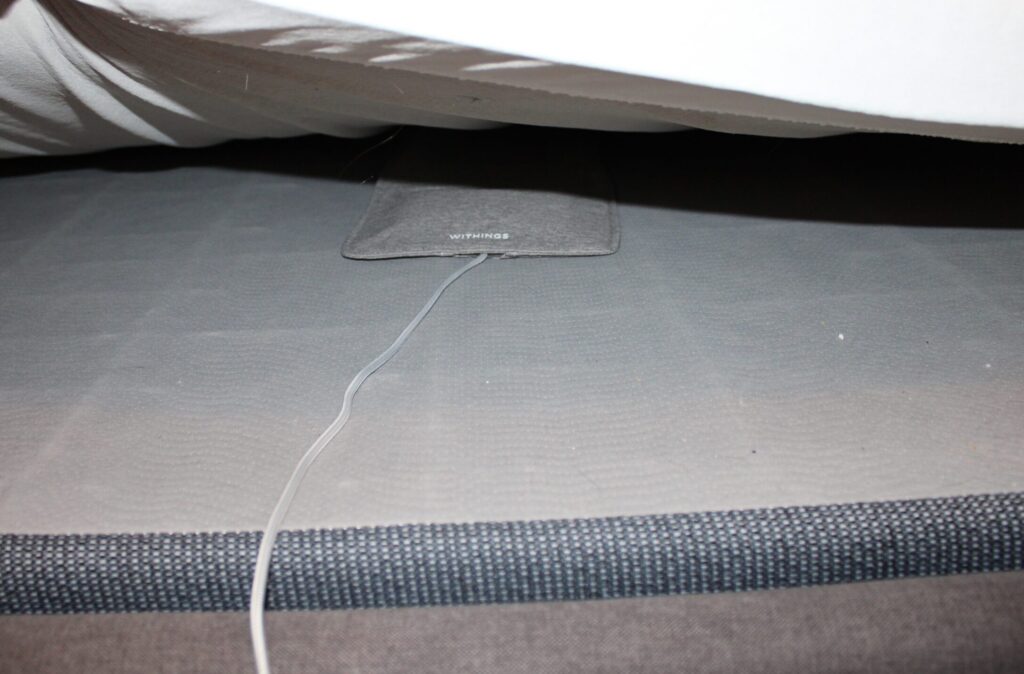 Battery Life
This sleep tracker does not require batteries. You simply plug it in and start sleeping! It must be plugged in the entire night in order to track your sleep.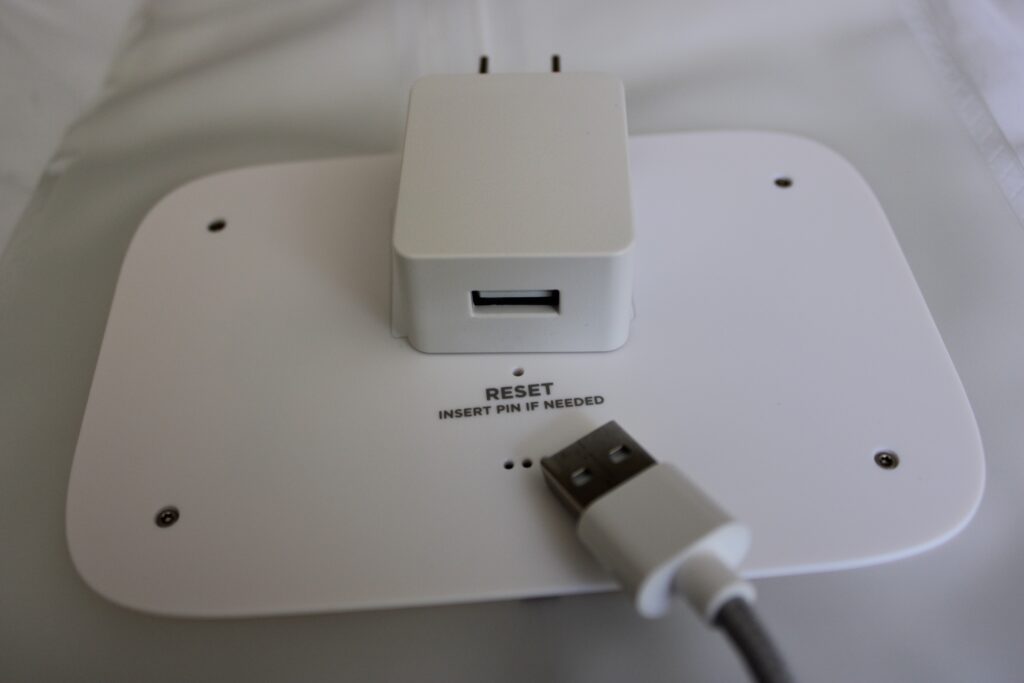 How to Use the Withings Sleep Tracking Mat
In simple terms, go to sleep! This mat will automatically start tracking your sleep once you lay down on the mattress, and the data will be ready for you to review in the morning. You can also go back to previous nights and compare your sleep across weeks and months.
The Withings Sleep Tracking Mat also comes with optional IFTTT integration. IFTT is a software platform that allows apps and devices produced by different companies to seamlessly sync and function together. Basically, you can sync the mat to different electronics in your home and the mat can control them based on your preferences. For example, it can automatically dim your lights when you lay down and turn up your thermostat when you get out of bed.
The Technology
Sensitive sensors are what make this mat able to track your sleep. A pneumatic sensor (a senor operated by air under pressure) measures your body movement across the mattress, respiratory rate, and heartbeats. A sound sensor can identify specific audio signals that indicate snoring and breathing disturbances. If you're wondering how accurate this technology is, a study from J Clin Sleep Med concluded that this sleep tracking device is accurate in moderate to severe sleep apnea detection.
Care and Maintenance
The premium fabric cover can be removed from the sensor and machine washed. However, it should only be air dried and must be fully dry before putting it back on the sensor.
Since this mat resides below your mattress, it shouldn't get too dirty. Some folks feel more comfortable cleaning items before using them, so it's nice that they have the option to easily clean this mat.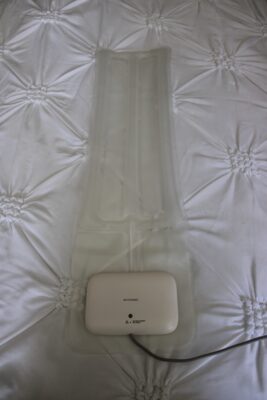 What the Product Tracks
This mat goes super in depth into your sleep and tracks a variety of things. The most basic thing it tracks is your sleep duration, which is just how long you slept. It also tracks how many times your sleep was interrupted. Good sleep isn't always about how long you slept, but also the sleep quality.
The mat also tracks your sleep depth. Sleep depth can be categorized as light sleep, deep sleep, and REM (rapid eye movement) sleep. What's nice about this sleep cycle tracking is the bar graph Withings makes for you. It shows the exact times you experienced interruptions and when you were in the different sleep stages throughout the night.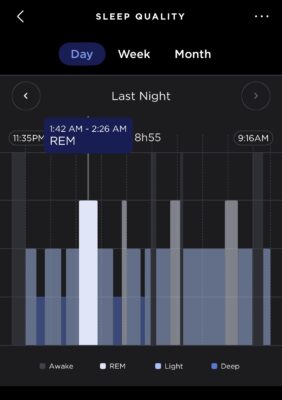 Next, you can see how long it took you to fall asleep and how long it took you to get out of bed in the morning. The mat takes all of these data points and generates an overall sleep score. The sleep score is like a grade for your sleep that night and shows how restorative it really was.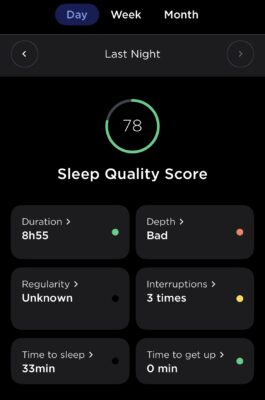 The Withings Sleep Tracking Mat can also analyze your breathing patterns during the night. If you have frequent breathing interruptions or inconsistencies, this may indicate an underlying health problem. The mat also tracks your heart rate and blood pressure while asleep.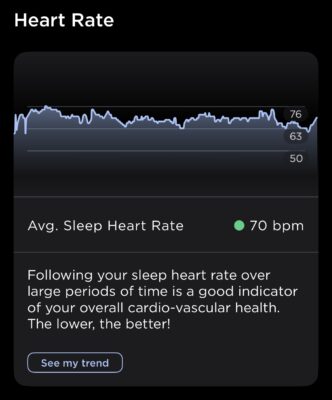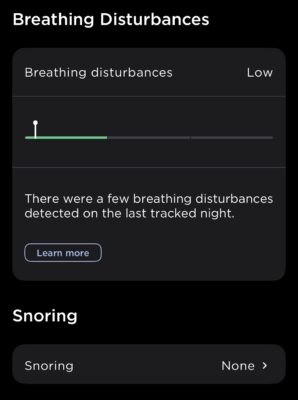 Finally, this mat can act as a fitness tracker. Because it works through an app, it can tell how many steps you've taken, the total number of minutes you were active, how many calories you burned, and how far you traveled. As long as you have your phone on you while you're being active, the app can track this data. It can then combine it with the data the sleep mat collects and analyze your health more holistically. You can find more research on the correlation between your activity and your sleep patterns on Withing's sleep score information page.
All of these data points can be super helpful in understanding your overall health. A unique feature is the "sleep diary" automatically generated by the app. This is a summary of your data and analyses which you have the option to send to your doctor.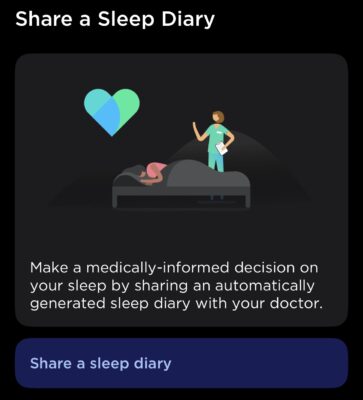 Price
The Withings Sleep Tracking Mat is currently priced at $125.95 at full retail. Downloading the app is free, and your Withings account will store all your data for free. You don't need to purchase any type of membership.
The mat is provided in one color, gray, but you won't see the color anyway since your mattress will cover it.
My Experience Using the Withings Sleep Tracking Mat
Overall, I was pretty satisfied with the Withings Sleep Tracking Mat. First, it was super simple to set up. I was a bit nervous at first because I'm not super tech-savvy and I was concerned syncing the mat to the app would be complicated. However, the entire installation process was quick and easy. The Health Mate app is also very user-friendly and easy to navigate.
I really enjoyed being able to see trends in my sleep data that I would not have noticed without the tracker. For example, I discovered that I sleep pretty lightly and tend to wake up a decent amount throughout the night. The results seemed to be pretty accurate. I did notice myself feeling more tired when it was reported I had mostly light sleep and frequent interruptions the night before. It was also really cool to track my sleep progress. I was excited whenever my sleep score improved from the night before. Although I enjoyed the sleep score, I could see this stressing other people out.
Using this tracker didn't disrupt my normal bedtime routine. I enjoyed that I could just lay down and it would automatically start tracking data; I didn't have to worry about remembering to press "start tracking" on an app every night.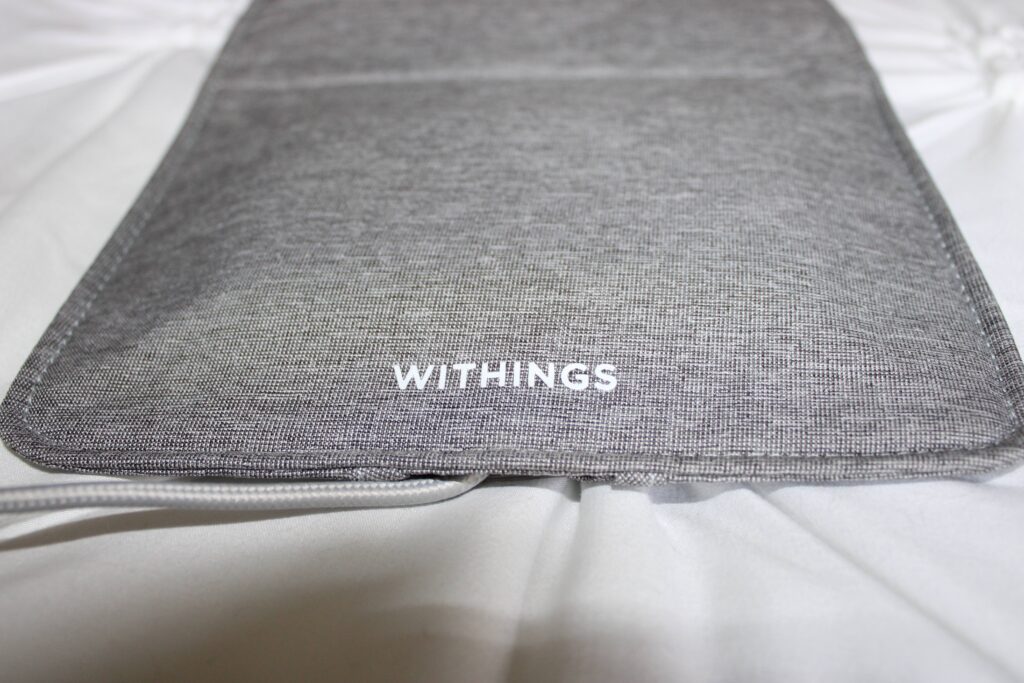 One complaint I have is the sensitivity of the mattress. The first few nights I used the mat, it didn't yield very accurate data. I hypothesize that my mattress is a bit too firm, which made it more difficult for the sensor to pick up my movements. However, there is an option to increase the sensitivity of the mat, which I did. After increasing the sensitivity, my data became a lot more accurate.
As someone who works partially remotely, I sometimes like to sit up in bed and write (like I'm doing right now!). The mat had a hard time differentiating between going to sleep and just lounging in bed, so it would count my daytime bed sessions as naps. Since I wasn't actually asleep, I was getting pretty poor sleep scores. I reached out to Withings customer support and they said the device will track you as sleeping as long as you are on it. This isn't a huge deal, but it is something to be aware of.
Lastly, I did need some help placing the mat underneath my mattress. Mattresses can be pretty heavy, and I was unable to easily lift mine and shimmy the tracking mat underneath, so I had to enlist another person to help.
Policies and FAQs
Does the Withings Sleep Tracking Mat come with a sleep trial?

Yes, the Withings Sleep Tracking Mat comes with a 30-night sleep trial.
Does the Withings Sleep Tracking Mat come with a warranty?

Yes, the Withings Sleep Tracking Mat comes with a 2-year warranty.
How does the Withings Sleep Tracking Mat ship?

The Withings Sleep Tracking Mat comes with free shipping.
Is the Withings Sleep Tracking Mat accurate?

Personally, I found the Withings Sleep Tracking mat to be fairly accurate. I found that manually increasing the sensitivity can help it get a more accurate read on your sleep. However, without verifying against a scientific sleep study or other measures used by medical professionals, it's difficult to truly say how accurate the results are. You can learn more about Withings accuracy in their research hub, where they conduct studies on their products as well as a variety of other health questions.
Does the Withings Sleep Tracking Mat need WiFi?

Yes, WiFi and Bluetooth are both required to use the Withings Sleep Tracking Mat. An iOS (iPhone) or Android (Samsung) smartphone or tablet is also required.
Other Products To Try
Sources
Edouard P, Campo D, Bartet P, Yang RY, Bruyneel M, Roisman G, Escourrou P. Validation of the Withings Sleep Analyzer, an under-the-mattress device for the detection of moderate-severe sleep apnea syndrome. J Clin Sleep Med. 2021 Jun 1;17(6):1217-1227. doi: 10.5664/jcsm.9168. PMID: 33590821; PMCID: PMC8314651.