Cotton sheets offer a classically cozy feel that, for many sleepers, is a bedroom essential. But the process of shopping for cotton bedding can actually be rather confusing, as there are many weave styles, thread counts, and special features from which to choose. And to make matters trickier, every single detail behind a set of cotton sheets directly influences the weight, temperature, and overall feel of the finished fabric.
So, with all the cotton sheet sets out there, how are you supposed to find the best fit for your body, your bed, and your budget? Well, don't sweat it, because I'm about to take you through my personal methodology behind cotton-sheet-shopping, as well as give you a close look at my top five favorite cotton sheet sets.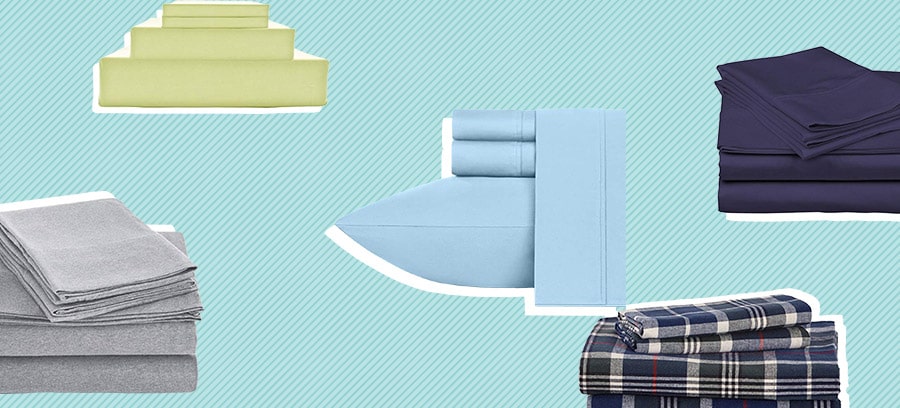 Editor's Pick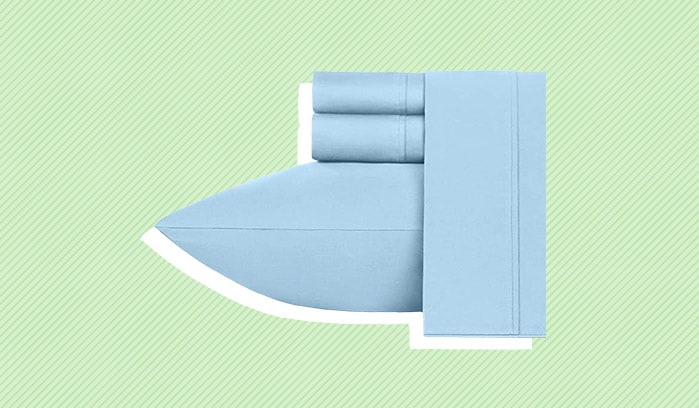 California Design Den Sheets
Woven from long-staple cotton and spun into a silky sateen weave, these sheets are ideal for sleepers looking for a smooth and shiny sheet set. Not to mention, this bedding features a high thread count of 400, and extra deep 18-inch pockets. 
Pros 
This bedding features a sateen weave style, which means it offers a silky-smooth feel and lustrous sheen. Folks who prefer their sheets to be more shiny than matte will likely enjoy the look of this bedding.

This sheet set is woven from 100% long-staple cotton,which is widely considered to be a more durable, softer type of cotton. 

Folks looking to get creative with bedroom decor will be glad to know that this sheet set comes in over

twenty

different colors and patterns! Additionally, the fitted sheet has super deep pockets of 18 inches, ideal for those with taller mattresses. 
Cons 
Deep pockets are great… unless you've got a shallow mattress. In my experience, the fitted sheet in this set looks a bit baggy if you've got a mattress that's less than 11 inches deep.

Folks looking for crisp cotton sheets should look for a percale weave rather than sateen. This bedding is silky-smooth and not at all crisp!
California Design Den Sheets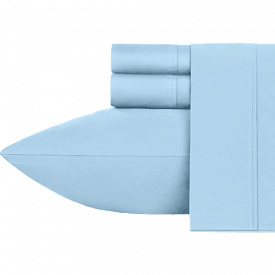 California Design Den Sheets
California Design Den sheets use quality long staple cotton to provide smooth and durable sheets at a value price. Click this button to get your set on Amazon!
Best Egyptian Cotton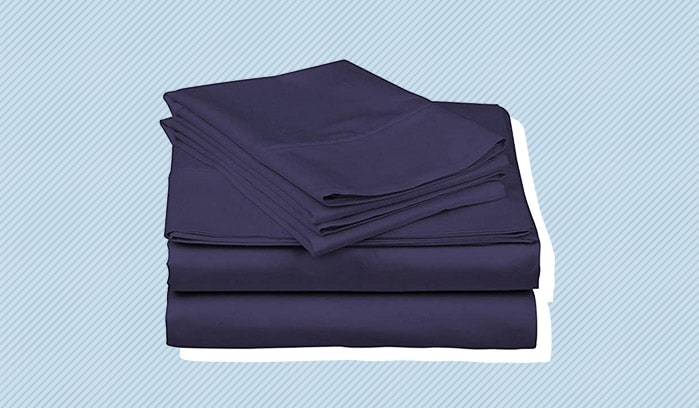 Thread Spread Egyptian Cotton Sheet Set
This bedding is made from 100% Egyptian cotton, which is widely considered to be the softest and most durable type of cotton available. Additionally, it's spun into a silky sateen weave which gives a smooth feel and lustrous appearance. 
Pros 
Those in search of smooth and durable cotton sheets should definitely give this set a try. It's made from 100% Egyptian cotton and spun into a silky sateen weave. 

If you sleep on a deep mattress and are looking for a set of deep-pocket sheets to match, keep in mind that the fitted sheet in this set can accommodate mattresses up to 18 inches tall! 

The top sheet and pillowcases in this set feature a 4-inch hem on the borders, giving each piece a classy, hotel-like aesthetic. 
Cons 
Egyptian bedding tends to come at a higher price point, and these sheets are no exception. That said, this set ranges from about $90-$100 which

is

a great value for Egyptian cotton, but is not going to fit in everyone's budget. 

Keep in mind that this sheet set only comes in Queen and King sizes.
Thread Spread Egyptian Cotton Sheet Set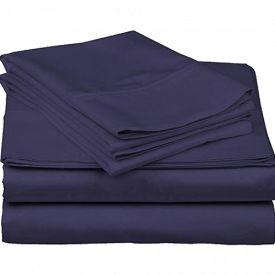 Thread Spread Egyptian Cotton Sheet Set
The Egyptian cotton sheet set from Thread Spread provides a soft feel and has the durability to last.
Best for Hot Sleepers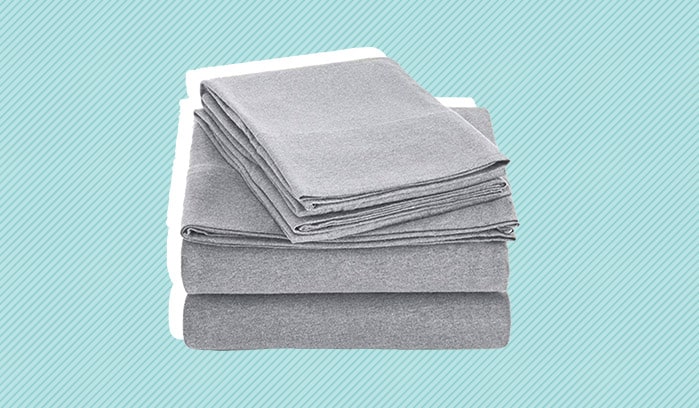 AmazonBasics Heather Cotton Jersey Sheet Set
Sleepers who run hot are bound to benefit the most from this light and airy sheet set. It's made from 100% jersey-knit cotton, a material known for its superior breathability and super soft feel. 
Pros
Jersey-knit cotton is exceptionally light and breathable, and has a unique "T-shirt" feel that'll probably appeal most to those who run hot. 

This bedding is woven with a subtle heathered effect and comes in five different colors. Folks looking to take a break from plain white sheets should give these a try. 

This sheet set is completely machine washable and dryable, ideal for those who prioritize easy maintenance! 
Cons
Sleepers who run cold might want to look elsewhere! This bedding is super light, airy, and ideal for warm weather. 

While I, personally, like the color options that come with this sheet set, it's important to note that it is not offered in plain white.
AmazonBasics Heather Cotton Jersey Sheet Set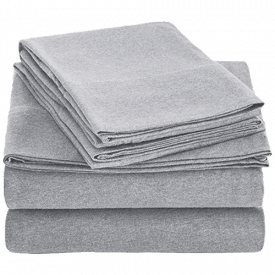 AmazonBasics Heather Cotton Jersey Sheet Set
If you sleep hot you'll love these cotton sheets from AmazonBasics!
Best Cotton Percale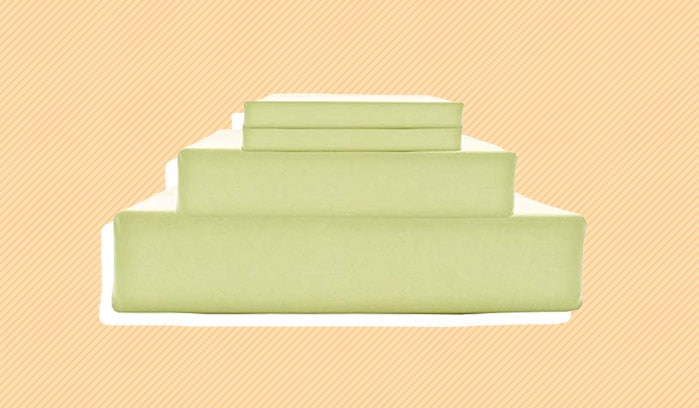 Linen Home Cotton Percale Sheet Set
Made from 100% cotton and spun into a percale weave, these sheets offer that classic crip cotton feel. Additionally, this bedding is OEKO-Tex certified, which guarantees that no harsh chemicals or synthetic pesticides were used to make it. 
Pros
Folks looking to slip into a crisp set of cotton sheets are likely to be most compatible with these. They are percale woven, which gives the fabric a distinctly crisp and clean look and feel!

If you're in the market to buy sheets for the whole family, rest assured — this sheet set comes in a variety of sizes, ranging from Twin to King.

The fitted sheet in this set has

very

deep pockets capable of accommodating mattresses up to 18 inches tall. 
Cons
If you like your cotton bedding to feel more silky than crisp, you might want to look elsewhere. These sheets are percale woven, which means they offer a crisp feel and matte appearance. 

This isn't necessarily a downfall, but note that this sheet set only comes in solid colors (no printed patterns).
Linen Home Cotton Percale Sheet Set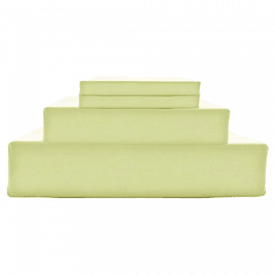 Linen Home Cotton Percale Sheet Set
The cotton percale sheets from Linen Home provide a classic crisp feel without the use of harmful chemicals.
Best Cotton Flannel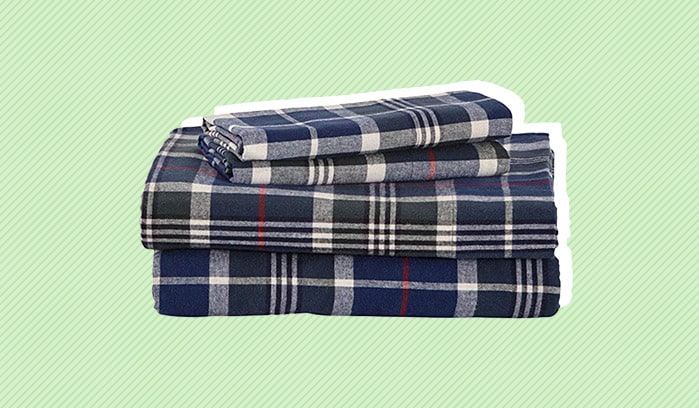 Stone & Beam Flannel Sheet Set
Made from 100% double-napped cotton, this flannel sheet set is ideal for sleepers who run cold. It's warm, cozy, and comes in a variety of plaid styles for an old-fashioned, rustic aesthetic.
Pros
Made from 100% cotton, these flannel sheets are softer and more breathable than flannel made from wool. Not to mention, the fabric is napped on both sides to boost that velvety-soft feel.

This sheet set comes in six different plaid styles, all of which evoke a Christmas-y aesthetic that might be perfect for gifting! 

While

some

flannel bedding requires special wash care, this sheet set is easily washed and dried at home. 
Cons 
While cotton-based flannel tends to sleep cooler than wool, keep in mind that this is still a warm and cozy sheet set! Those shopping for summertime bedding should definitely look elsewhere. 

Ranging from about $50-$80, this sheet set isn't going to fit in every sleeper's price range.
Stone & Beam Flannel Sheet Set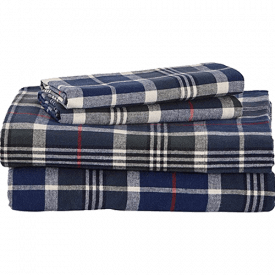 Stone & Beam Flannel Sheet Set
The flannel sheets from Stone & Beam are a great choice for those trying to stay warm on a chilly night.
How We Picked
Okay, sleepers, now that we've taken a look at my top five favorite cotton sheet sets, it's time to dive into the methodology behind my picks. Yes, selecting the perfect sheet set has a lot to do with personal preference, but there are some helpful guidelines to follow when you're on the hunt for cotton!
The Fiber Factor
When I'm on the hunt for cotton bedding, the very first thing I pay attention to is the length of the fibers (also referred to as staples) used to weave it. The general rule of thumb is: the longer the cotton fiber, the softer and more durable the fabric will be. That's why I always recommend searching for either long or extra-long staple cotton.
That said, the extra softness and durability that long-staple cotton provides does tend to increase the price, so that's something to keep in mind. But at the end of the day, quality costs and it's best to opt for a sheet set that'll take you through years of use.
Popular examples of cotton bedding that's known for its extra-long fibers are Egyptian and Supima (also known as Pima) cotton. Of course, these aren't the only types of cotton that can offer you a cozy night's rest, and it's worth noting that cotton woven from shorter fibers (like upland cotton) is considerably less expensive.
All that said, take some time to consider what you prioritize in a set of cotton sheets. If it's durability, aim for long or extra-long staple cotton. On the other hand, if minding a strict budget is most important, there's nothing wrong with snoozing on a sheet set woven from regular cotton! Just keep in mind that it will probably not last as long.
Weave Style
The next thing I focus on is weave style, so let's take a look at the most common weaves found in cotton bedding.
Percale – Percale woven cotton is known for its crisp, cool feel, and is often the best choice for sleepers who run hot. Additionally, percale sheets are matte in appearance, meaning they're not shiny at all. Folks looking for a classic and crisp set of cozy cotton sheets might want to aim for a percale weave.
Sateen – On the other hand, sateen woven bedding is typically silky in feel and lustrous in appearance. A sateen weave also tends to produce a thicker sheet that lies heavier on the body, which might particularly appeal to sleepers who run cold. Those who prefer their cotton bedding to be shiny and smooth might be best-suited to the sateen weave style.
Jersey-Knit – Jersey is technically not a weave style, as jersey cotton bedding is knitted rather than woven. However, it is one of the most popular types of cotton bedsheets, and is known for its distinctly light and airy feel. Folks looking to sleep cool but don't enjoy a crisp cotton feel would be best-suited to jersey-knit bedsheets. And keep in mind that jersey cotton sheets are neither matte nor shiny in appearance, and most sleepers compare its look and feel to t-shirt material.
Of the three types of cotton bedding I've listed here, it's worth noting that jersey-knit sheets are typically the least durable… But they're also usually the least expensive! Before you begin shopping, take some time to determine what you'd like your sheets to look and feel like.
Thread Count
Contrary to popular belief, thread count isn't the sole indicator of quality in cotton sheets. In fact, it kind of loses its value if you're not working with long or extra-long cotton fibers. Remember: long or extra-long cotton fibers produce a softer and more durable sheet than short fibers do.
That said, it's important to note that some bedding brands splice a ton of short cotton fibers together in order to boast a higher thread count. For example, if you see a sheet set advertised as having a 1500 thread count, I suggest you investigate a bit further to find out more about the length of the cotton fibers used to weave it.
Similarly, don't assume that a sheet set with a 200 or 300 thread count is poor quality! On the contrary, extra-long staple cotton bedding that features a thread count of 200 or higher is considered quite luxurious, and will feel super smooth and durable.
Colors, Prints & Patterns
One of the best parts about sheet shopping is choosing the style that you like best! So take some time browsing different colors, prints, and patterns until you land on the look that suits you best. It is your bedroom, afterall, and you should decorate it according to your personal taste.
That said, you may find that certain brands offer more in the way of color options than others. In fact, some bedding brands stick to a muted, minimalist aesthetic that might not appeal to the sleeper looking to get creative with color. Conversely, some bedding brands only offer sheet sets in a variety of playful colors and printed patterns. So before you settle on a sheet set, make sure the retailer sells it in a color you like!
Sizing
Some bedding brands offer sheet sets in every size from Twin to California King, while others only offer Queen and King sizes. So before you throw that sheet set in your shopping cart, make sure it comes in the size you want! It would be a shame to fall in love with a bedding set only to discover that it's not offered in the size you're looking for.
The same rule applies to fitted sheet pocket depth, so always check the "dimensions description" listed on the brand's website. For example, if you sleep on a taller mattress, make sure the fitted sheet in your bedding set has pockets deep enough to accommodate the dimensions of your mattress. In my experience, it's always best to get a sheet pockets that are a little too big than too snug.
For context, any fitted sheet with pockets 14 inches or deeper are considered extra-deep. But remember: if you're snoozing on a mattress that's 10 inches deep or less, there's no need to aim for deep-pocket sheets. Simply aim for the sheet pocket depth that's closest to the depth of your own mattress.
Wash Care
Fortunately, caring for cotton sheets is generally pretty easy, as cotton is a natural fiber. That said, it's always important to follow the specific wash care instructions as given by the bedding brand itself in order to maintain the integrity of the fabric for as long as possible.
Additionally, I suggest allowing your sheets to line-dry whenever possible, as high-heat dry cycles have been known to cause pilling and color fading. And when you do dry your sheets in the machine, try to avoid using too much fabric softener or dryer sheets as these products can often leave a residue on the surface fibers of your bedding.
And lastly, be sure to wash your sheets once a week in order to keep them looking, feeling, and smelling fresh and clean!
Price, Trial Periods, & Returns
The cost of cotton bedding ranges quite a bit, and is influenced by factors like weave style, fiber length, type of cotton, and more. That said, I always recommend looking for brands that offer generous trial periods and/or return policies in order to get a better sense as to whether or not you're really getting good bang for your buck.
But keep in mind that return policies and trial periods are not the same thing! For example, a 30-day return policy means you've got about one month to be send your newly purchased product back to the company for a full refund. However, it's important to note that every brand has a different return policy, and some will not refund your money if the product has been used, washed, or even opened.
A trial period, on the other hand, allows you to personally test a product for a set amount of time before deciding if it's the best fit for you. For example, if you determine within a 30-day trial period that your newly purchased sheet set is not what you were hoping for, just send it back for a refund whether it's been washed or not!
Sleepopolis Buying Tips
We've almost reached the end of my guide, but allow me to impart a few last words of wisdom before you get to shopping!
Number of Pieces – While most sheet sets include one top sheet, one fitted sheet, and two pillowcases, some leave the top sheet out of the mix. Additionally, some Twin size sheet sets only come with one pillowcase rather than two. So before you hit the "buy" button, make sure you're getting the exact number of pieces that you're looking for in a sheet set.
OEKO-Tex Certification – Keep an eye for for cotton sheets that are OEKO-Tex certified, as this guarantees that your bedding was not made with any harmful chemicals or dyes!
Wash First, Sleep Later – This isn't absolutely necessary, but I always suggest washing a new set of sheets before you sleep on it. This will just dust off any packaging residue it's picked up in transit, and also give you a good sense of how well the fabric retains its color after being washed.
Final Thoughts
Now that you're all experts on shopping for cotton sheets, you're ready to find the bedding set of your dreams! Just be sure to keep a close eye on the details, take advantage of trial periods when they're offered, and pick the sheets that best match your unique sleep needs. Happy shopping, folks!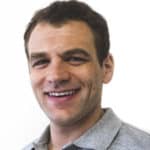 Logan is the content director of Sleepopolis, which means he not only reviews new mattresses every week, but also curates all the comparisons, best of pages, and video guides on the site. He takes a straightforward, honest approach to his reviews and endeavors to give viewers an objective look at each new product he tries out. Logan has perfected his method by personally testing over 200 different mattresses, so he's not only able to discern the overall vibe of a specific bed, but to contextualize its feel within the bed-in-a-box market as a whole.