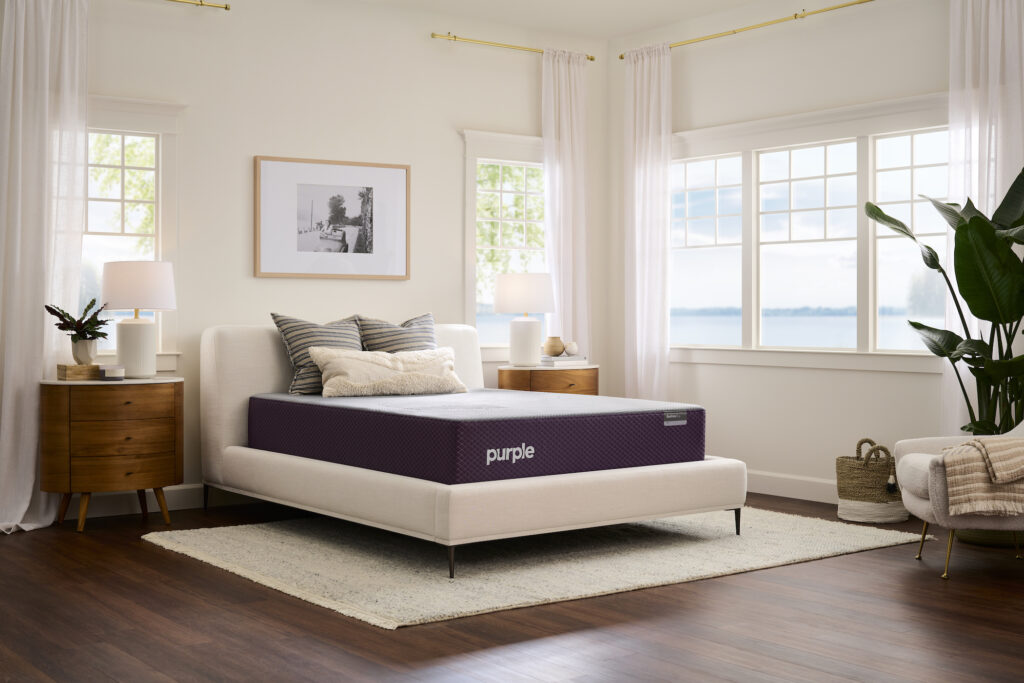 Earlier this week, Purple launched two new mattress lines, Purple Restore and Purple Rejuvenate, adding a total of nine (count 'em – nine!) new mattresses to their catalog.
Sleepopolis was able to talk with Jeff Hutchings, Purple's Chief Innovation Officer, diving into what this launch means for Purple, what customers can expect, and what the future of Purple looks like.
Nine new mattresses is no small feat, but Hutchings explained this was necessary to bring their consumers a wider range of options. "We had kind of a limited selection, right, not a lot of options, and the Gel Flex Grid has so many benefits that we were pretty passionate about bringing those benefits to a much broader base of consumers," Hutchings said.
The Restore lineup of six mattresses offers something for firm- and soft-mattress lovers through the Restore, Restore Plus, and Restore Premiere mattresses. The Rejuvenate line launched Purple into the luxury space, with three new offerings: Rejuvenate, Rejuvenate Plus, and Rejuvenate Premier. But who are these mattresses best suited for? 
According to Hutchings, because of their new wide range, there really is something for everyone. If you are looking for a firmer feel, the Restore is a great option, with the Restore Plus having a posterized coil unit offering targeted support throughout the night. The Restore Premiere has a unique coil unit, but what exactly does that mean? It allows for pinpoint pressure relief and Hutchings has first hand experienced the benefit of this bed.
"If you're like me, if you're a side sleeper, the Restore Premiere is my favorite bed because it just takes all the pressure off my shoulders and hips and provides all the support I need, "Hutchings said. "I went from a traditional bed and a lot of aches and pains went away and I started sleeping through the night, which was a big deal. So it was actually kind of a life-changing bed for me."
The Rejuvenate line is best for those who prefer the feel of a traditional mattress, but with the benefits of the Gel Flex Grid technology. This technology is what makes Purple, Purple. Last year Purple worked with Dr. Michael Breus, a clinical psychologist and sleep doctor, conducting a study to understand Purple the effectiveness for their mattresses. The study found the Gel Flex Grid reduced night awakenings by 21 percent and reduced aches and pains by 40 percent. The Gel Flex Grid is also meant to balance your temperature during sleep, claiming it's up to 4x more effective at removing excess heat than major competitors.
Hutchings further explained their findings saying, "We're all about 100 watt light bulb when you climb under the covers at night, if you think about 100 watt light bulb, they get pretty hot. It's a lot of heat energy being generated. And if the mattress isn't pulling it away from you, then it's building up. If you get too hot, it'll literally pull you out of sleep. That's actually how your body wakes up. It warms its core temperature back up when it's time to wake up. And actually to get to sleep, it needs to drop its core temperature. So we wanted to understand some of those connections because one of the sleep studies showed a real drop in sleep latency. People fell asleep faster on our beds."
Purple plans to continue working with external parties to validate their benefits to consumers.
"We're really passionate about bringing what I call effortless deep, restorative sleep. I mean, I want sleep to be the easiest thing you could do, right? You want to climb in your bed, you want to go to sleep. It can't be hard. And the brilliance about the Gel Flex Grid is that you get in, doesn't matter what position you'd like to sleep in, because it's so springy and restorative. It'll just adjust. There's no delay. So it instantaneously adjusts to whatever position you're in" Hutchings explained.
The Purple Restore and Rejuvenate collections are now available for sale with the Restore queen-sized mattress prices ranging from $2295-$3495 and Rejuvenate queen-sized mattress prices ranging from $5495-$7495.
Sources

Hutchings, Jeff. Personal Interview. May 2023.
Julia Medina
Julia is a Staff News Writer for Sleepopolis. From sleep news and education to the latest sleep trends, her goal is to keep you informed about what's going on in the world of sleep, dreams, mattresses, and more. Julia graduated from Wake Forest University with a degree in communications and minors in film and sociology. In her free time she loves exploring new cities, relaxing with a good tv show, and getting some good quality sleep.