When it comes to sleep accessories, it's sort of rare for a sleeper to only ever need one pillow for every night's sleep. Many folks like a pillow for hugging, a pillow for resting up against, a pillow to hold between your legs and, of course, a pillow upon which to lay your head at night. Nolah offers sleepers two different pillow styles so that all sleeping positions are covered!
I've previously taken a look at the Nolah Mattress but in this review, I'll be thoroughly testing both pillows from Nolah: the AirFoam and the AirFiber. They may look similar at first glance, but each pillow has its own personality and meets different sleepy needs. So, between the two of them, let's see how many bases these pillows can cover! If you're in a hurry you can click here to skip to my review summary.
WHAT ARE THEY MADE OF?
The cover fabric of both pillows is made from 300 thread-count cotton, and is infused with cooling phase-change material designed to keep these pillows breathable and temperature regulating. Both covers have zippers so that you can easily remove them when they need to be washed; the zipper on the AirFoam pillow spans two sides while the zipper on the AirFiber is smaller, spanning one side.
The AirFiber pillow is filled with a fluffy down-alternative called polyfiber which is designed to be soft and shapeable. This pillow has a lofty build with a soft firmness level, offering sleepers a nice balance between plush and supportive. While it has an aesthetically pleasing height to it, the fill is soft and malleable enough to flatten if you apply enough pressure.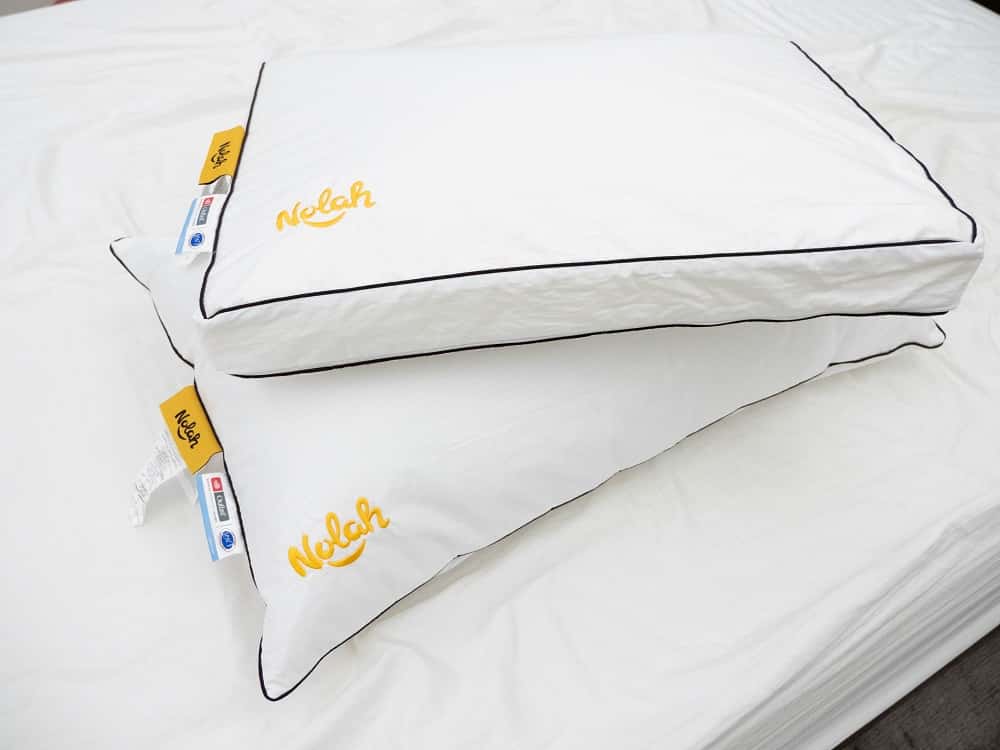 The AirFoam pillow, on the other hand, is filled with 100% polyfoam which is designed to be a bit firmer and offer more supportive pressure relief. The proprietary AirFoam is also used in Nolah mattresses; the people at Nolah say it's designed to sleep cooler and offer better pressure relief than memory foam.
It is rectangular in shape, and the center is slightly contoured to promote better airflow under your head.
Both of these are all position pillows, but Nolah suggests that stomach sleepers might benefit more from the soft, squishable nature of the AirFiber pillow while back and side sleepers might be more compatible with firmer support of the AirFoam pillow.
Fun Fact: Did you know that Nolah is partners with Defenders of Wildlife? For every mattress Nolah sells, they adopt one wildlife animal native to the US!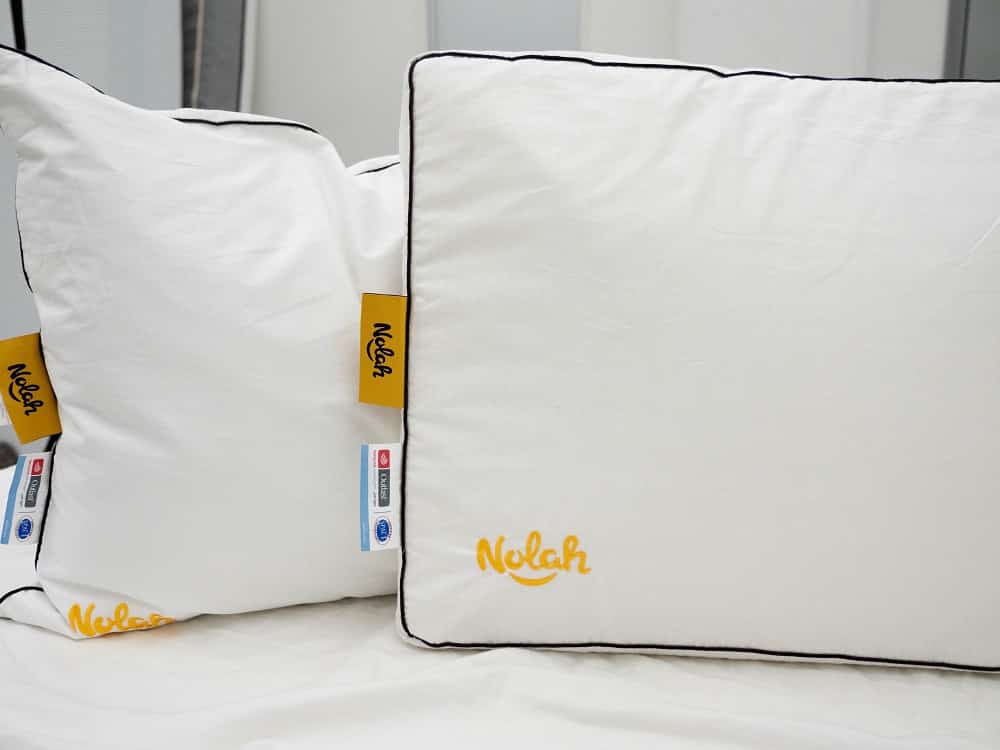 HOW DOES THE AIRFOAM FEEL?
Nolah's proprietary AirFoam pillow has a medium-firm feel and a quick response to pressure, so it conforms nicely to your head and neck. The foam offers a gentle sink into the pillow so that sleepers feel secure and supported. The resilient and cushy nature of the foam offers good pressure relief for your head and neck, but also provides some nice comfort for your shoulders.
The AirFoam was designed to be temperature neutral, and it's said to sleep cooler than memory foam. The slightly contoured center of the pillow offers some nice breathability under the sleepers' heads which helps to keep the pillow from heating up through the night.
Ultimately, the firmer support and contoured shape of this pillow might be most compatible with back sleepers as the loft might be a little too high for some stomach sleepers, and not high enough for side sleepers.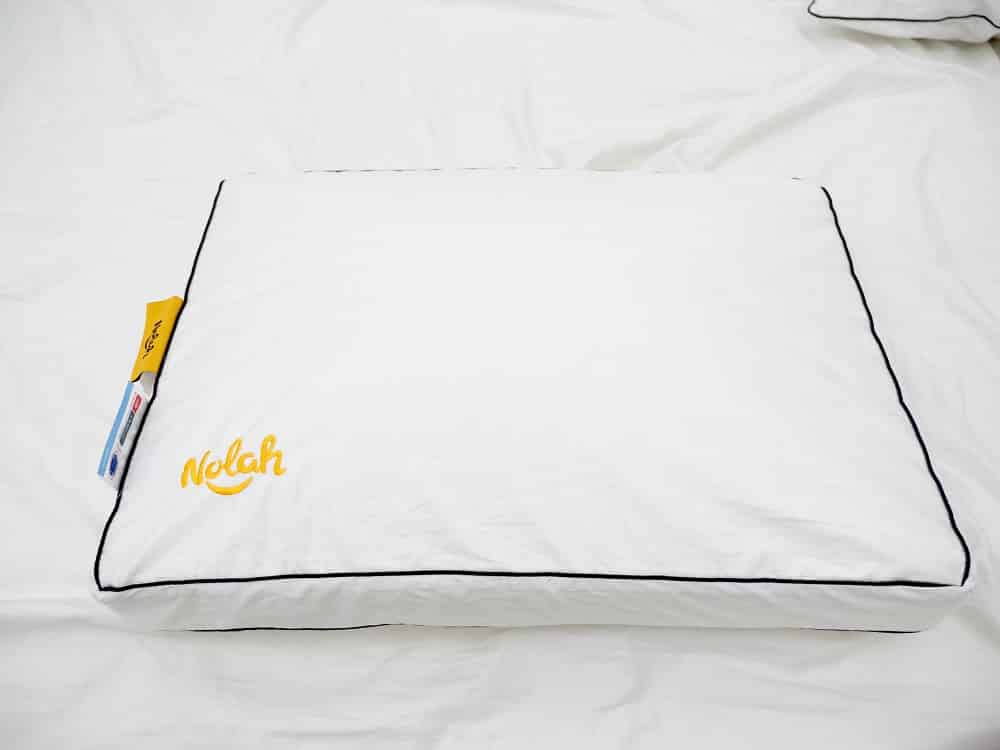 HOW DOES THE AIRFIBER FEEL?
The AirFiber has a softer, squishier feel than the AirFoam. Its fill feels very malleable and it's easy to flatten, fold, or bunch this pillow into the shape that best meets your needs. Because the firmness level is on the softer side, it's easier for your head to sink deeper into the pillow. The fill feels light and fluffy and offers softer pressure for your head and neck and feels very cozy.
The down-alternative is not quite as breathable as the AirFoam and does not offer any contoured support, however its foldable nature is great for supporting the unique curves of your body. The fill has a greater potential to go flat than the AirFoam, so some fluffing may be required from time to time.
This is considered to be an all-position pillow, though stomach sleepers might find the fluffy-soft AirFiber to be better suited for their needs. Because the loft is so easy to flatten, stomach sleepers can ease into a neutral position wherein their necks are not elevated in any way.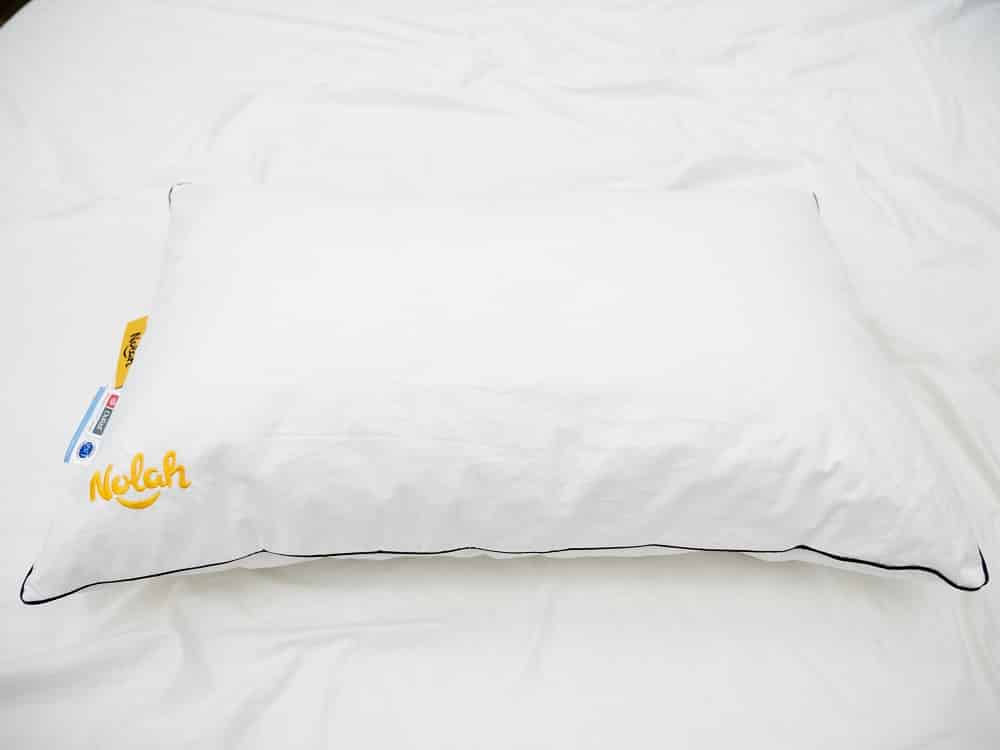 HOW DID YOU LIKE THEM, SARAH?
Firstly, I have to say that I love the design of these pillows. The "Nolah" insignia is adorable and I think the mocha colored piping is very fetching. Not to mention, the pillows have cheeky little phrases like "Hold me tight" and "I know you want me" sewn into the tags. Because you always see a pillow before you feel it, I think it's important for pillows to be attractive as well as cozy.
The AirFoam Pillow
I began my sleep journey using the AirFoam pillow because it's rectangular and slightly contoured shape was intriguing to me. As usual, I started in the supine position. I had been kind of worried that the convex contour in the center of this pillow might elevate my head in a weird way, but I found back sleeping to be quite comfortable!
The medium firmness gently conformed to my neck, and my head dipped right into the contoured center so I didn't feel like it was propping me up in an uncomfortable way. My posture felt comfortably aligned the whole time I was on my back, and I never felt like the foam was losing its resilience.
I could feel the pillow's quick response to pressure supporting my head just enough to allow a little sink into the foam, but not so much that I felt trapped. Sometimes with solid memory foam, that deep sink into the surface makes me feel a little bit captured in fabric, but the AirFoam provided a nice balance of sink and support.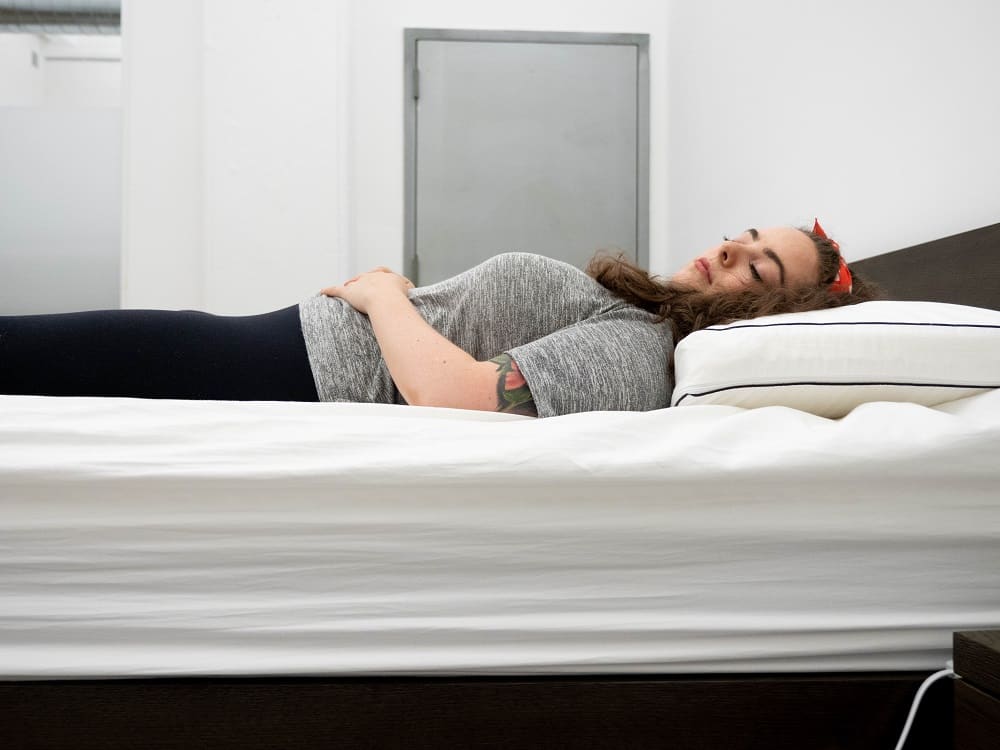 As I rolled onto my side, I felt a bit of a depression as the sides have less loft than the center. For me, this is not ideal for side sleeping. In order to maintain healthy posture in the lateral position, I need a bit more support and a bit more loft. I did, however, slip my arm beneath the underside of the pillow and that extra lift put me where I needed to be.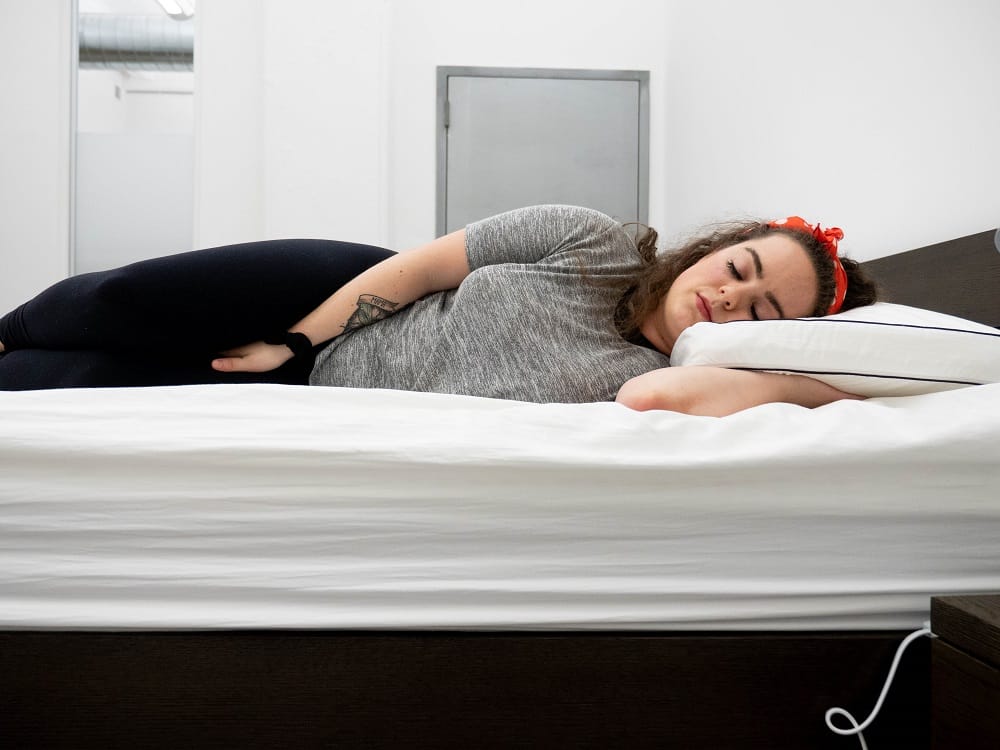 I moved onto my stomach and I could feel the air flowing through the center of the pillow which reminded me that the AirFoam wasn't trapping any heat. Because of the medium firmness, I wasn't sure how this pillow was going to feel on my stomach, but I found it to be pretty cozy! As I reached under the pillow to embrace it in the prone position, the rectangular shape actually conformed to my arms in a very pleasant way.
I think if this pillow was even a half inch taller or the slightest bit firmer, it wouldn't be good for stomach sleeping. However, the loft flattened under the weight of my head enough to keep my head and spine in alignment and it felt very relaxing.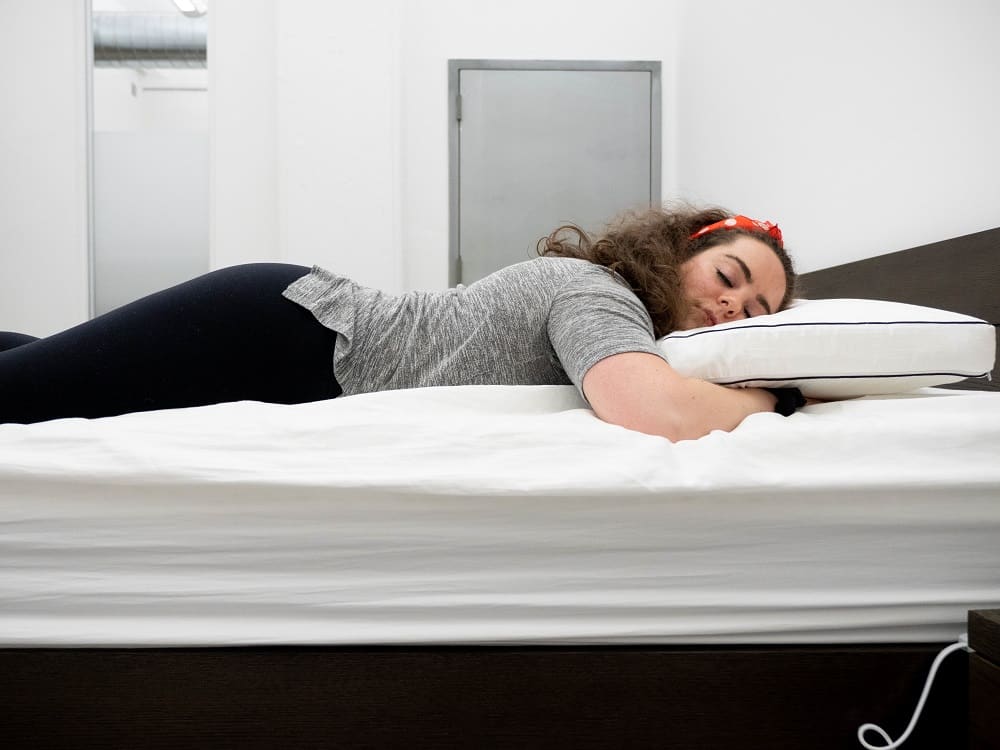 UNDER-THE-ARM & BETWEEN-THE-LEGS
I'm not so sure that a rectangular pillow makes the best under-the-arm support. It put my arm at a weird angle and it didn't feel huggable or fluffy in the way that I usually like. It was, however, great for in-between-the-leg support.
It felt very comforting and secure for this sleep style, and helped to keep my hips aligned as well as relieve a little pressure in my lower back. So, while I don't love it as an under-the-arm-hugger, I think it serves as very comfortable between-the-leg support.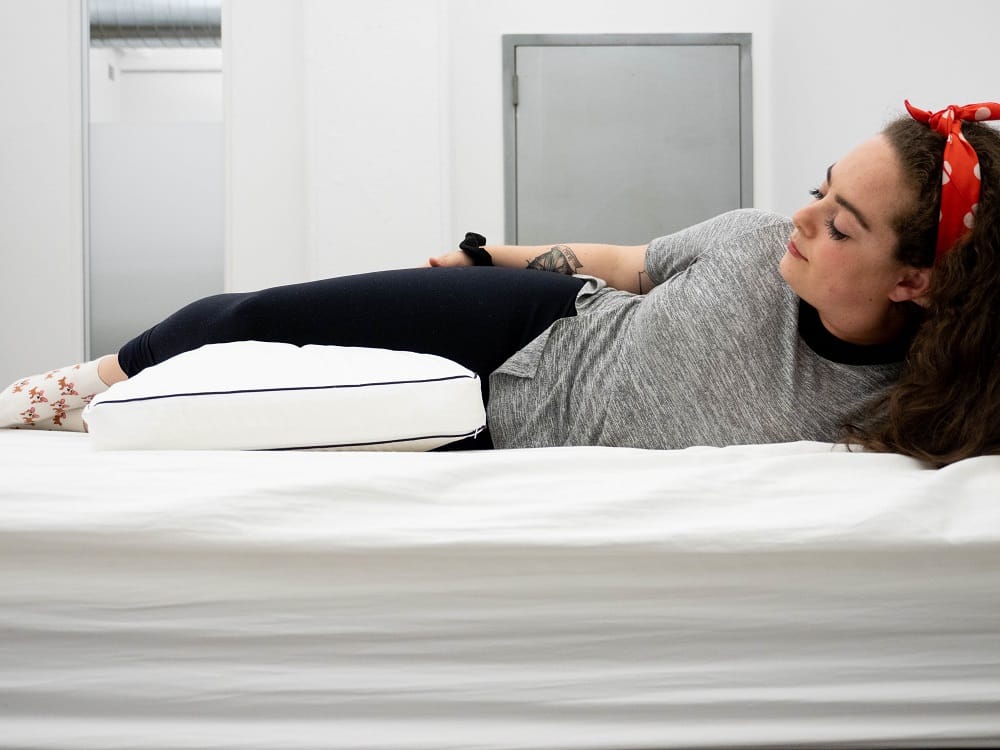 The AirFiber Pillow
As soon as you hold the Nolah AirFiber pillow in your hands, you can tell right away that it's softer and fluffier than its AirFoam counterpart. I started, again, in the supine position and although it was less supportive, it was still comfy. The fill felt a lot like down, and the loft of the sides rose up as my head sunk into the center allowing me to rest my temple to my left or right.
My head, neck, and spine all felt comfortably in alignment, though I did feel like the pillow needed to be fluffed a little bit after lying on my back for a while. As I fluffed the pillow, the materials didn't feel quite as breathable as that AirFoam's. After rolling around a bit, I did start to feel that the pillow was trapping a little bit of my body's heat, but the fluffy, feathery nature of the fill made my head feel softly cradled in a very pleasant way.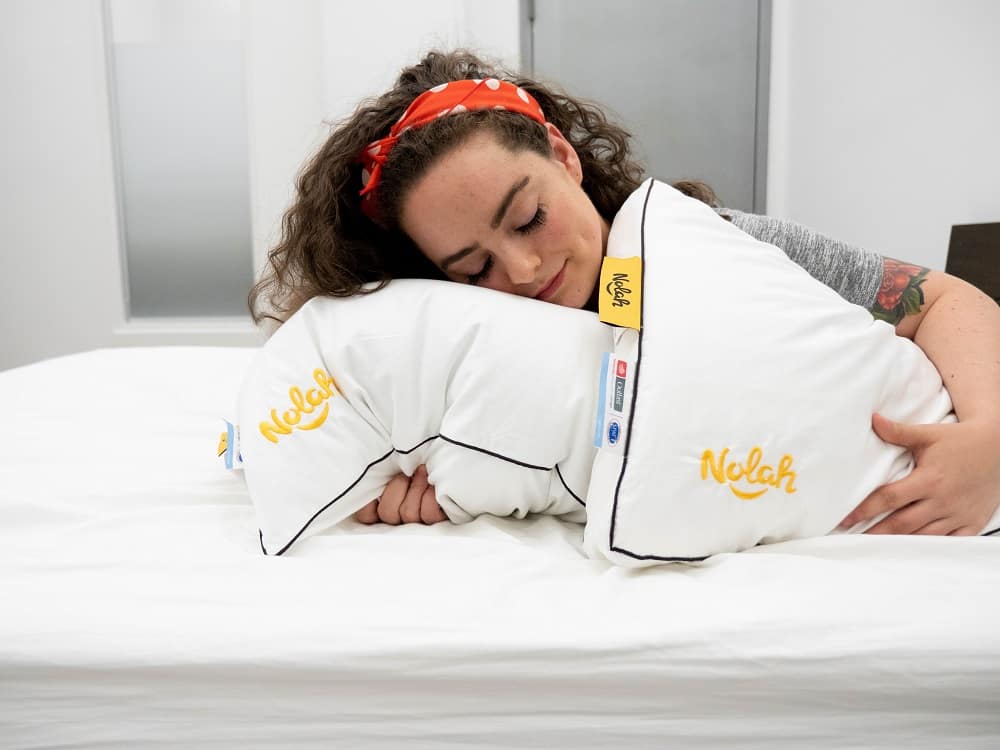 As I rolled onto my side, I could tell right away that this was not going to offer me enough support. The weight of my head completely flattened the pillow and my posture was thrown right out of alignment. However, because this fill is designed to be soft and shapeable, I was able to fold the AirFiber in a way that propped me up. So, while this pillow might not be ready-to-go for side sleeping, I was definitely able to manipulate the pillow in a way that made it pretty cozy for this position.
Moving onto my stomach felt easy and natural. The soft, flatter nature of the AirFiber allowed my head to sink just enough so that my head was not elevated in any way, and my posture remained in neutral alignment. I'm always a little trepidatious when it comes to stomach sleeping because it is fairly easy to throw your neck out of alignment; but I would say that the sleep style most compatible with the AirFiber is the prone position!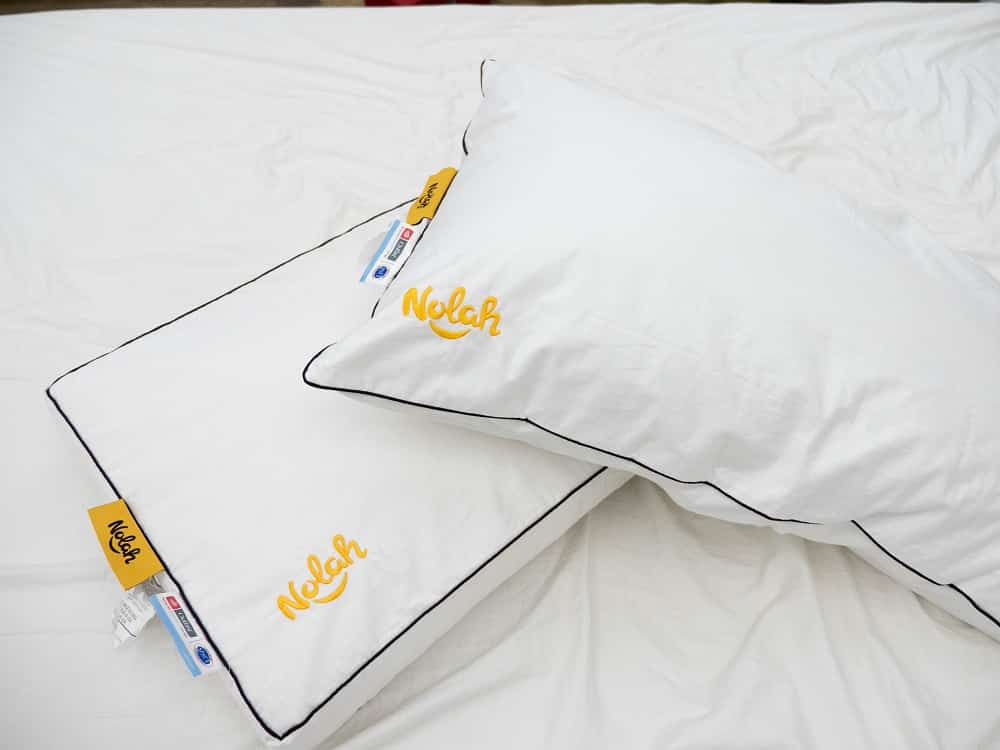 UNDER-THE-ARM & BETWEEN-THE-LEGS
So, while the AirFoam wasn't ideal for under-the-arm support but was great for between-the-leg, I found the opposite to be true with the AirFiber. The fluffy, huggable nature of the down-alternative fill makes the AirFiber really cozy for under-the-arm support. That squishy sort of comfort is definitely what I'm looking for in a hugger-pillow.
Using the AirFiber for between-the-leg support, however, didn't work out so well. The weight of my leg just sunk right to the bottom of the pillow and it was almost like the AirFiber vanished. There was no kind of support for my lower back or hips, so I would definitely keep this one up with me where I can wrap my arm around it.
ANYTHING ELSE I SHOULD KNOW?
Made in the USA
Free Shipping & Returns
120 Night Trial Period
Only One Is Machine Washable — The AirFiber pillow is completely machine washable, but the AirFoam must be spot cleaned with a damp cloth and gentle detergent.
AirFiber — $79
AirFoam — $99
SO, WHICH PILLOW SHOULD I TRY — AIRFIBER OR AIRFOAM?
Between these two Nolah pillows, every style of sleeper should be able to find some good, cozy rest. That being said, these pillows do have different personalities to them and there are a few things that might help guide your decision between the two:
Stomach Sleepers — The AirFiber has a soft, squishy quality that is going to be more beneficial to stomach sleepers who need a flatter pillow to keep healthy posture.
Back Sleepers — The AirFoam offers firmer support and a slightly contoured center which is great for folks who sleep on their backs.
Side Sleepers and Pillow Stackers — If you stack the AirFiber pillow on top of the AirFoam pillow, you can achieve a comfy layering of support wherein the bottom provides a firmer, lofty base and the top adds a soft cushion for your head. Side sleepers might enjoy this extra loft and support as well.
Ready to make a purchase? Head over to Nolah to buy directly from the source!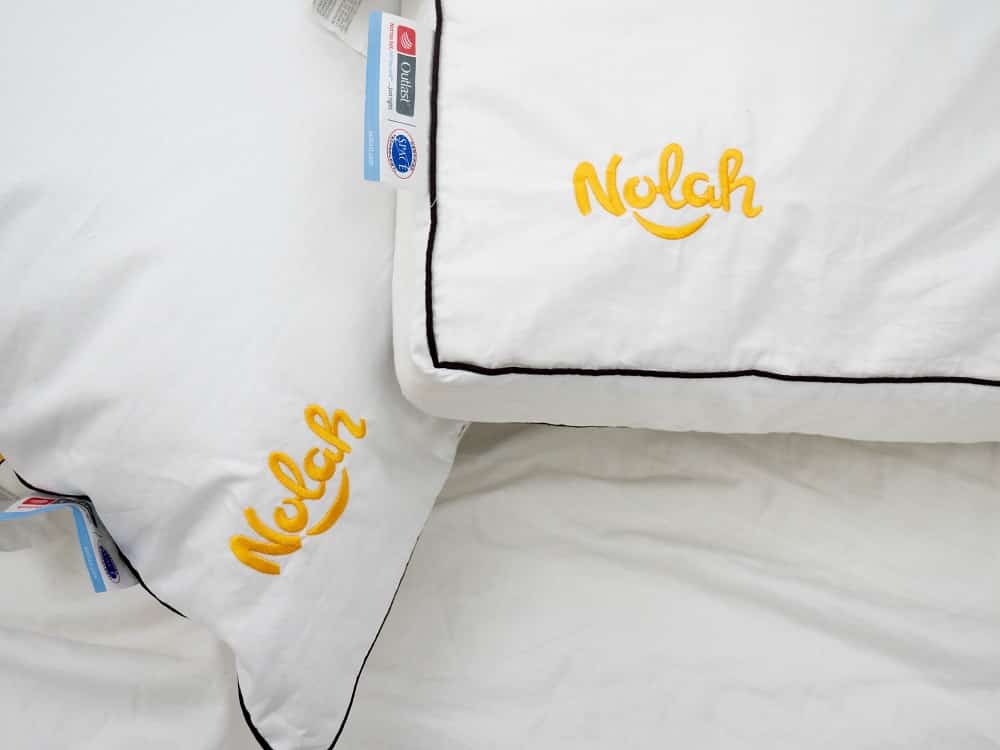 Sarah is the former senior writer and bedding expert at Sleepopolis. She received her degree in Creative Writing from Brooklyn College and spends her free time doing stand-up, making pasta, and hanging with her cats.