Light plays a huge role in our lives, helping to regulate our circadian rhythms to let our brains know when to be asleep and when to be awake. It also contributes to our mood, which can lead to seasonal affective depression (SAD) in the dark winter months.
A variety of products have been invented throughout the years to help people regulate their circadian rhythms and get light exposure, whether they are stuck indoors for their work or live in the far north and experience little daylight in the winter. In this review, I'll be going over my experience trying one of these products: light therapy glasses.
Luminette Light Therapy Glasses are designed to combat sleeping problems, seasonal depression, and low energy. For five days, I tested wearing these light therapy glasses in the morning to see if I felt any effects. Keep on reading to learn about my experience, or jump to the end for a review summary.
What Are Luminette Light Therapy Glasses?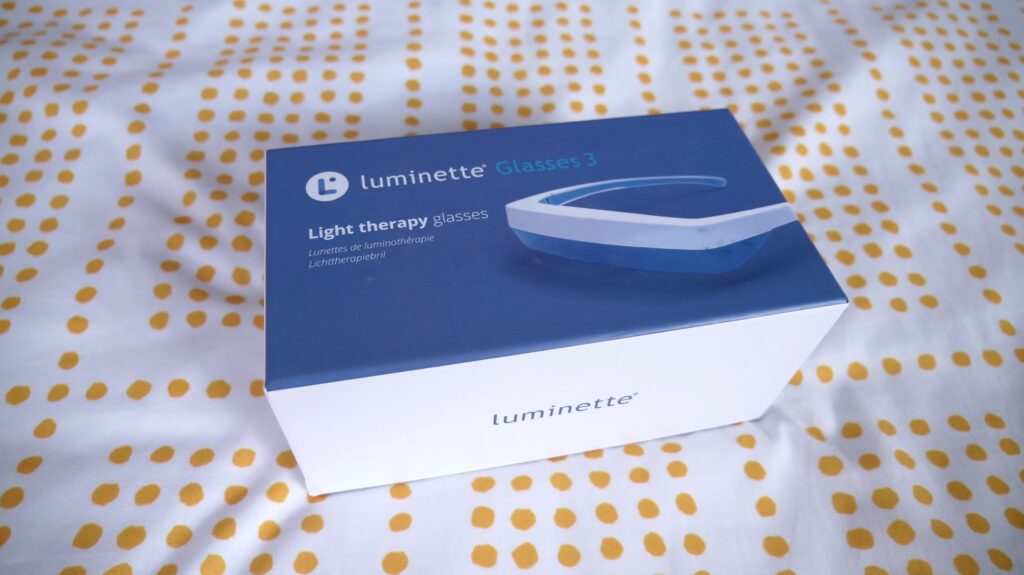 The Luminette Light Therapy Glasses are a wearable product that shines blue-enriched white light towards the eyes. The glasses feature an extended nose rest, which keeps the glasses from resting directly on the face. Unlike regular eyeglasses or sunglasses, you don't look through the Luminette glasses. Rather, they hover over your eyes, around the brow bone and emit light down towards your eyes.
These light therapy glasses are meant as a substitute for a light therapy lamp or box. These products are also popular for light therapy, but the Luminette Light Therapy Glasses allow you to move around while still receiving the light therapy, instead of being stuck in one place.
Who the Luminette Light Therapy Glasses Could Be Good For
Now that I've gone over what the Luminette Light Therapy Glasses are, let's talk about who they might be good for.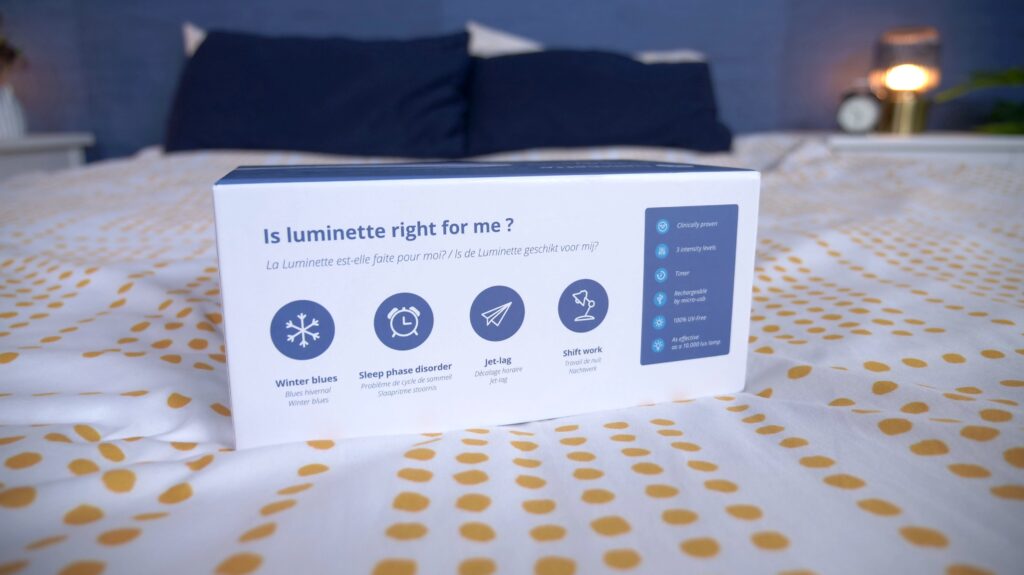 Who Should Try Luminette Light Therapy Glasses
If you are looking for a light therapy product that allows you to move freely, you'll likely appreciate how you can get up and move around with these glasses on, instead of having to sit near a lamp.
If you live in an area without much sunlight, you might find these glasses useful as a way to set your circadian rhythm and brighten your mood.
If you travel across time zones frequently, you can easily bring these glasses with you to help adjust to your new surroundings.
Who Should Not Try Luminette Light Therapy Glasses
If you are easily bothered by things on your face, you might find wearing the Luminette glasses distracting or irritating.
If you are prone to headaches or nausea, you may want to skip this product. While the Luminette glasses are overall safe, the company does list these as potential negative side effects. For those already prone to these issues, the light therapy likely isn't worth it. It's always a good idea to talk to your doctor first if you are concerned.
If you already have easy access to natural light, you likely won't get much out of these glasses. For folks who live in sunny areas or spend much of their time outdoors, these glasses are likely unnecessary.
How to Use Luminette Light Therapy Glasses
The Luminette Light Therapy Glasses are simple to use. To turn the glasses on, simply press and hold the "on" button on top of the glasses. Once they are on, you can press the button again to rotate through three different levels of light intensity. To turn them off, simply press and hold the button again.
Once they are on, you put them on like you would any other glasses. You can adjust the nose rest at three different levels to find what is most comfortable for you.
Luminette recommends wearing the glasses once per day, for 20 to 45 minutes, depending on the light intensity you choose.
What the Luminette Light Therapy Glasses Are Made Of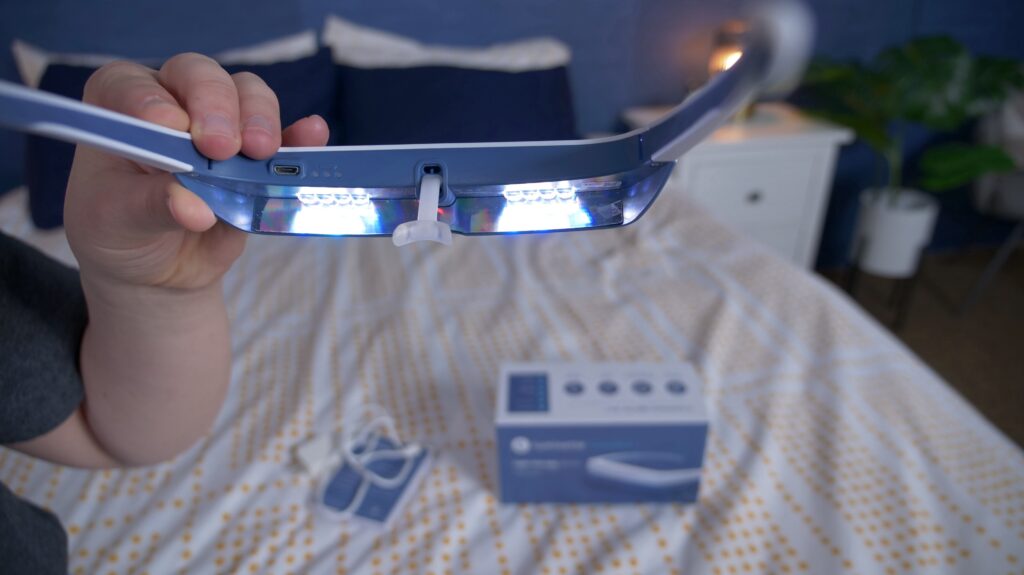 The body of the glasses are made from plastic, including the adjustable nose rest and foldable temples/legs of the glasses. LED lights are employed to shine light towards the wearer's eyes, with a reflective, holographic coating on the "lens" of the glasses.
On the inward facing side of the glasses you can see a micro-USB charging port, as well as a charge indicator light. The on/off switch rests on the top of the glasses.
My Experience Using the Luminette Light Therapy Glasses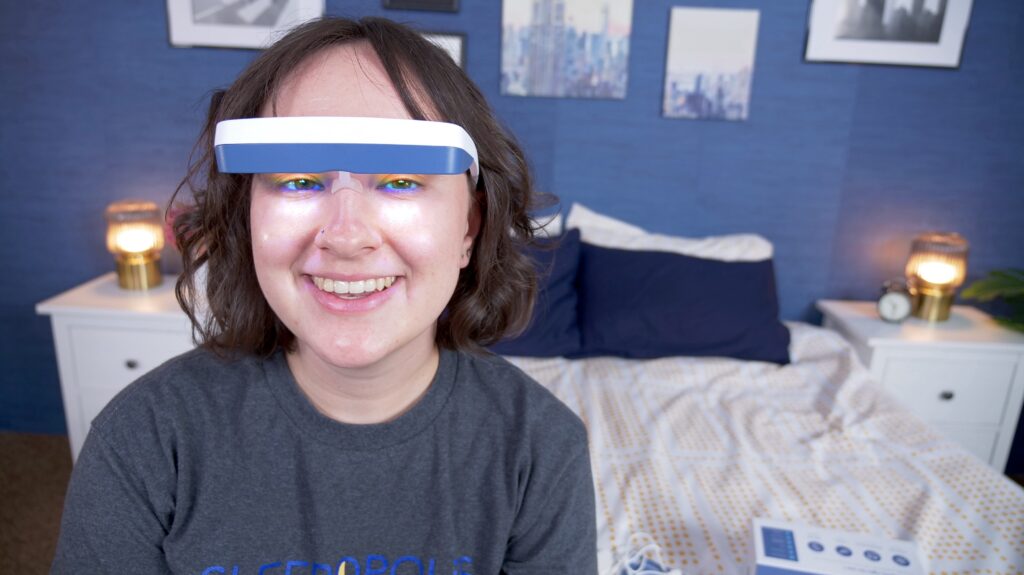 Day 1
On my first day testing the Luminette Light Therapy Glasses, I wore them for about 45 minutes on the lowest setting in the morning as I started my work day. Initially, the glasses felt heavy on my nose and I was uncomfortable — it was similar to the sensation of having to sneeze but not being able to. However, after some time passed and I started to focus on work, the feeling subsided.
I'll admit, I felt a little silly wearing these glasses. When my boyfriend walked in and saw me wearing them, he laughed and said I looked like a character out of Star Trek. A quick look in the mirror confirmed his assertions. Since the glasses hover over your face and shine rainbow light onto your eyes, they do look a little science fiction-esque.
After my light therapy session was up, I wasn't feeling much different than I had at the start of the morning. However, I had actually woken up feeling fairly energized and in a good mood — I had just gotten back from a vacation the night before.
Day 2
On the second day, I repeated the same timing, wearing the glasses for about 45 minutes on the lowest setting in the morning. I definitely felt more adjusted to wearing the glasses this second day — the weight on my nose didn't feel so uncomfortable anymore. Once my session was up, I was feeling pretty energized, which was pretty interesting since I hadn't noticed much difference on the first day.
Day 3
For day three, I followed the same 45-minute light routine as I started off the work day. By this point, the glasses were no longer feeling very obtrusive on my face — I would forget I was wearing them unless I looked in the mirror. However, I didn't feel much of a difference in my energy level or mood this day.
Day 4
On day four, I had to charge the glasses so I was a bit late in starting my light therapy session. However, once they had reached enough charge, I put them on again for 45 minutes on the lowest setting. The more days I spent testing the glasses, I really came to appreciate how mobile they allow you to be. Unlike a gadget you have to sit near or carry around, these glasses rest right on your face. I could easily get up for a cup of coffee, make a quick breakfast, or get up from my desk for any other reason without interrupting the light therapy session.
Like day two, I ended this light therapy session feeling a little more energized than when I started.
Day 5
Day five was a little different than the previous four. While I had previously done my light therapy sessions at the beginning of my work day working from home, on day five I had to go into our Sleepopolis mattress lab. So I opted to wear the light glasses as I got ready in the morning instead of during work.
Overall, this went okay. It did feel a bit more inconvenient to add the light therapy glasses into my routine as I was getting ready to leave the house — which I often do in a rush. I like to sleep in as much as I can! I ended up not being able to wear the glasses for the full 45-minute session, since I did not want to wear the glasses while driving. In retrospect, I likely should have opted for a higher intensity light setting, since I had a shorter session.
On this day, I didn't feel much effect from the glasses — perhaps because it was more of a hectic morning than my slower usual routine on a day spent working from home.
Price & Policies
Wondering how much the Luminette Light Therapy Glasses cost? Currently, the Luminette 3 I tested is available for $199.
Luminette allows you 30 days to test the glasses and at the end of that time period, if you want to return them, you will receive a full refund. However, Luminette does ask that you try them for at least 10 days first.
For shipping, the company offers free delivery within the United States. They also ship to Canada.
Additionally, your glasses come with a 2-year warranty.
Final Thoughts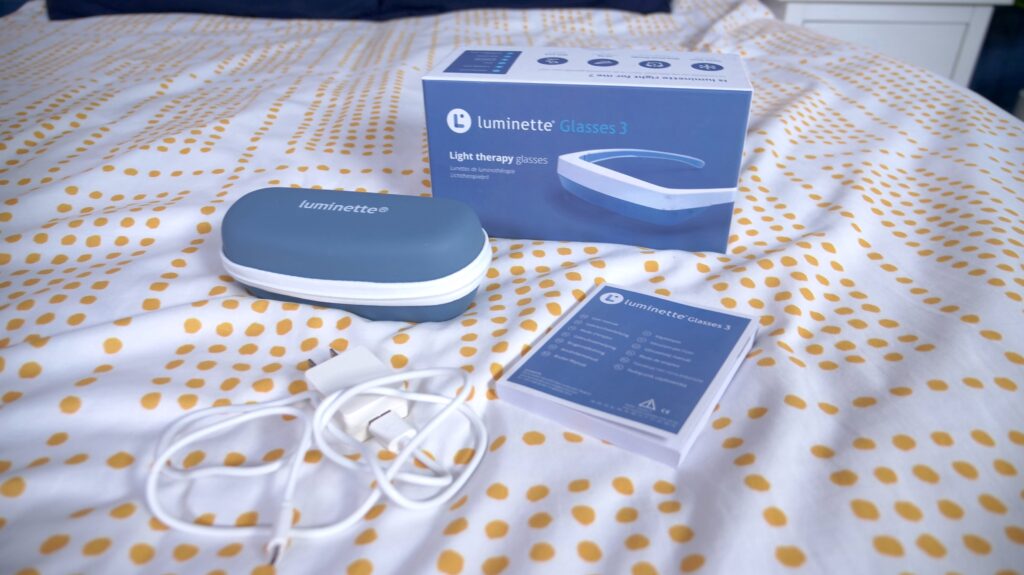 All in all, I really enjoyed testing the Luminette Light Therapy Glasses. Upon first try, I really didn't like them, because of how they felt on my nose. However, as time passed, I started to forget they were there and the discomfort faded away.
As you likely gleaned from my day-by-day breakdown of testing, I didn't feel a huge effect from these glasses. However, I assume the effects will always be fairly subtle and take time to build up, which is why they ask you to test them for at least 10 days before returning the glasses.
I'm a big fan of getting natural light during the day — it's good for your circadian rhythm and it always boosts my mood. While I think I'll always prefer the real thing (I also love getting to spend time outside), I can see these glasses being handy on a cloudy day or in the winter, when it's significantly darker. I think they could be especially beneficial to folks who live in areas that don't get a lot of sunshine regularly or who live in places that are dark during the day in the winter.
As a product, the Luminette Light Therapy Glasses are really easy to use. It's fairly intuitive — just press the on button and put the glasses on — but they also provide a fairly thorough manual to help you if you run into any trouble. Additionally, I appreciate the mobility these glasses provide the user — you aren't restricted to sitting near a lamp. However, if you want to wear them in public, be aware that you will likely attract looks from passersby.
If you've been looking for a light therapy product, I think these glasses are overall a good option!
Other Products To Try