If you've been looking for mattresses online, you've likely come across the term "hybrid" in your search. Though this category is a little less straightforward than foam or innerspring, the idea is actually quite simple — hybrid mattresses combine foam with springs for a one-two punch of pressure relief and support. In recent years, these beds have come to dominate the mattress conversation, as much for their novelty as for their ability to satisfy a wide range of sleeper needs. However, though a hybrid may sound enticing, these beds are far from created equal, so landing on the right one for you may be trickier than you think.
But never fear, Sleepopolis is here! Below, we're going to walk you through our absolute favorite hybrid mattresses on the market today and talk about the methodology we used to pick them. These options range from the soft and pressure-relieving to the ultra-bouncy and have been chosen to reflect a diversity of wants and preferences.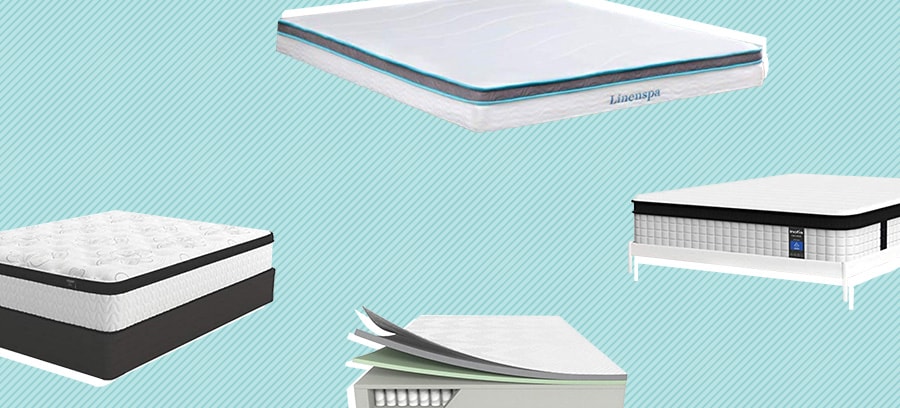 Most Affordable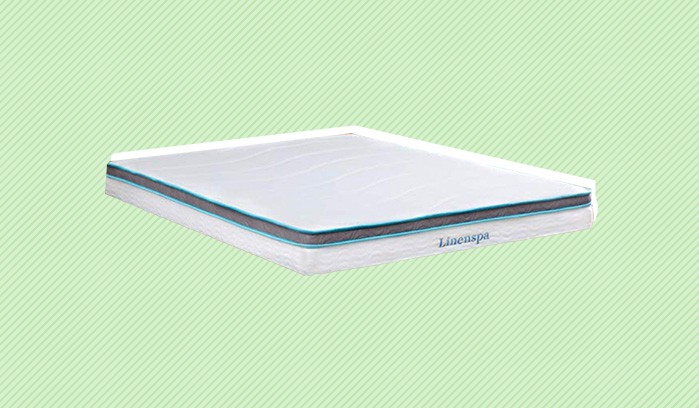 Linenspa Hybrid
For folks on a budget, the Linenspa hybrid could be a fantastic option! Though this bed has an affordable price tag, it's still outfitted with plenty of great features, such as layers of plush memory foam and individually wrapped coils. 
Pros 
The low price point is a big selling point here! If you're looking to revamp your bedroom on a budget, this bed might be the one for you. 

Thanks to its relatively thin layer of memory foam, the bed is also quite firm, so could work great for back or stomach sleepers. 

All in all, I think this bed could be a nice choice for college students or young adults moving into their first place! 
Cons
Given the no-fuss design, there's not a lot of body-contouring or deep pressure relief going on here, so may not work for those with aches and pains.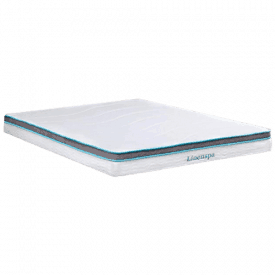 The Linenspa hybrid is an inexpensive option for those looking for a mattress with some bounce.
Best Firm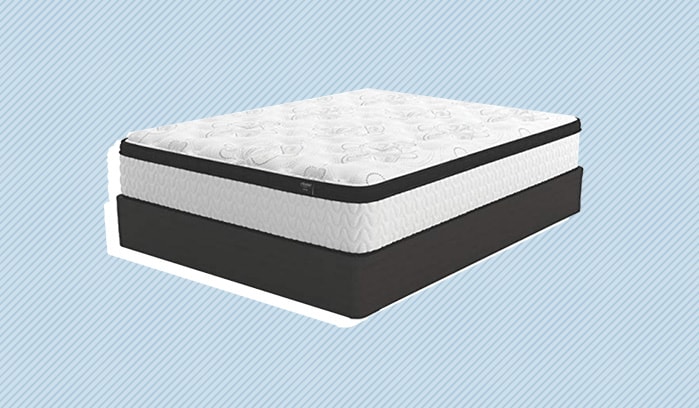 Ashley Furniture
If you like the feel of an extra firm mattress, you may want to consider the Chime Express Hybrid from Ashley Furniture. Though there's a thin section of gel memory foam up top for pressure relief and comfort, the 9" section of pocketed coils reigns supreme, making for a bouncy and ultra-supportive bed. 
Pros 
Back and combo sleepers will likely enjoy the bed's incredible bounce as it makes it easy to move around and change positions. 

I'd also say that the mattress evokes a classic innerspring vibe, so could be a solid choice for foam-avoidant sleepers. 

The bed is also hypoallergenic, meaning it's able to keep airborne pests (like dust and pet dander) at bay while you sleep. 
Cons
Side sleepers may find the bed a little too firm, resulting in some tension at the shoulders and hips as they press into the structure.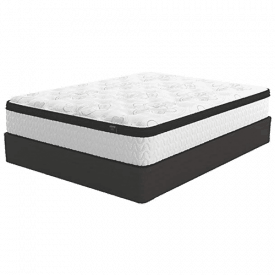 If you like the feel of an extra firm mattress, you may want to consider the Chime Express Hybrid from Ashley Furniture.
Best Innerspring Feel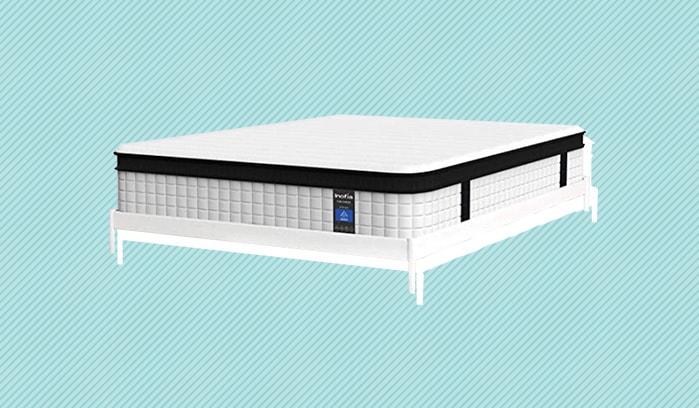 Inofia
Built with gentle foam up top and a tall, sturdy section of individually encased coils, this hybrid mattress from Inofia could be a good pick for folks after a traditional innerspring vibe. I say this because the bed is highly supportive, bouncy, and firm, lending the structure a pleasant lift that'll keep the sleeper positioned on top of the bed. 
Pros 
If you like an old-school innerspring vibe, I think the Inofia could be a great choice. The tall coil section dominates the feel, resulting in a ton of bounce and support. 

Combo sleepers may be especially well-suited to the mattress as they'll be able to move around with ease. 

Couples may also like the bed because it has excellent edge support, which maximizes the usable surface area of the mattress. 
Cons 
Side sleepers may find that the bed isn't quite soft enough for their needs. Typically, these folks need more sinkage and body-contouring to ensure comfort as they press into the bed.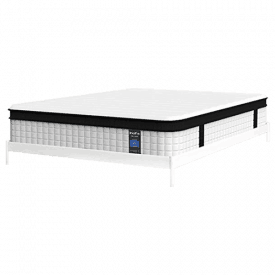 The Inofia uses gentle foam up top and a tall, sturdy section of individually encased coils to provide a bouncy and firm feel.
Best Cooling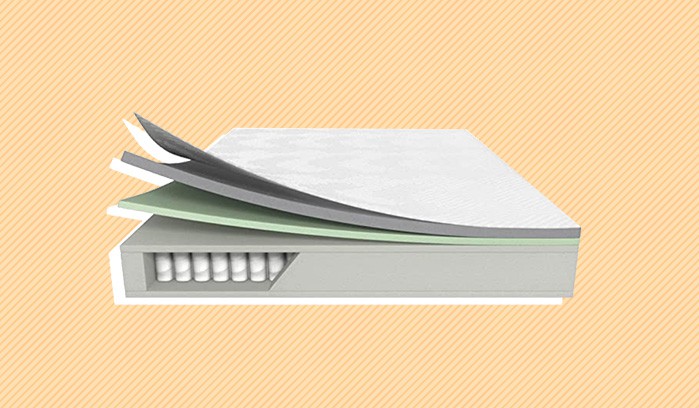 Lucid Hybrid
If you're a hot sleeper who needs a little help sleeping cool at night, you may want to consider the 10" hybrid mattress from Lucid. Not only is this bed built with cozy foams and springy coils, but it's also outfitted with a ton of cooling properties, including infusions of bamboo charcoal and aloe vera. 
Pros
Hot sleepers, rejoice! The Lucid Hybrid is a super cool bed that benefits from excellent airflow and cooling infusions of bamboo charcoal and aloe vera. 

I think this bed could also be a winner for combo sleepers. It's quite bouncy, so helps to increase the mobility of the structure. 

Couples could find a lot to love in both the cooling properties of the bed and in its ability to isolate motion. 
Cons 
If you're in need of a lot of sinkage, this may not be the bed for you, as its coil structure is likely to keep you positioned more "on top" of the bed.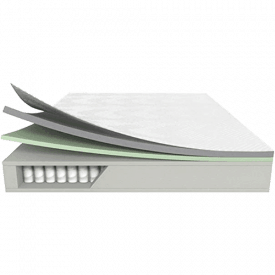 The Lucid Hybrid provides great bounce and support and has the awesome cooling benefits of a latex comfort layer!
How We Picked
Now that we've gone over our best hybrid picks, let's take a minute to chat about the methodology behind our choices.
Durability
One of the most important things to consider when buying a hybrid mattress is durability, especially when it comes to the types of coils used. Preference should be given to sturdy steel springs, as they'll last much longer than coils made of other metals. Considering how much bounceback these mattresses experience, it's crucial to land on a model that'll be able to support this movement over the course of time. If you're unsure of how strong or durable the coils are, pay extra close attention to the warranties and trial periods associated with the mattress — the longer the warranty, the better the quality.
Foam
An excellent hybrid mattress marries pressure relief with support by combining soft foams with buoyant coils. But that doesn't mean any ol' foam layer's going to do. Instead, it's important to keep your eyes peeled for a diverse design that utilizes an array of different foams to achieve a balanced feel. Ideally, you'd want your hybrid to have at least two foam layers on top of its pocketed coils, so as to prevent any sort of abrupt transition throughout the structure. If you specifically need pressure relief at the shoulders and hips, look for a bed that utilizes memory foam in the comfort layers. If you sleep hot and are more interested in bounce than sinkage, consider a bed topped with latex.
Bounce
Bounce is a hallmark characteristic of the hybrid mattress, but not all bounce is created equal. For a more "extreme" lift, look for a layer of steel coils without edge support or individual wrapping. For something more subtle, opt for pocketed coils or ones surrounded in a layer of foam edge support.
Height
An important aspect of the bounce discussion is height, more specifically the height of the coil system. In hybrid mattresses, the typical range you'll see is anywhere from 5" – 9", with the bounce increasing with each new inch. In general, the taller the coil section, the more it comes to dominate the overall feel of the mattress i.e. making it firmer and more supportive.
Sleepopolis Tips
Still not sure how to find the hybrid mattress of your dreams? No worries! Check out some of our favorite tips for sorting through the online pile and landing on the bed that's 100% right for you.
Couples should pay extra close attention to hybrids that feature individually wrapped pocketed coils and edge support. The former characteristic ensures lower levels of motion transfer while the latter increases the usable surface area of the bed.
It's also important to spot the difference between beds with "pillow tops" and "foam comfort layers." A pillow top is usually thinner than a foam comfort layer, so provides less body contouring and pressure relief.
Heavier folks may want to consider snagging a hybrid that features a "coil-on-coil" construction in which there are actually two layers of coils stacked on top of one another for added support.
Wrap Up
And that about does it for this guide to the Best Hybrid Mattresses on the market today! From bouncy value buys to beds outfitted with plush memory foam, these mattresses are guaranteed to liven up your bedroom and send you happily drifting off to dreamland.