Sleep is essential for a child's physical, emotional, and academic development. The right mattress can provide a soothing and supportive sleep environment that helps your child sleep well at night and look forward to bedtime.
No matter what your child's age or sleep needs, you can find a great mattress that promotes healthy slumber and works with your budget. With the wealth of options available, how do you select the right mattress for your child? We've chosen several kids' mattresses that you can find on Amazon — with durability, support, and comfort suitable for kids — to help you choose the perfect one.
Best Kids Mattress on Amazon 2023
Compare the Best Kids Mattresses on Amazon
Expert Opinion
Our choice for editor's pick is the Linenspa 10 Inch Hybrid mattress. This twin model utilizes plush memory foam comfort layers and innerspring coils to create a supportive, medium-firm feel that is appropriate for children of all ages and weights. The Linenspa 10 Inch Hybrid is also available in a lower-profile eight inch option for smaller children or those who like less height in a mattress.
Who the Linenspa 10 Inch Hybrid Mattress Is Good For
Those looking for a supportive bed: This model's innerspring steel coils provide stable support and are particularly good for back sleepers
Hot sleepers: The innerspring structure facilitates airflow, which helps keep your child from overheating at night
Those who like a bouncy mattress: Kids who prefer a bit of bounce in a mattress will like the solid springiness of the Linenspa Hybrid mattress
Who Should Avoid the Linenspa 10 Inch Hybrid Mattress
Side sleepers: This mattress may be too firm for side sleepers, who need pressure relief at the hips and shoulders.
Stomach sleepers: It may also be a little soft for stomach sleepers, who do best with a firm mattress that supports the hips and torso
Get the full scoop in our comprehensive Linenspa 10 Inch Memory Foam mattress review or click here for our best deal. Not sure if the Linenspa 10 Inch Hybrid mattress will provide you with the support you need? Take a look at our other picks for best mattress.
Expert Opinion
Our pick for best hybrid kids' mattress is the Signature Design by Ashley Chime Express Hybrid. This twin mattress offers plush comfort layers made from gel memory foam and a sturdy core of pocketed coils that can support up to 250 pounds. The Signature Design Hybrid is available in eight, 10, and 12-inch thicknesses and twin through California king sizes.
Who the Signature Design Is Good For
Those looking for a firm mattress: For children who sleep best on a firm mattress, this hybrid provides sturdy-but-comfy push-back without too much sinkage in the comfort layers
Shoppers without a boxspring: This mattress is thick and substantial enough to stand on its own without a foundation
Kids with allergies: This model's materials help to keep out dust mites, pollen, mold, and bacteria, a great feature for kids with asthma or allergies
Who Should Avoid the Signature Design
Budget shoppers: A high-quality hybrid comes at a cost, and the price tag on this one may be a bit high for some families
Shoppers who value durability: The Chime hybrid's plush comfort layer may be subject to body indentations over time, especially with heavier children
Click here for our best deal. Not sure if the Signature Design will provide you with the support you need? Take a look at our other picks for best hybrid mattresses!
Expert Opinion
Many children love the feel of memory foam, which has a distinct plush "hug." Our pick for best memory foam mattress for kids goes to the Modway Aveline 6-inch Gel Infused Memory Foam mattress. This medium-firm twin bed-in-a-box comes in narrow twin through California king sizes, is low on volatile organic compounds (VOCs), and is CertiPUR-US certified.
Who the Modway Aveline Is Good For
Hot sleepers: Some older formulations of memory foam retain body heat, but the gel-infused material of the Aveline feels airy and breathable
Kids bothered by motion: For kids who prefer a less bouncy bed, the Aveline does a nice job of absorbing motion
Side sleepers: If your child is a side sleeper, the Aveline is worth a close look. The combination of pressure relief and gentle support is ideal for cradling hips and shoulders
Who Should Avoid the Modway Aveline
Kids needing lots of support: The edges of the Aveline mattress aren't quite as supportive as those in the hybrid and innerspring models we've tried.
Those who are sensitive to smell: The mattress I tested took a few days to air out, which may be a concern for kids with respiratory sensitivities
Get the full scoop in our comprehensive Modway Aveline mattress review or click here for our best deal. Not sure if the Modway Aveline will provide you with the support you need? Take a look at our other picks for best memory foam mattress!
Expert Opinion
The Classic Brands Cool Gel Memory Foam 6-Inch Mattress is our top choice for best bargain. If your child likes firm-but-conforming comfort, this mattress is a great choice. The supportive surface is infused with gel to make sleeping cooler in any season. The Classic Brands Cool Gel Memory Foam mattress comes in a 7-inch option as well, and is available in twin through king sizes.
Who the Classic Brands Cool Gel Memory Foam 6-Inch Mattress Is Good For
Kids with allergies: This mattress is Certi-PUR certified and hypoallergenic, making it a good option for kids with respiratory issues or allergies.
Kids who like a plush feel: Memory foam is all about cushiony comfort and the Classic Brands mattress doesn't disappoint. The gel memory foam comfort layer is ideal for kids who prefer a softer sleeping surface, even though the mattress is overall medium-firm.
Budget shoppers: Hypoallergenic gel memory foam at this price is hard to beat.
Who Should Avoid the Classic Brands Cool Gel Memory Foam 6-Inch Mattress
Kids who want an ultra-soft bed: If your child prefers softer memory foam, this mattress may feel a little stiff.
Click here for our best deal or check out or Classic Brands mattress review for more information. Not sure if the Classic Brands will provide you with the support you need? Take a look at our other picks for best cheap mattress!
How We Picked the Best Amazon Kids Mattress
The right mattress can be an important purchase that helps your child enjoy a good night's sleep. When reviewing kids' mattresses, we examined several factors that helped us choose the best in each individual category. Consider the following when searching for the perfect mattress for your child:
Developmental Stage
Most parents transition their children from a crib or toddler bed to a twin bed sometime during the toddler years. When deciding whether your child is ready for a larger bed, take into account their age, developmental stage, and personal preference. A child who is taller than 35 inches, does not generally have trouble sleeping, and is open to the idea of a larger bed may be ready to make the transition. Involving your child in the process of finding and purchasing a larger bed may help them make the switch more easily.
Weight
Most toddler beds have a weight limit of 50 pounds. Children will reach this weight at different ages and developmental stages, but once most kids reach 50 pounds, they are ready to make the jump from a toddler bed to a twin or twin XL. Lighter children may find a thinner or all-foam mattress is enough to comfortably support their weight.
Mattress Materials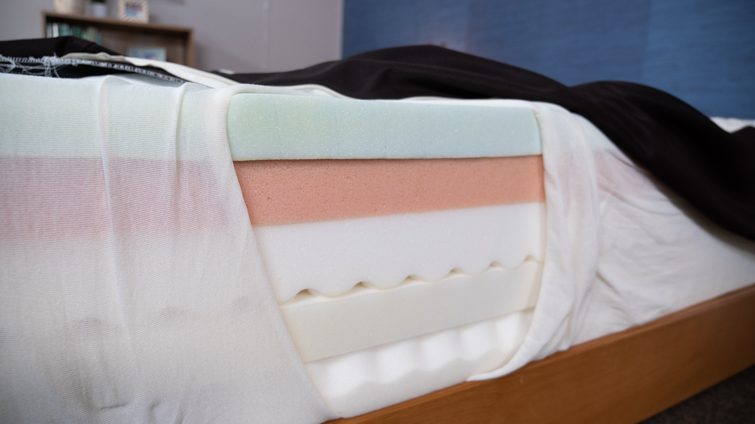 Materials in kids' mattresses are similar to those used in mattresses for adults. These materials usually include:
Memory foam – A memory foam mattress can be soft or very firm. Kids' mattresses made from memory foam provide pressure relief and conform around your child's body. If your child is a side or back sleeper or doesn't like the springier feeling of an innerspring bed, memory foam can be a good choice. Newer formulations of memory foam infused with copper or gel tend to sleep cooler than older types
Latex – Latex foam is a natural product made from the sap of the rubber tree and is a good material for chemical or odor-sensitive kids. Latex offers bouncy cushioning without the "hug" of memory foam. Latex's natural cooling properties help disperse body heat, making it a great choice for children who sleep hot
Innerspring – Innerspring mattresses provide support with interior coils. The number and density of an innerspring's interior coils determine how supportive and bouncy a mattress feels to your child. An innerspring mattress can often provide better edge support and sleep cooler than an all-foam model
Hybrid – Hybrid mattresses are made from steel coils and layers of foam. Comfort layers made of latex provide gentle bounce, while memory foam layers cushion pressure points with a plush, conforming feel
Mattress Thickness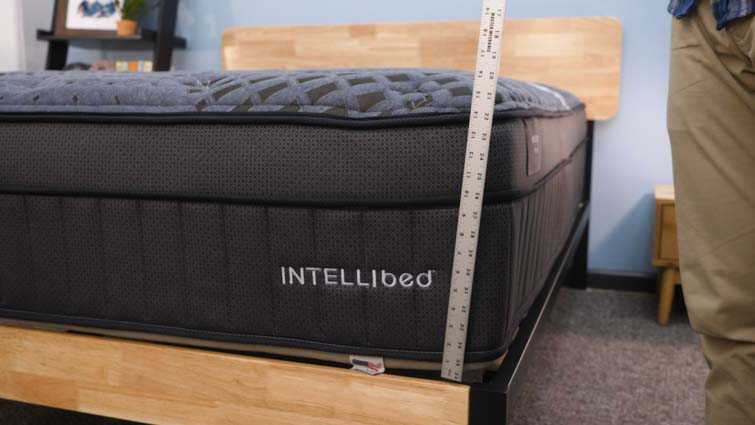 The typical kids' mattress ranges between 6 and 12 inches thick. Latex and memory foam mattresses are usually thinner than hybrid and coil mattresses, which tend to be thicker because of their internal coil structure. Thicker mattresses may be too high off the floor for a child to reach comfortably.
A thinner mattress can often be used with a foundation or box spring to elevate it or provide additional support if necessary. Some thin mattresses may contain fewer support layers and may not be as durable.
Mattress Firmness
Mattress firmness is rated on a 1 to 10 scale, with 1 being the softest and 10 being the firmest. 6.5 is the industry standard for medium firmness. Soft mattresses generally rank around 4 to 6 out of 10 on the scale, while extra firm mattresses measure around 7 to 9 out of 10.
When choosing the firmness of a mattress, keep your child's sleep position and weight in mind. As a general rule, kids who are heavier or sleep on their stomachs do best with a firmer mattress. Children who sleep on their sides usually like a softer mattress, while back and combination sleepers typically prefer a mattress that is medium-firm. If you're not sure which firmness your child likes, let them try out different models at a mattress store to find out which one feels best to them.
Mattress Support
Children need adequate support while sleeping to help keep the spine aligned and reduce pressure on growing joints. Mattress support refers to features like steel coils or foam support layers that keep the body and neck in a neutral position. A supportive mattress also prevents "bottoming out" of the materials under your child's weight. Both soft and firm mattresses can be supportive, but may have surface layers that are more or less plush.
Edge Support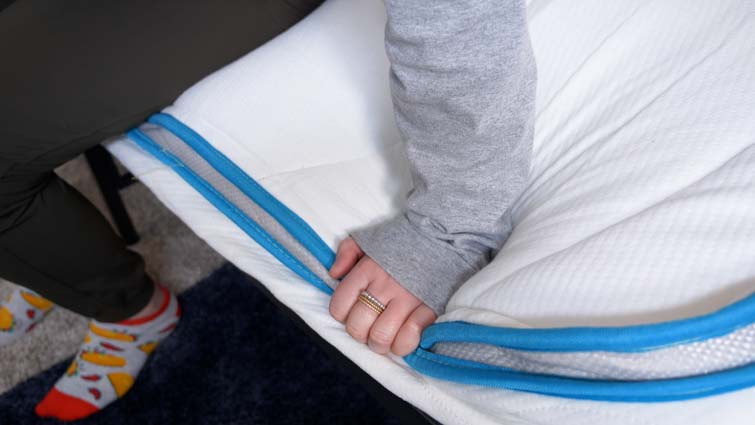 A mattress with strong, reinforced edges can help reduce sagging and instability when your child sleeps near the edge of the mattress. Edge support can be particularly important in a child's mattress because of their narrower width. A supportive edge also lets your child use more of the mattress's surface area, and is a common feature in mattresses with side support coils or high-density foam structure. Many all-foam mattresses have minimal edge support, which may increase the risk of sagging and discomfort if your child sleeps close to the edge.
Last Word From Sleepopolis
The right mattress can help your child sleep better and more comfortably. Mattresses for kids can be as supportive and durable as an adult's mattress, with many of the same features and materials. To choose the right mattress for your child, know their needs and preferences before shopping, compare brands and styles, and test out the model with a sleep trial before committing to a purchase.
FAQs
What's the difference between a twin mattress and a twin XL?

A twin XL mattress is the same width as a regular twin mattress but is five inches longer. Twin XL mattresses are great for taller children or those who like a little extra room to move.
How can I find an inexpensive kids' mattress?

Many bed-in-a-box companies offer reasonably priced mattresses for children. To get the best deal possible, try shopping during mattress sales, which typically occur on holidays such as President's Day and Black Friday. Coupon codes and discounts can help reduce the price on regular price days, particularly if you buy online or purchase a bed-in-a-box.
Can I return my child's mattress if they don't like it?

The majority of online mattress companies offer generous sleep trial periods of up to 120 days or longer. Returns or exchanges can be made during this time and return shipping is typically free. Be sure to check the terms of the company sleep trial before you purchase a mattress for your child, and be careful to start the return or exchange process before the time period is over.
Best Kids Mattresses on Amazon 2023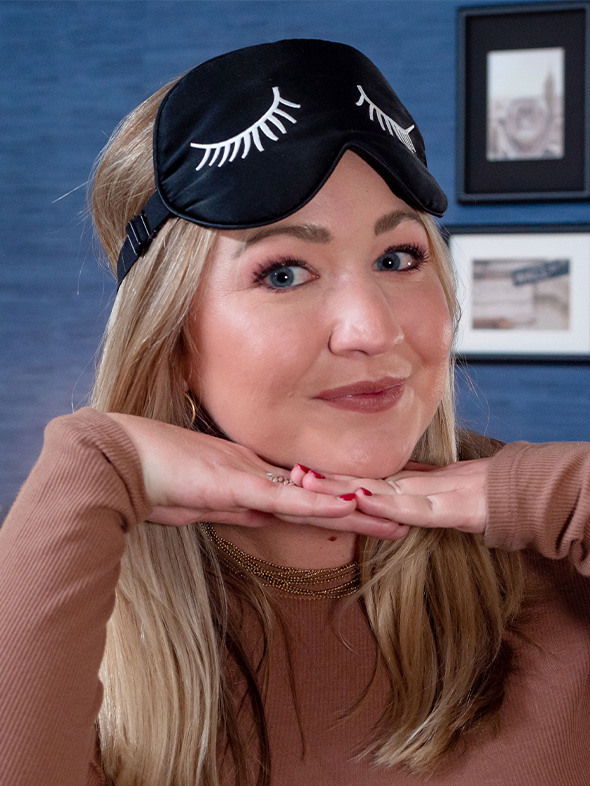 Bridget Chapman
Former Senior Product Editor
About Author
Bridget is a Certified Sleep Science Coach and senior editor here at Sleepopolis. From testing mattresses to writing about various sleep health topics, her goal is to help you get a good night's sleep. You can also find her in videos on our YouTube channel. Bridget graduated magna cum laude from San Diego State University with a degree in journalism and a minor in English. Before joining the Sleepopolis team, she was a TV news reporter and worked in cities across the country. She loves spending time outdoors, checking out new restaurants, snuggling with her pets, and of course — getting some quality Zzz's.