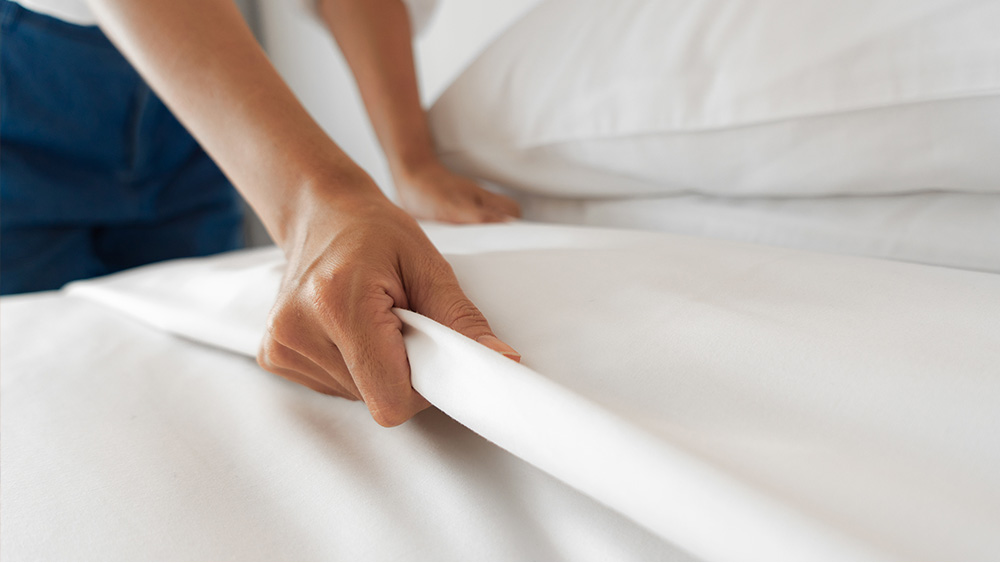 There are two types of people in this world. People who dread waking up in the morning and making their bed, so they often resort to arranging their bedding in an attempt to improve its appearance. While the other type of people cannot start their day until their bed is perfectly made with the sheets tucked in and all the decorative pillows placed on the bed accordingly.
If you are finding yourself closer to the description of the second person, it might be interesting to know that bed making competitions are real. Yes, there is a competition for everything these days.
In Japan, these types of competitions are relatively popular, and a recent TikTok shows some footage of how these competitions usually take place. (1)
In the TikTok it shows two individuals who compete in front of a judge who examines them to see which one can make the neatest bed. When we watched this video, we were shocked how making a bed can be turned into something so satisfying and artistic.
However, these competitions are not just taking place in Japan. People in the U.S. are also putting their bed making skills to test.
For instance, in Tulsa Oklahoma, to celebrate International Housekeeping Week, 18 housekeepers brought their skills to the table to see who could make the cleanest bed in a record of minutes. (2)
Judges at the competition grade each of the contestants on various aspects such as how perfect the bed was made and if the pillows were placed correctly. While also racing to the finish line in who makes the fastest bed, perfection is also key. Contestants must make sure the sheets are tucked and there are no bumps in the bedspread. Then, to finish off the bed setup, contestants place a mint on the pillow and tap the bell to indicate completion.
The same type of event also happened in San Antonio where 270 housekeepers competed to see which hotel housekeeper staff could make the best bed in support of International Housekeeping Week. Events like these are a way to acknowledge work of house keepers, but provide a fun and unique activity in cities across the U.S. that include earning cash prizes or creating a theme so contestants can dress up. (3)
Even though these competitions are supposed to be fun and entertaining, there still are some guidelines and requirements to stick by when competing, especially in bed making competitions in Amman, Jordan.
The bed making competitions were held during HORECA Jordan, where competitors take part in a contest by following specific guidelines and requirements. (4)
Each participant is given the typical items to make a bed such as a mattress, sheet, duvet, pillows, and a throw. If you thought making a bed was simple, some of the rules required in the competition will make you rethink that.
For example, some of the many rules include, "The duvet must be placed evenly from the sides and tucked folded from the top of the bed with the Second Sheet," and "Pillows should be correctly filled in their cases; the two cases with any design should be on top of the bed with the plain cases along with the pillow protectors."
Specifically, the judging criteria is based on three important aspects which includes, "speed, accuray, and skill." The criteria is also broken down into specific categories such as Technique which includes how well the contestant sets up the bed. Timing is another crucial category as the participants' points are based on if they can finish making the bed in 15 minutes or less. The final two categories are Towel Folding and Overall Impression.
Also intrigued? The cleaning expert at The Maids, Jessica Samson, whose initial reaction to the competition was that it's awesome. 
Are There Any Bed-Making Competition Tips We Can Actually Use?
"Some aspects that stick out to me are that house cleaning is an individual or small team thing, rarely do a group of house cleaners get together to have fun and talk about house cleaning and housekeeping," she told Sleepopolis. "I think this is a great event and I hope to see more of it in the future!"
She also mentioned some key techniques from these competitions that might help with your bed making at home including mastering hospital corners.
"I don't know if the rules allow for untucked corners, but deciding which one you need to do and mastering the art of the hospital corner seems like it would be essential to winning this competition," she said.
Additionally, Samson said that watching a competition like these ones can help bring some fun into bed making if you dread it. This could include timing yourself and trying to get faster each time to make your bed a more fun and enjoyable experience to start off your day strong.
Are you up for the challenge or will just stick to your typical bed making routine? This sounds a little too intense for us so we might just keep bed making as a simple task.
Sources

1.  Just-random-stuff on TikTok. TikTok. October 1, 2023. Accessed November 3, 2023. https://www.tiktok.com/@dam.miami305/video/7296253483701996846?_r=1&_t=8h3mgZsZDha.

2. Day C. "it's a fun time": Hotel housekeepers put skills to test in friendly Bedmaking competition. Breaking News in Tulsa, Oklahoma. September 11, 2023. Accessed November 3, 2023. https://www.newson6.com/story/64ff99d100b866070f2c0b64/its-a-fun-time:-hotel-housekeepers-put-skills-to-test-in-friendly-bedmaking-competition.

3. Antonio SS. Housekeepers show off their bed making skills in totally eighties themed competition. WOAI. September 12, 2023. Accessed November 3, 2023. https://news4sanantonio.com/news/local/housekeepers-show-off-their-bed-making-skills-in-totally-eighties-themed-competition.

4. Bed making competition rules & regulations – horeca-jordan.com. Accessed November 3, 2023. https://www.horeca-jordan.com/bed-making-rules-and-regulations-en-2021.pdf.

5. Cleaning services: House Cleaning & Maid Service Near Me. The Maids. September 22, 2023. Accessed November 3, 2023. http://www.maids.com/.

Samson, Jessica. November 3rd. Personal Interview.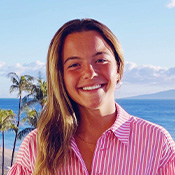 Ava Girardi
Ava Girardi is an Editorial News Intern for Sleepopolis. She loves writing about all things sleep from viral bedtime routines on TikTok to studies on sleep quality that will help you get the most helpful information to achieve that perfect bedtime routine. Ava is currently studying at Elon University where she is a double major in journalism and media analytics. When she is not writing, Ava is spending time with friends or family, running, or trying new yummy foods.