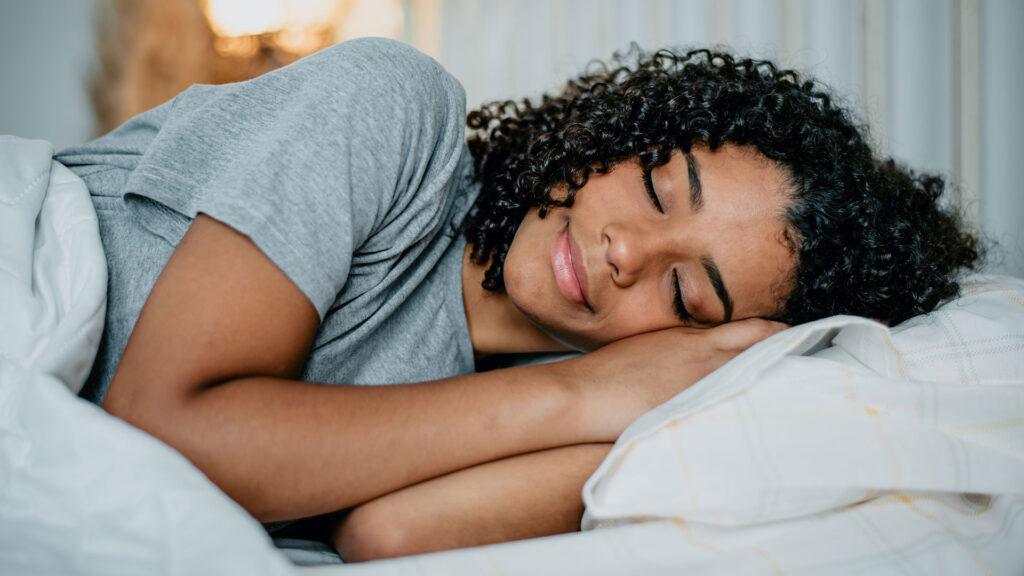 Are you a stylish sleeper or is your idea of sleepwear just your birthday suit? A new survey finds that what you're wearing to bed could depend on where you live. 
StyleSeat surveyed 2,028 Americans about what they wear to bed. Each question was assigned a score, creating an overall stylish score with a max of 100.
From a full matching pajama set to sleeping naked, wearing socks to bed, and everything else in between, the survey aims to determine which states are the most stylish with their nightwear. 
There were four main categories respondents chose from: a top but no bottoms, a top with underwear, a top and bottoms, or sleeping naked. 
Overall, the most common sleepwear was a top with underwear. (1)
On the opposite side of the spectrum, the survey found the least common sleepwear was wearing a sweatshirt with no underwear or bottom. (1)
What you wear can also depend on your gender, with findings explaining women most often wear a T-shirt or tank top with underwear, while men favor just wearing underwear.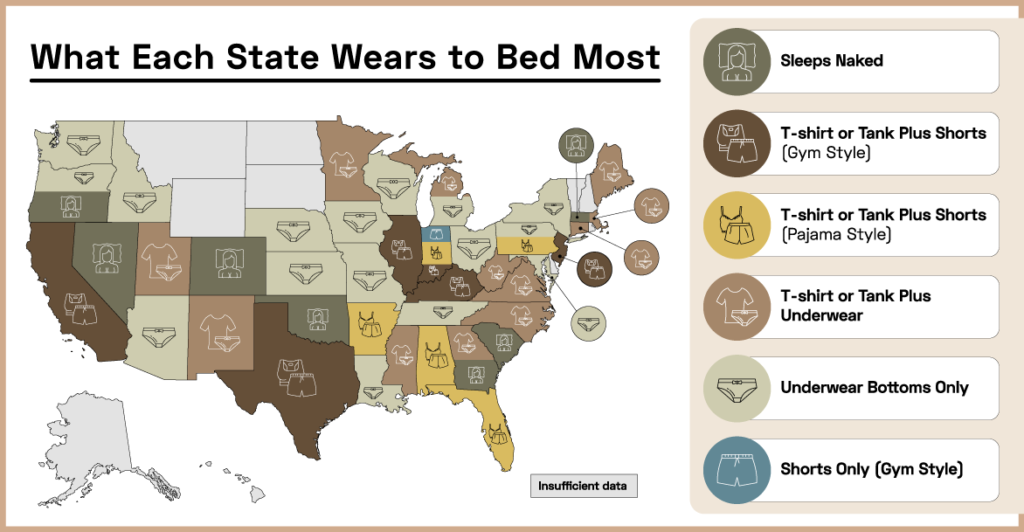 If you're reading this thinking, "I've never given much thought into what I wear to bed," you're not alone. According to the survey, 56 percent of Americans say they haven't changed what they wear to bed since they were young, and 60 percent are wearing pretty old and worn-out sleepwear. (1)
This does change when you're sleeping over at someone else's house though. About 48 percent of respondents said they wear nicer clothes to bed sleeping over somewhere else. (1)
A question that has led to lots of debates, do you sleep with socks on or off, found that over one third of Americans sleep with their socks on. Generation X and baby boomers are leading the socks-to-bed style. (1)
Missouri, Nebraska, and Connecticut were the top three states voting for sleeping with socks on, while Virginia, Arkansas, and Kansas prefer the no-sock lifestyle. (1)
With all of this information, StyleSeat found the following states to have the most stylish sleepwear: 
1. Colorado
2. Maine
3. Massachusetts
One of the more surprising finds was that Massachusetts and Colorado residents prefer to sleep naked despite their cold temperatures — maybe they're just used to being cold! 
On the flipside, the three least stylish sleepwear states are as follows.
1. Indiana
2. Kentucky
3. Utah
To calculate each state's "stylish score," the company came up with a rating from 1 to 100, and considered the quality and style of residents' pajamas and the aesthetics of their bedrooms.
Wondering if you live in one of the most fashionable sleepwear cities? The survey found that Fort Worth, TX, San Diego, CA, and Boston, MA are the top three cities for the most stylish sleepwear. (1)
While sleepwear might have been an afterthought for you in the past, it can also be a way of practicing self-care, but is there really something you should be wearing to bed? We talked with the experts to find out. 
An Expert Weighs In
If you are looking for something new to try, silk pajamas are a hidden gem, Jennifer Silver, a sleep psychologist and owner of Macleod Trail Dental Clinic told Sleepopolis. 
She explains that, while lightweight cotton is often a popular choice for sleepwear, silk is not only incredibly soft but it has natural temperature-regulating properties, helping you to stay cool in warm weather and cozy in colder temperatures. 
For all the naked sleep lovers, Silver explains that sleeping nude has the benefit of promoting better skin health by allowing your skin to breath, enhancing blood circulation. Plus, it can help you find a profound sense of body acceptance, she said.
If you are sleeping naked, make sure to wash your sheets a bit more often than you normally would.
No matter what you're sleeping in, make sure you're washing your pajamas and bedding frequently to stay clean while you snooze. Because being dirty definitely isn't stylish.
Sources

1. StyleSeat. September 6 2023. https://www.styleseat.com/blog/states-with-the-most-stylish-sleepwear/.

Seeley, Martin. Personal Interview. September 2023.

Silver, Jennifer. Personal Interview. September 2023.
Julia Medina
Julia is a Staff News Writer for Sleepopolis. From sleep news and education to the latest sleep trends, her goal is to keep you informed about what's going on in the world of sleep, dreams, mattresses, and more. Julia graduated from Wake Forest University with a degree in communications and minors in film and sociology. In her free time she loves exploring new cities, relaxing with a good tv show, and getting some good quality sleep.