In the world of bedding, not all sheets are created equally. So when you're looking to add a little luxury to your sleep space, it's time to turn your focus to high quality fabrics and attractive styles. But with dozens of options on the market, how are you supposed to know which luxury sheet set is actually worth the dough?
Well keep reading, folks, because I'm presenting my top four favorite luxury sheet sets. Plus, I'll let you in on my personal tips and tricks behind sheet shopping so you have all the information you need to pick the best bedding for you!
Best Luxury Sheets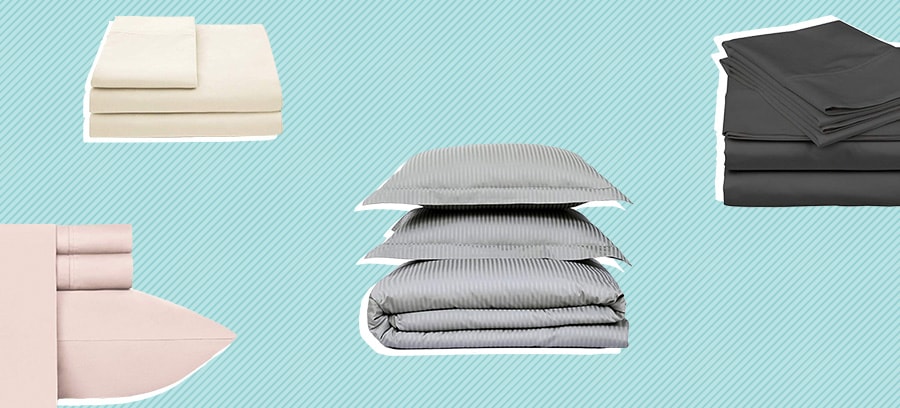 Editor's Pick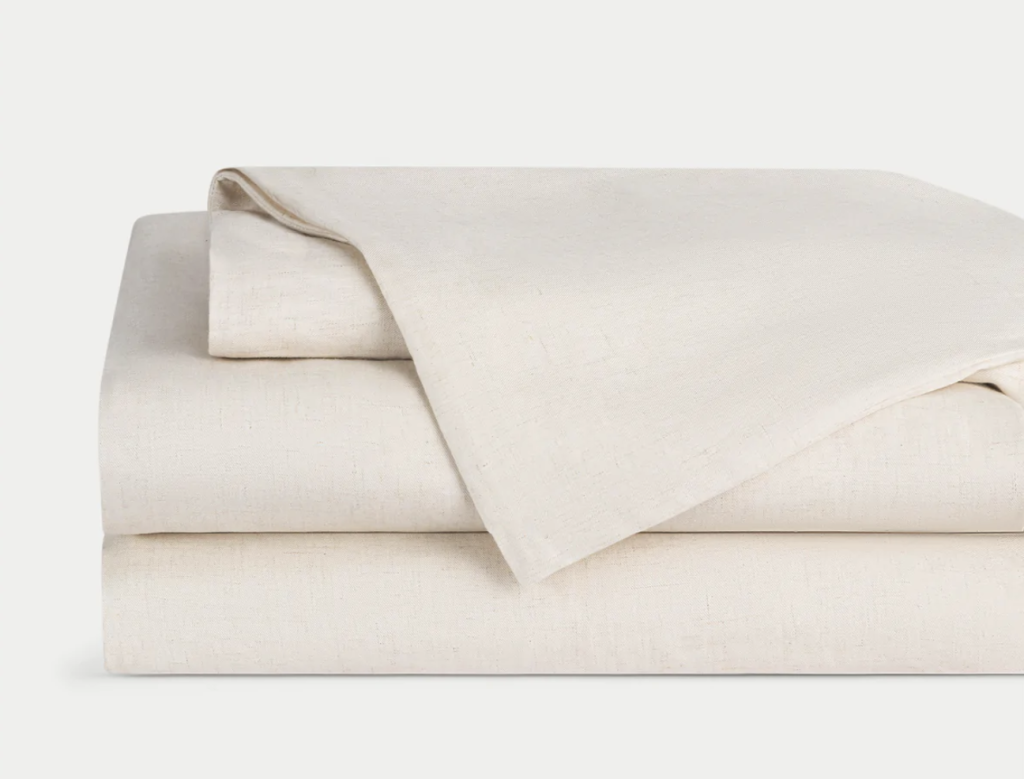 Cozy Earth Linen Sheet Set
The Cozy Earth Linen Sheet Set is our favorite luxury option on the market. Cozy Earth understands the importance of good materials, a careful construction, and ethical production. The result is a soft, cooling set fit for anyone wanting to add luxuriousness to their sleeping space.
Pros
The bamboo viscose assists in dissipating heat, so you shouldn't overheat at night.
Cozy Earth Linen Sheets come in twin/twin XL, full, queen, king, Cal king, and split king.
You can machine wash and dry these sheets.
Cons
As a luxury set, they're not the best choice for budget shoppers.
This set only comes in five primarily neutral colors.
Cozy Earth Linen Sheet Set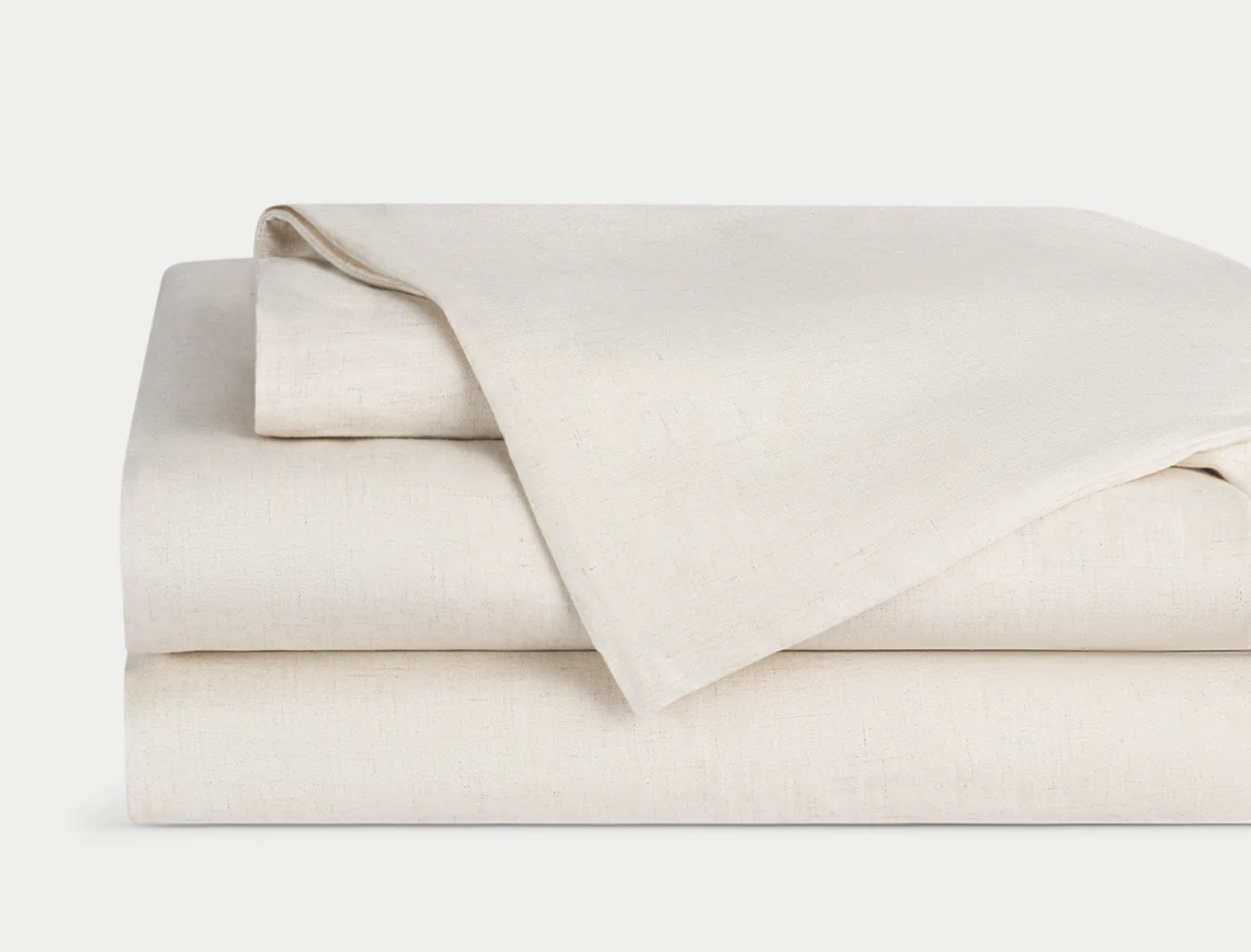 The Cozy Earth Linen Sheet Set is a cooling, durable, and environmentally responsible accessory.
Sleepopolis Score
5.00 / 5
Best Sateen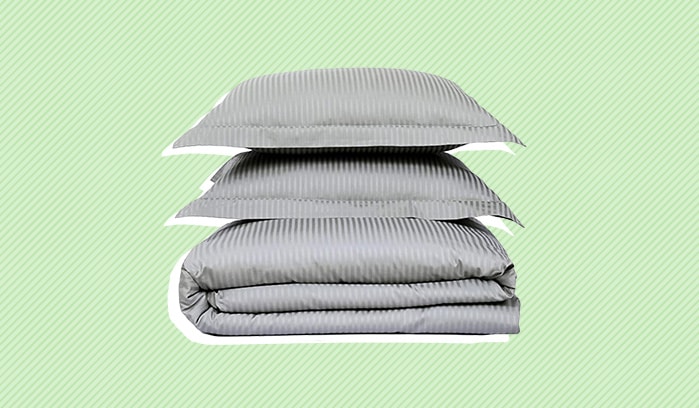 Feather & Stitch New York Cotton Stripe Bed Sheet Set
Made from long-staple cotton and spun into a silky sateen weave, these sheets feel as elegant as they look. This set comes in a variety of sizes, all of which feature Damask striped detail to boost its hotel-bed aesthetic.
Pros
These sheets are woven in the sateen style, and feature a high thread count of 500 — two traits that make them extra soft and lustrous.
Shoppers can choose a standard sheet set, or opt for a dull duvet cover set instead!
These sheets can be washed and dried right at home, which makes maintenance nice and simple.
Cons
Personally, I find this bedding's Damask stripes to be attractive, but they might not be for everybody! 
If you prefer a matte appearance to a lustrous sheen, you might want to look elsewhere.
Feather & Stitch New York Cotton Stripe Bed Sheet Set
The Feather & Stitch New York Cotton Stripe Bed Sheet Set is made from long-staple cotton and spun into a silky sateen weave, these sheets feel as elegant as they look.
Sleepopolis Score
4.60 / 5
Best Egyptian Cotton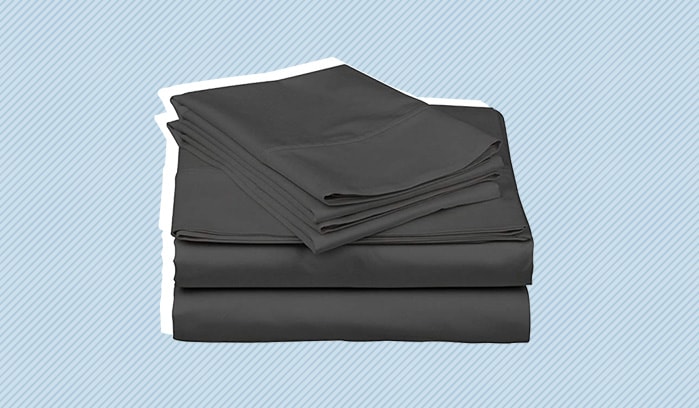 Thread Spread Egyptian Cotton Sheet Set
These sheets are spun from pure Egyptian cotton, and feature a silky-soft sateen weave. They come in a range of sizes and colors, perfect for folks shopping for the whole family.
Pros
These sheets are made from 100% Egyptian cotton, which is known for its exceptional softness and durability.
This bedding is OEKO-Tex certified, which guarantees that it was made without any harsh dyes, chemicals, or pesticides.
This set comes in a wide variety of fun colors for folks looking to get creative with decor!
Cons
At around $90 for a Queen size, this bedding is actually a great value, but not necessarily going to fit in everyone's budget. 
These sheets only come in solid colors — no printed patterns or designs. 
Thread Spread Egyptian Cotton Sheet Set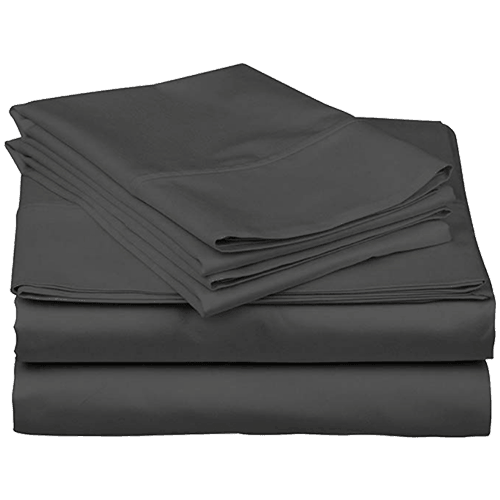 The Thread Spread Egyptian Cotton Sheet Set are spun from pure Egyptian cotton, and feature a silky-soft sateen weave.
Sleepopolis Score
4.20 / 5
Most Affordable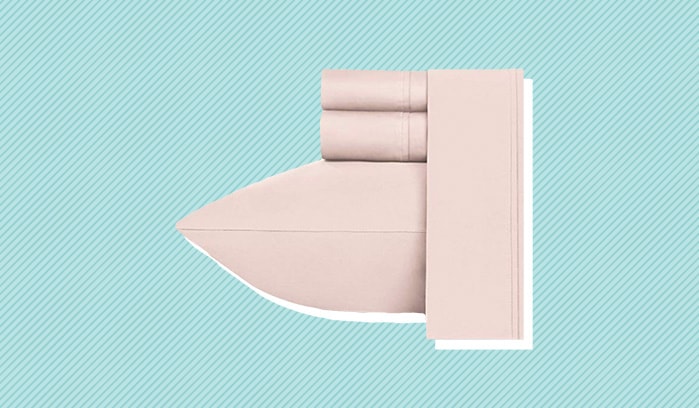 California Design Den Cotton Sheet Set
Made from 100% long-staple cotton, these sheets are soft, breathable, and strong. Not to mention, they're surprisingly affordable given their high quality, making them perfect for shoppers on a budget.
Pros
Long-staple cotton sheet sets typically start at around $50, but you can get this set in a King size for about $40!
These sheets come in over a dozen fun styles, including paisley, pinstripe, and floral patterns.
This bedding features a 400 thread count, which is luxuriously high for long-staple cotton!
Cons
These sheets have deep 16-inch pockets that might look a little baggy on mattresses that are 14-inches deep or shorter. 
If you prefer a crisp feel, these sheets might feel a little too silky for you. 
California Design Den Sheets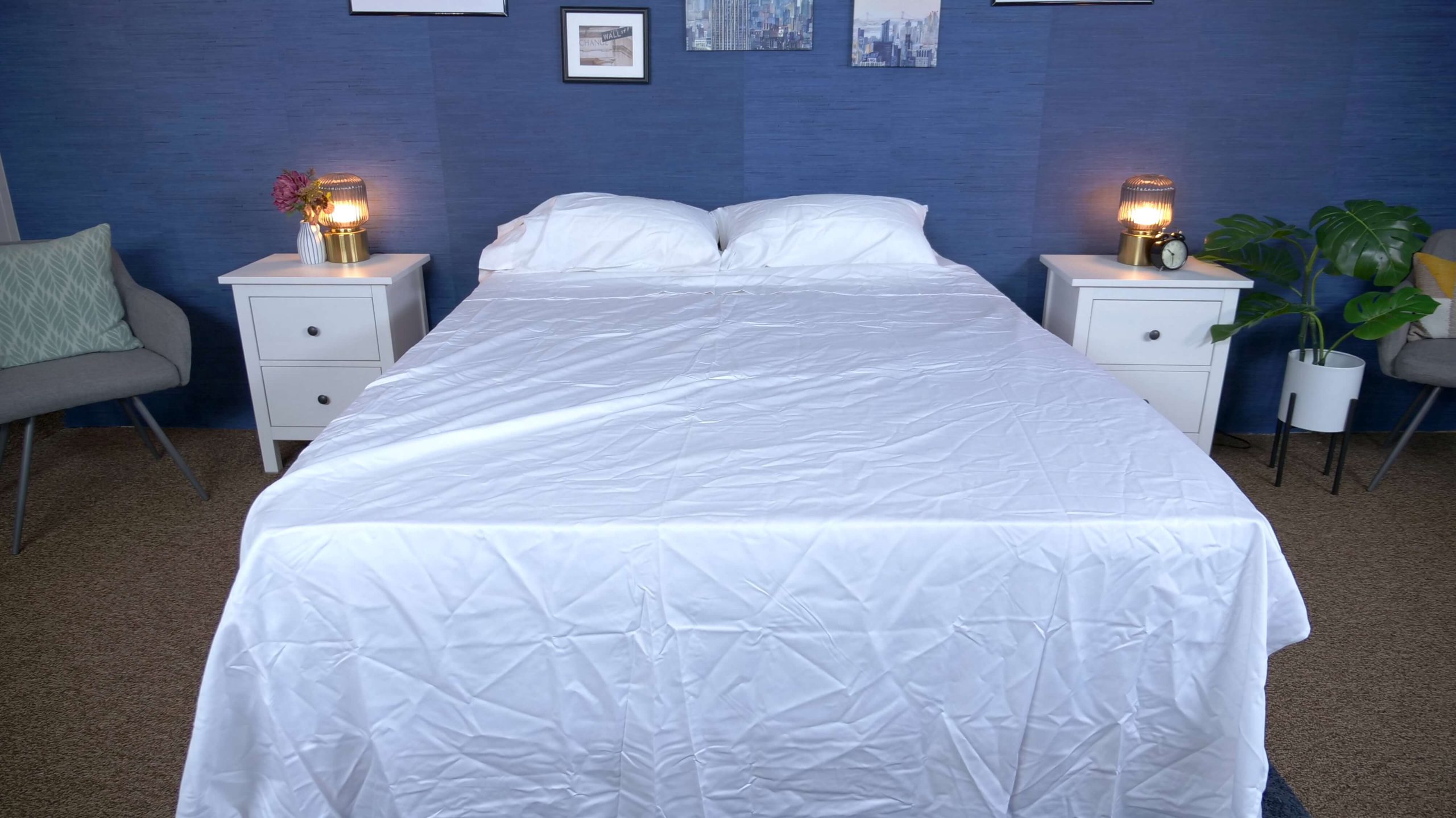 California Design Den sheets use quality long staple cotton to provide smooth and durable sheets at a value price.
Sleepopolis Score
4.60 / 5
Read Full Review
Best for Hot Sleepers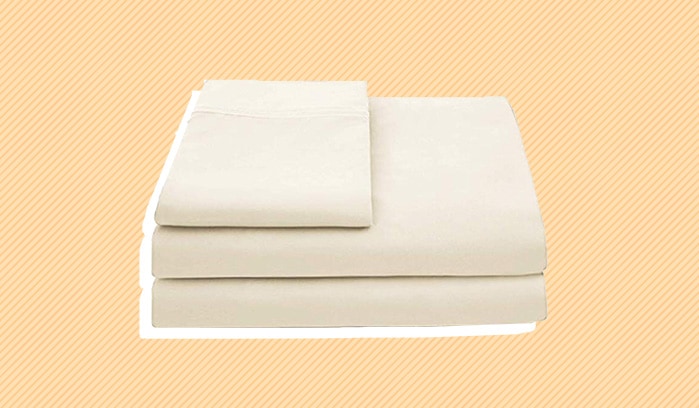 Cosy House Collection Luxury Bamboo Sheet Set
Made from a breathable blend of microfiber and bamboo, these sheets are perfect for sleepers who run hot. They're soft, moisture-wicking, and come in a variety of vibrant colors.
Pros
Bamboo-based bedding like this is extra smooth, breathable, and durable!
If you're prone to night sweats, take comfort in the fact that these sheets are naturally moisture-wicking.
While bamboo-based bedding is usually pretty pricey, these sheets are only about $40 for a King size.
Cons
The pillowcases in this sheet set don't have envelope closures, which might deter some sleepers. 
If you're looking for printed patterns and designs, keep in mind that this set is only offered in solid colors. 
Cosy House Collection Luxury Bamboo Sheet Set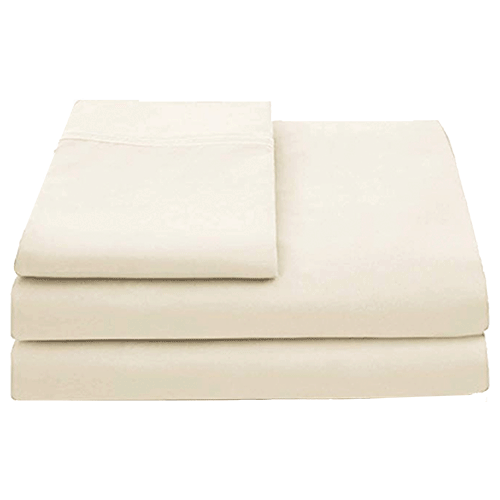 The Cosy House Collection Luxury Bamboo Sheet Set is perfect for sleepers who run hot!
Sleepopolis Score
4.40 / 5
How We Picked
Alright, shoppers, now let's talk about the methodology behind my picks. While it's true that sheet-shopping has a lot to do with personal preference, there are some key factors to keep in mind when you're searching for the set that matches your unique needs.
Materials
When shopping for luxury sheets, the first thing to pay attention to are the materials used to make them. Let's take a look at the most popular fabrics below, so you're better equipped to pick the one that's right for you:
Cotton – Cotton bedding is known for its classically crisp feel, great breathability, and luxuriously soft feel. That said, folks in search of luxury sheets should look specifically for long or extra-long staple cotton (Egyptian and Supima are great examples!).
Linen – Linen bedding is perfect for year-round use because it's durable, thermoregulating, and exceptionally breathable. It offers a distinctly coarse texture, but is known for getting softer with every wash. But if you're looking for linen that's already super soft, go with sheets that have been garment washed!
Bamboo – Bamboo-based bedding is a luxuriously smooth eco-friendly fabric known for its lustrous sheen and light weight. It's perfect for hot sleepers as it's naturally moisture-wicking and breathable! Not to mention, it's one of the most durable materials out there.
Obviously, the full list of fabrics is not limited to the three I've listed above. But in the world of luxury bedding, those are the top three contenders! But, regardless of your personal preference, just remember to review the "materials description" to ensure you're getting exactly what you're looking for.
Cotton Fiber Length
As I mentioned, fiber (staple) length matters when it comes to cotton bedding. And the general rule of thumb is — the longer the fibers, the softer and more durable the sheets will be! That's why I suggest aiming for long or extra-long staple cotton, as it offers much better resistance to pilling, and feels way smoother on the skin.
Bedding brands typically advertise staple-length right on its packaging or website, but remember that Egyptian and Supima cotton are both safe bets, as they offer luxuriously long and supple fibers.
Meanwhile, linen and bamboo are natural materials that always have long, strong fibers, which is why they're praised for superior durability. But with cotton, staple-length varies a bit more, so keep an eye out for long and extra-long fibers!
Thread Count
Thread count refers to the individual yarns per square inch of fabric, and can say a lot about a sheet set's durability and smoothness. However, thread count loses its value if you're not working with high quality materials! Because thread count mainly applies to cotton, I suggest checking fiber length before thread count.
For example, some brands may categorize a sheet set as having a super high thread count of 1,500 — but that probably means that hundreds of short, weak cotton fibers were spliced together in order to boast a higher thread count.
That said, a high thread count can be a great indicator of quality, and a range of 200-800 is a good benchmark to follow. Just make sure the quality of the material itself is high before you pay attention to thread count.
Weave Style
Another thing to consider when you're shopping for sheets is the weave style used to craft them. Bamboo and linen tend to stick to their own signature styles, but cotton bedding can be woven in many different ways. That said, percale and sateen are the weaves you're most likely to encounter, so let's discuss those below:
Percale – A percale weave is known for producing a super crisp and breathable set of sheets. If you prefer a light, breathable, classic cotton feel, this is probably the right choice for you. Additionally, a percale weave produces a matte appearance rather than a lustrous sheen, ideal for folks who avoid shiny sheets!
Sateen – Sateen woven bedding is totally different from percale, as it's much silkier to the touch. A sateen weave also tends to produce a thicker, heavier set of sheets, which might appeal to sleepers who run cold. Personally, I prefer sateen sheets because they're more likely to offer a lustrous sheen!
Keep in mind that one weave style is not necessarily more luxurious than the other, but you may find the luminous sheen and silky feel of sateen to evoke a more elegant aesthetic. But, ultimately, it's all about what keeps you coziest.
Wash Care
Wash care varies depending on materials, and some sheets are easier to care for than others. If you prioritize easy wash care, cotton is generally a good way to go. But remember that every sheet set is created differently, and it's very important to follow the specific maintenance instructions as given by the bedding brand itself.
That said, I always suggest using a mild detergent that's easy on delicate fabrics like bamboo. Bamboo-based bedding tends to be pretty pricey, so be sure to protect your investment with proper wash care. Furthermore, I recommend line-drying your sheets whenever you can! No matter the material, letting your sheets line-dry is a great way to guard against pilling, shrinkage, and color fading.
Pricing
Just like with wash care, the price of any given sheet set changes form brand to brand, and largely depends upon the materials used. But if you're shopping specifically for luxury fabrics, it's important to remember that quality costs! In fact, bedding that's categorized as "luxury" but comes in at suspiciously low price should raise some red flags.
That's why price can actually be a good indicator of authenticity. For example, if you see an Egyptian cotton sheet set priced for $25, I urge you to do a little digging into the details, as it's probably too good to be true. In general, you should be ready to spend at least $50 on luxury bedding. But remember — stronger, higher quality fabrics are built to last, and can offer great bang for your buck.
Sleepopolis Buying Tips
Okay, shoppers, we're almost at the end of this guide, so let's recap a few essential tips that'll help in your search:
Staple Length – Remember that longer fibers (staples) make for a softer, more durable set of cotton sheets. If you're looking for luxury, aim for long or extra-long staple bedding!
Percale VS Sateen – If you're not sure how to choose between percale and sateen weave styles, start by deciding whether you prefer a shiny or matte appearance. If you like a little luster, go with sateen! If you're all about that crisp, matte cotton, go with percale.
OEKO-Tex Certification – I always suggest keeping an eye out for the OEKO-Tex certification, especially if you have allergies or sensitive skin. This certification promises that no toxic dyes or harsh chemicals were used to make a particular set of sheets.
Final Thoughts
Now that you're all experts on luxury bedding, you're ready to find the sheet set that's perfect for you. Just remember to pay attention to weave style, thread count, materials, and all the little details that appeal to your unique sleep needs. Happy shopping!