For this comparison, I'll be sizing up two of the most popular mattresses in the game: Casper and Endy. Though these all-foam beds have a lot in common, they're certainly not created equal, which means landing on the right one for you is going to be a little trickier than you might think.
But that, of course, is why I'm here! I'm going to pit these two mattresses side-by-side so you can figure out all their differences in a jiffy. Then, you'll know exactly which one is going to be the best for you and your specific needs.
So, without further ado, let's dive into this Endy vs. Casper comparison!

Save $50

Endy Mattress

Great medium feel for combo sleepers
One of the best Canadian mattresses
Enjoy $50 off your purchase with the code SLEEPOPOLIS!

10% Off with Code APRIL21

Casper Mattress

Zoned support is nice for spine alignment
Great choice for combo sleepers
Similarities
As I mentioned in the intro, these two mattresses do share some interesting characteristics, so let's go ahead and get those out of the way before we assess their more distinct qualities.
Foam – The Endy and Casper are both built entirely of foam, though that doesn't mean they're going to feel the same! Endy relies mostly on its proprietary Endy foam whereas Casper employs a more balanced approach of memory foam, latex, and high-density poly foam.
Support – For all-foam mattresses, these bad boys are actually quite supportive. Their firmnesses may be different (we'll get into that later), but they're both designed to support the sleeper in many different positions.
Cooling – And finally, both of these beds feature some interesting cooling properties, which help set them apart from other foam models on the market.
What are These Beds Made of?
In this section, I'm going to go over each bed's unique construction, all the way from cover to base. While I'll be providing a pretty thorough breakdown, I'd also encourage you to check out my reviews of the Endy and Casper to get the full scoop.
Endy
Cover – Made of a knit polyester fabric, the Endy cover is soft and breathable. It's also removable, so can be thrown in the wash with the rest of your bedding!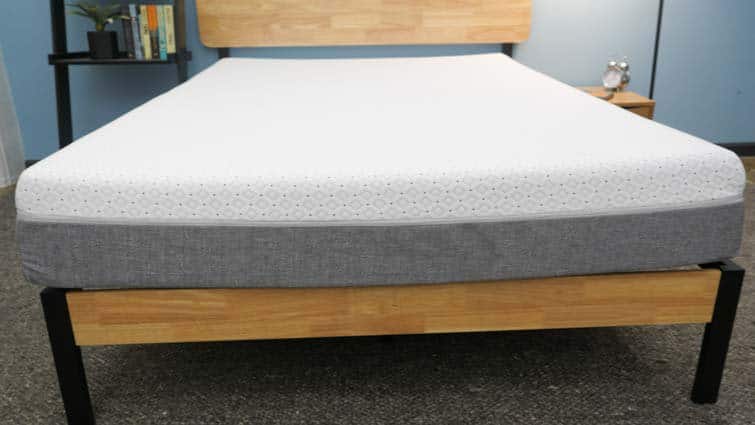 Comfort – The comfort layer is comprised of the brand's proprietary Endy Foam, an open-cell memory foam that has a fairly slow response to pressure. Its placement on top of the structure means it should provide some cozy comfort to the sleeper as soon as they stretch out on the bed. It's worth noting that the open-cell design also helps to mitigate some of the worst overheating tendencies of memory foam.
Transition – Next up, you'll find a layer of poly foam. Firmer than the material above it, this section helps to transition the sleeper from the gentle comfort layer into the firmer base below. It also helps to counteract some of the sinkage of the top layer, preventing that stuck-in-the-bed feeling.
Base – Rounding out the construction is a foundational layer of high-density poly foam, which gives the bed its durability and shape.
Thoughts: A straightforward, three-layer design makes for a no-fuss construction that could be great for back or combo sleepers.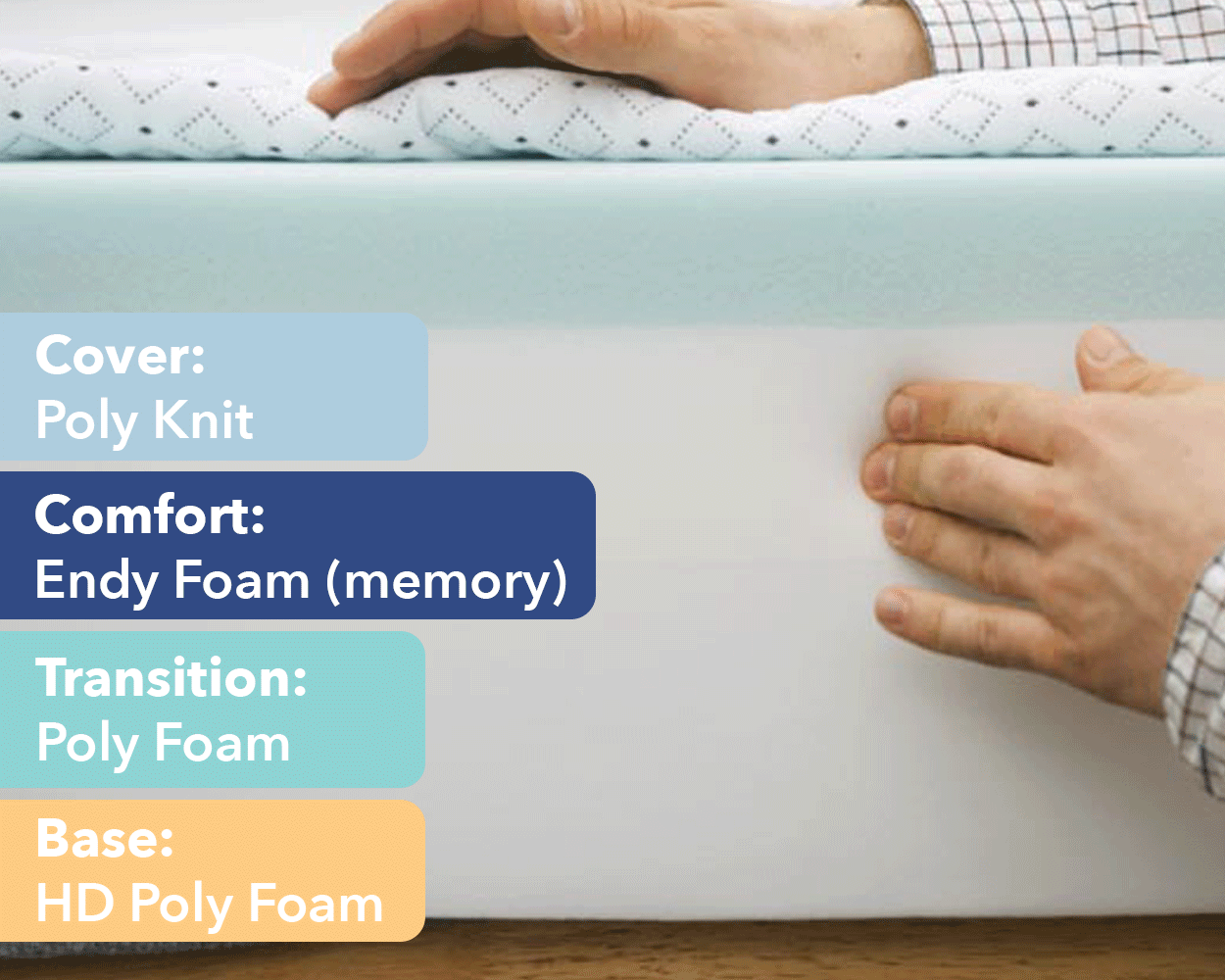 Casper
Cover – Crafted of of a soft polyester blend, the cover is also removable by zipper, so can easily be washed as with the Endy.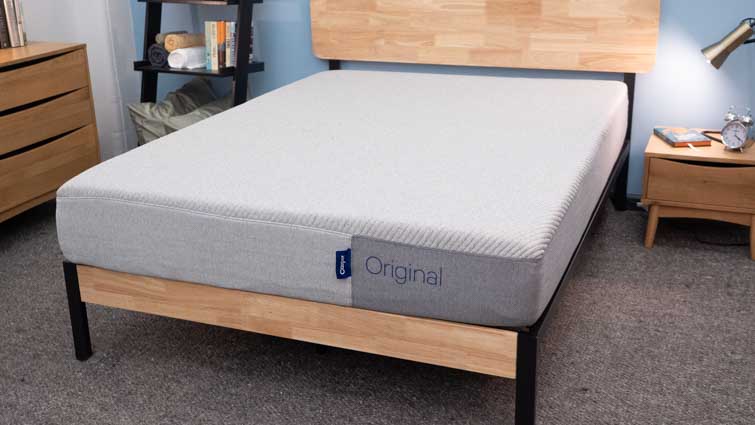 Comfort – The comfort layer is constructed of a latex-like foam, so gives the bed some immediate bounce. Though this section has a quick response to pressure, it also allows for some nice sinkage for pressure relief. Like latex, this proprietary foam is also great at cooling, so should help regulate temperatures through the night.
Contour – Below the comfort layer, you'll land on a section of memory foam. Unlike the material above it, this foam has a slower response to pressure, resulting in some deep body-contouring and pressure relief.
Transition – The third layer down is where you'll find a transition layer of Zoned Support. This is the most obvious construction deviation from the Endy and provides the Casper with some really nice, targeted comfort. Basically, this section is built with two types of durable poly foam: the softer at the top and the firmer in the center. This placement is meant to bring some lift to the hips and cushiony relief to the shoulders.
Base – The base of the bed is made up of heavy-duty poly foam and gives the mattress its structure.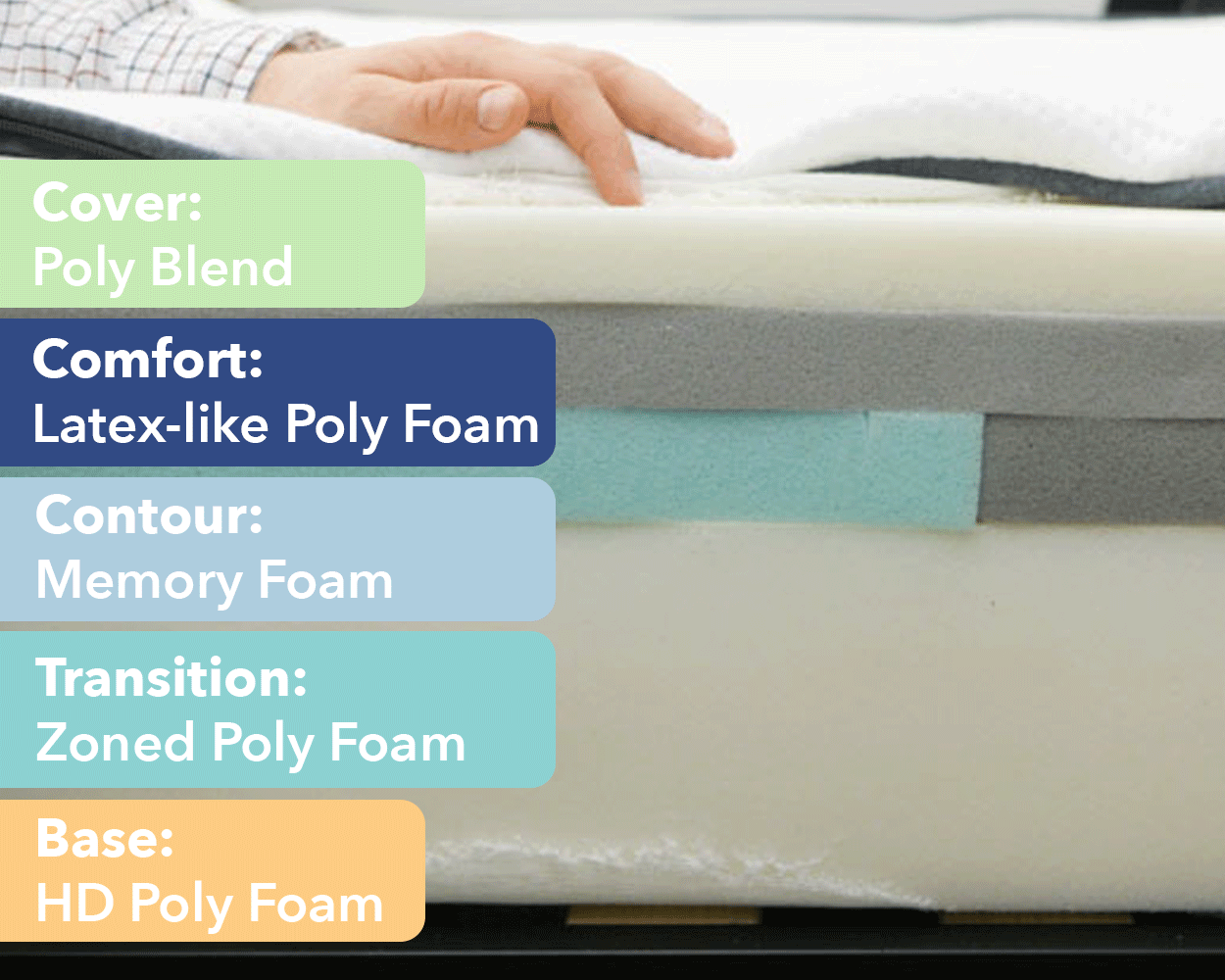 Thoughts: A mix of different foams makes for a balanced feel that could be great for a wide range of sleepers. And that Zoned Support is a fun bonus!
FAQ
Q: Which is better, Casper or Endy?
A: It really depends on how you sleep! The Casper's Zoned Support makes it a great fit for side sleepers while the Endy's bounce makes it a solid pick for combo sleepers.
Endy vs. Casper
While the Endy and Casper share a few construction similarities, there are definitely some notable differences at play.
For starters, the Endy features just three layers of foam (10" profile) compared to the Casper's four-layer design (12" profile). While the height boost may not seem like that big of a deal, it comes from a pretty important source: the added layer of Zoned Support! As I mentioned above, this section is broken down into two different types of foam, tailored as it is to offer gentle pressure relief beneath the shoulders and firm lift at the hips. In my opinion, the Casper really goes the extra mile in terms of comfort when compared to the Endy.
This comfort also comes from the fact that sleepers are likely to sink a little deeper into the Casper than they would on the Endy. Though both beds feature memory foam, Casper's placement of its memory foam layer beneath latex helps to draw the body-contouring further into the structure. Endy flips this and throws memory foam atop its firmer layer, curbing the sinkage. This makes Casper a slightly better mattress for side sleepers and Endy a slightly better one for combo sleepers.
These differences aside, I think it's important to emphasize the shared cooling capabilities in the comfort layers as well as the bounce present in both mattresses.
Save $50

Endy Mattress

Great medium feel for combo sleepers
One of the best Canadian mattresses
Enjoy $50 off your purchase with the code SLEEPOPOLIS!

10% Off with Code APRIL21

Casper Mattress

Zoned support is nice for spine alignment
Great choice for combo sleepers
How do These Beds Feel?
Now that we've got a good sense of what's going on beneath the covers, let's get into how these mattresses feel, starting with firmness.
Since every sleeper is going to experience firmness a little differently (depending on body shape, size, and weight), I always like to invite a few of my coworkers to test out the bed along with me. Once we've each given it a look, we share our personal firmness ratings with one another, and then average them out together for the scores you see below.
Endy
We were all pretty much in agreement about the firmness of the Endy, landing on an average rating of 6.5, which syncs up perfectly with the industry standard for medium firmness.
I gave the bed a 6.5, finding its mix of open cell memory foam and poly foam to create a true medium firm feel. Though I experienced some slight sinkage as I stretched out on the bed, I never felt stuck in the structure; on the contrary, I found it easy to move around and change positions. This tells me the Endy could be a fantastic pick for combo sleepers or anyone else who likes to flip and flop in the night.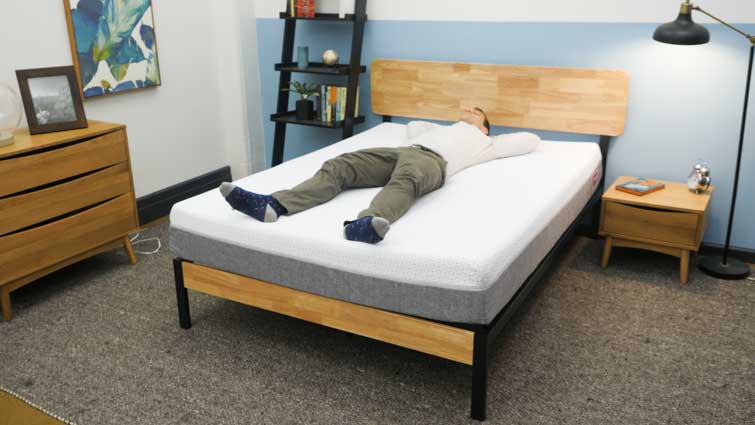 While this mattress finds a nice sweet spot between pressure relief and support, I think its three-layer construction makes for a bit of an "abrupt" feel that may not work for strict-position sleepers. What I mean is that those who doze primarily on their sides, stomachs, or backs may feel as though their bodies are "digging" into the bed slightly.
FAQ
Q: Is the Endy mattress good?
A: In short, yes! But, more specifically, the Endy is good at supporting the sleeper across many positions, while also providing pressure relief and excellent temperature regulation.
Casper
There was some slight variation here, but my testers and I landed on an average rating of 7. This is slightly higher than the industry standard of 6.5 for medium firmness, which tells me this bed is a touch on the firmer side.
I personally gave the Casper a 7 as I found its diverse material make-up helped lift me up and out of the structure. While you're likely to sink through the comfort and contour layers, once you hit the section of Zoned Support and high-density poly foam base, you're bound to experience plenty of firm support. What this means is that you get the best of both worlds aka sinkage without feeling "stuck" in the structure. Side sleepers who occasionally switch to other positions might find this vibe particularly attractive.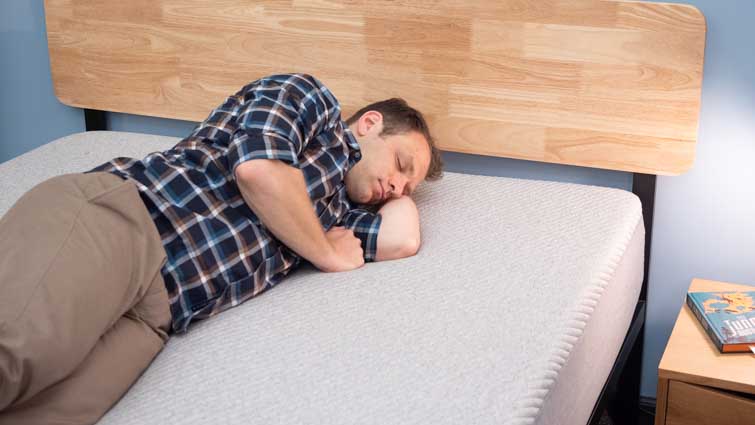 As I moved around the bed, I felt pretty well supported, thanks in large part to the Zoned Support. Even though some positions were more comfortable than others, I think most sleepers will find a great deal of comfort from this mattress, especially those who need targeted pressure relief and the shoulders and hips.
FAQ
Q: Is the Casper mattress good for side sleepers?
A: Definitely! Casper features a layer of Zoned Support, which has softer foam at the shoulders so strict side sleepers can really sink into the structure for much-needed pressure relief.
Other Models
Though the Endy is its brand's lone mattress ranger, Casper actually has quite a few models to its name. Below, I'll breakdown two of its most popular ones: the Essential and the Wave Hybrid.
Casper Essential
The Essential is Casper's streamlined model, featuring just three layers of foam (not unlike the Endy).
Without any Zoned Support, the bed has more of a medium firm feel appropriate for back or combo sleepers.
For more on the Essential, check out my full review.
Casper Wave Hybrid
Pretty much the opposite of the Essential in every respect, the Casper Wave Hybrid is a luxury model built with both foam and coil layers.
This gentle combo makes it well-suited for those in need of deep pressure relief, particularly strict side sleepers.
Get the full scoop at my complete Casper Wave Hybrid review.
Endy vs. Casper
Well friends, we've arrived at the end of this comparison! After sizing up these mattresses side-by-side, and going over all their details with a fine-tooth comb, it's time to draw some final conclusions.
First and foremost, I was actually pretty surprised by how different these beds are. From the outside looking in, the Endy and Casper seem like mirror mattresses: all-foam, great bounce, nice mix of pressure relief and support. However, once you take a magnifying glass to their specific constructions, their divergent vibes begin to emerge.
If I were to name Endy's vibe, it would be cozy bounce. The combination of memory foam and poly foam in the top two layers creates a buoyant structure that also happens to have some nice give, so you get that "on top" of the bed feeling as well as some satisfying pressure relief. I think combo sleepers will be particularly drawn to this vibe as it gives them lift for position changes and relief for comfort across those changes.
For Casper, I'd describe the vibe as one of balanced support. The combination of different foams makes for a bed that strikes a unique and satisfying balance between pressure relief and support, with enough sinkage to satisfy side sleepers and plenty of lift to keep combo sleepers happy, too. While you're likely to feel positioned more on top of the structure than in it, the Casper certainly has a little more give than the Endy.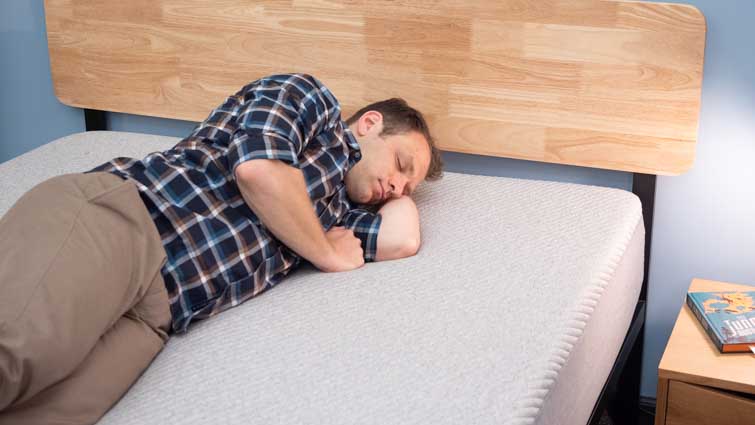 And when it comes to price, the Endy (starting at $675 CAD) is less expensive than the Casper (starting at $925 CAD). Casper does offer a bit of a discount though, so you can check out our Casper coupon code to learn how to apply it.
| Size | Endy | Casper |
| --- | --- | --- |
| Twin | $675 CAD | $895 CAD |
| Twin XL | $700 CAD | $995 CAD |
| Full | $775 CAD | $1,095 CAD |
| Queen | $850 CAD | $1,295 CAD |
| King | $950 CAD | $1,495 CAD |
| California King | $950 CAD | $1,495 CAD |
To get even more specific about my recommendations, I'm going to list my favorite aspects of both models.
Casper
10% Off with Code APRIL21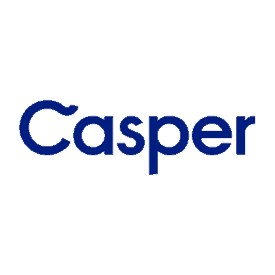 The memory foam, latex, and heavy-duty poly foam work together to offer sleepers a beautifully balanced feel! 
One of my favorite things about the Casper is its layer of Zoned Support. This helps to bring some much needed relief to sensitive spots along the body.
I also like the bed for side sleepers. Thanks to the Zoned Support, these folks should be able to find some great comfort at their shoulders.
Endy
Save $50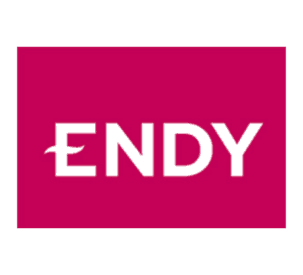 Endy has a nice medium support level with a proprietary foam comfort layer on top that offers superior pressure relief for side sleepers! Enjoy $50 off your purchase with the code SLEEPOPOLIS!
Thanks to its top layer of open cell memory foam, the Endy sleeps cool, which could be great for those who need a breather from those sweaty nights.
And as I mentioned a few times throughout the review, I think the bounce of the bed makes it an awesome fit for combo sleepers.