You might have seen the viral "human dog bed" the Plufl on TikTok or on Shark Tank. This unique napping product is the brainchild of Yuki Kinoshita and Noah Silverman, nap-enthusiast college students turned entrepreneurs. The internet's reactions to this product have ranged from ecstatic enthusiasm to questioning who would ever want to lay in a human-sized dog bed. 
I decided to find out for myself if this product is actually worth the hype. In this review, I'll go over my experience using the Plufl, how it feels, what it's made of, and who I recommend it for.
What Is the Plufl?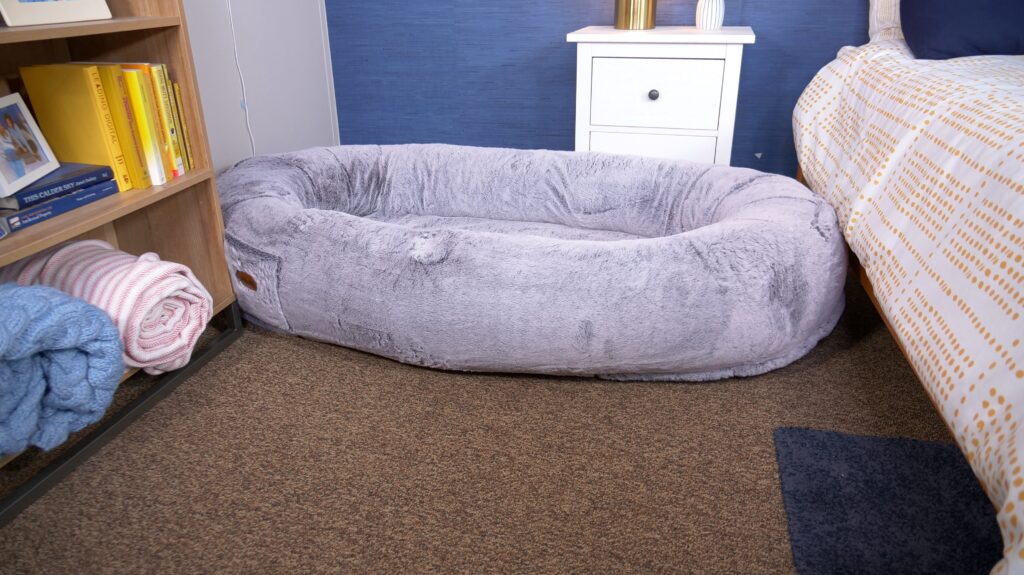 The Plufl is called the "dog bed for humans," because that's basically what it is. Picture a classic dog bed: oval-shaped, low to the ground, and featuring plush bolsters all the way around. However, this dog bed is super-sized to fit a human comfortably.
Who the Plufl Could Be Good For
Before we dive into all the details, let's go over my quick recommendations for who might like the Plufl and who can skip this product.
Who Should Try the Plufl
If you want a cozy alternative to a bean bag, the Plufl could be a great option for you. You can easily nap, read, watch TV, scroll on your phone, play video games, or anything else you want in this human-sized dog bed.
If you consider yourself a "floor person," the Plufl will make a great upgrade compared to sitting or lying on the floor without any cushioning.
If you want a spot to nap besides your bed, the Plufl provides a cozy napping spot outside your bed.
Who Should Not Try the Plufl
If you have mobility issues or can't easily get up from the floor, the Plufl may not be an ideal choice for you.
If you like to be higher off the ground while napping or resting, you're likely better off sticking with a couch or bed.
If you are looking for a budget-friendly option, the Plufl might be a bit spendy compared to a bean bag chair or other alternatives.
How to Use the Plufl
Using the Plufl is pretty simple: just lay in it however you want! However, there are some features worth pointing out that you can utilize as you are napping. Additionally, assembly is required before you'll be able to use it.
When you first receive your Plufl, you'll have to put it together. Plufl provides thorough instructions that guide you through exactly how to do it. Once it's assembled, set it up in your area of choice in your home.
You can sit up, lay down, or even curl up in the Plufl — your imagination is the limit when it comes to cozying up on this product. The bolsters provide back support when sitting up, can function as a pillow when laying down, and work as a body pillow or bolster pillow to snuggle into if you are lying on your side.
Additionally, the Plufl features a pocket on the exterior of the bolster, which makes a convenient spot to stash your phone, a book, or anything else you might have with you.
What the Plufl Is Made Of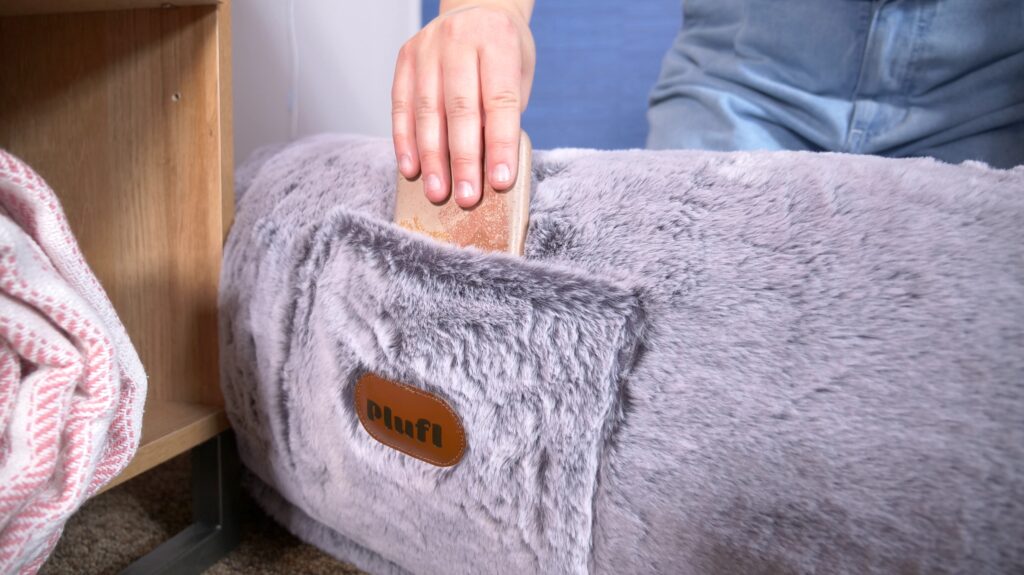 Now let's talk about what exactly the Plufl is made of.
The base of the Plufl, which is the part you lay on, is made from gel-infused memory foam. It's a bit like an oval-shaped memory foam mattress topper — thick, plush, and supportive. The bolsters, which make up the thick, raised edge of the bed, are basically oblong pillows, stuffed with a polyester cotton filling. Both the base and bolsters are encased in a polyester faux-fur cover with an ultra-soft, minky feel.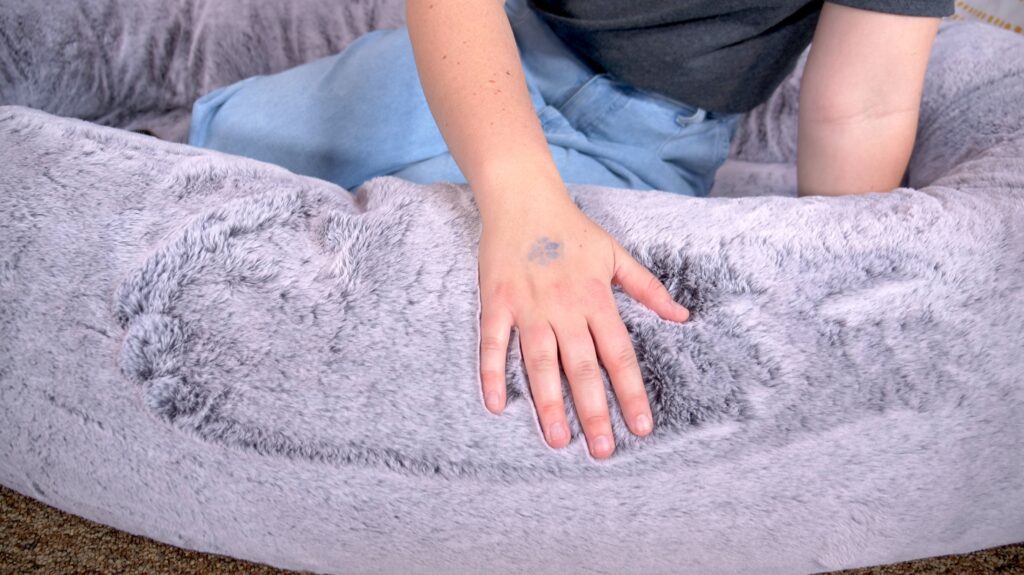 There is a pocket with a Plufl logo on the outside of the cover, as well as handles on each end which make it easier to move the Plufl around.
Additionally, the Plufl is about 68 inches long and 33 inches wide. It only comes in one size.
My Experience Using the Plufl
I really enjoyed testing out the Plufl! I've been excited to test this product since I first saw it on TikTok and it really lived up to my expectations.
Assembling the Plufl was fairly easy. I did it by myself, but I would recommend getting a buddy to help you out, as there were some moments where another hand would have been helpful. Funny enough, I had recently assembled an actual dog bed not long before assembling my Plufl, and it was remarkably similar, just on a much larger scale for the Plufl.
Once it was assembled, I laid right down into plush memory foam and soft, fuzzy fabric. It was everything I had hoped for — cozy, comfortable, and easy to snuggle into. The Plufl is easily long enough for me to sit up in, which makes for a comfy spot to read or work on my laptop. However, I'm only about 5 feet and 5 inches tall, so I think people who are considerably taller than me might not be able to fully stretch their legs out in the Plufl while sitting up.
I also found it pleasant to curl up and nap in it — although I definitely couldn't lay down in it with my legs fully extended. If I lay down with my head resting on the bolster and my legs fully stretched out, my feet hang off the edge. I was happy with how plush and cushioning the base of the Plufl is — I didn't feel any pressure from the hard ground below.
There have been so many times I've looked over at a dog asleep in their bed and been jealous of how cozy and comfortable they look, but with the Plufl, I was finally able to achieve that level of coziness for myself!
Price & Policies
Right now you can purchase a Plufl for $499 at full retail price. At the time of publishing, it's also available on Amazon for $399. They are available in two different colors: Biscuit and Arctic Gray (the one I tested is the Arctic Gray shade).
Plufl offers free shipping within the continental United States and in Canada. They also offer a 30-day return policy.
Final Thoughts
All in all, I think the Plufl is a great product for folks who love to be cozy. It's definitely a niche product, but for the people who want to create a special, cozy spot to relax, nap, read, watch TV, or play games, I think this is a great option — and one you can carry around to different rooms of your home if you'd like. However, it may not be the best choice for folks who struggle with getting up off the floor, as this product is intended to lay directly on the ground. And for budget shoppers, it does come at a fairly high price. However, overall the product is well-made and high-quality, is easy to assemble, and comfy to lay in!
Other Products To Try