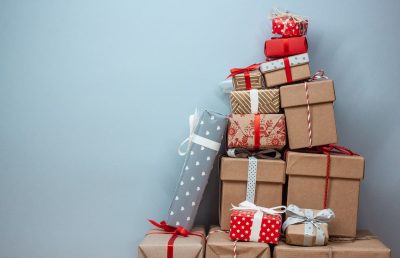 With the holiday season approaching, many of us are starting to think about what gifts to buy for the loved ones in our lives. Why not give your friends and family the gift of good sleep? Okay, while you might not be able to literally give them good sleep, you can help with a fantastic sleep-related gift.
Here at Sleepopolis, we spend all year testing mattresses, pillows, sheets, mattress toppers, and tons of other sleep accessories — we know a thing or two about the best sleep products on the market. To help you shop for all the sleep lovers in your life, we put together a guide of the best, most giftable sleep products we've tested.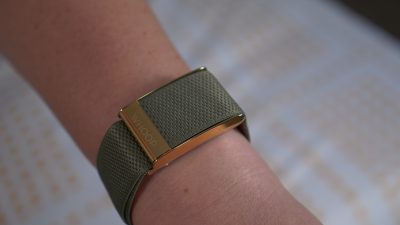 For the gym junkie or health and wellness devotee in your life, the WHOOP 4.0 sleep and fitness tracker is a fantastic gift. It's a sleek wristband that monitors your recovery, sleep, training, and health. The tracker works in conjunction with an app on your phone. Using the data from the tracker, the WHOOP app works as your personal coach to give personalized suggestions.
In our testing, we found it to be straightforward to use, but it still provided a lot of helpful, in-depth information. WHOOP also takes a positive approach, offering tips on how to improve your health instead of shaming you for your current behaviors.
Plus, it's available in a variety of color options and can even be engraved for an additional cost.
To buy the WHOOP as a gift, you can prepay 12 or 24 months of the membership for $300 or $480, respectively. The WHOOP band itself is included, as well as all future hardware generations. To learn more, check out our full WHOOP 4.0 review.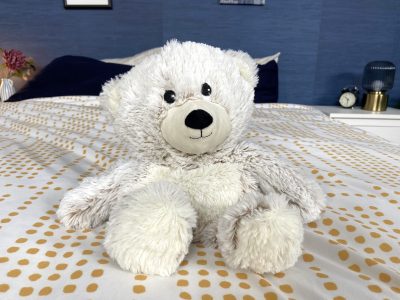 For the kids — or kids at heart — in your life, the Warmies heatable stuffed animals are a great gift option. Warmies stuffed animals are slightly weighted and scented with French lavender. They can be heated in the microwave, like a warm compress, to provide a soothing, warming, and comforting effect as you snuggle up with them. Or, you can chill them in the freezer for cooling relief.
Warmies offers dozens of delightful and whimsical stuffed animals — odds are they have your giftee's favorite animal as a Warmie plush. They offer quite a few of my favorite animals: red pandas, otters, penguins, and cats. They even have an octopus, platypus, and dinosaur!
Warmies also offers a variety of other heatable products and you can even bundle a few together for an upgraded gift option. They offer bundles of multiple stuffed animals, a sampler pack (a 13-inch plush, 9-inch plush, and neck wrap), and spa pack (neck wrap, slippers, and eye mask). I tested a Warmies neck wrap, eye mask, and stuffed animal and found all of them wonderfully cozy and comforting.
A 13-inch Warmies plush is $29.99 and a 9-inch is $14.99 at full retail. Prices vary for bundles and other products. Our full Warmies review is coming soon!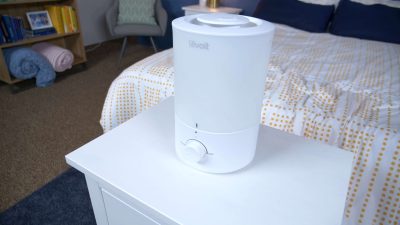 When making your holiday shopping list, a humidifier might not be the first thing that comes to mind. But if you are all about practical gifts, a humidifier is a great option. If you have a loved one who lives in a dry area, who frequently struggles with sinus and respiratory health, or who has a baby, a humidifier can be a thoughtful and useful present.
The Levoit Dual 150 Ultrasonic Cool Mist humidifier makes a great gift because it also doubles as a diffuser. You can add essential oils for a scent or a little aromatherapy action. Plus, it is small enough to fit in just about any bedroom, has a directional mist nozzle, and it looks sleek.
I found this humidifier really easy to use, so you can feel good about gifting it — you won't be giving your giftee a gift that is difficult to use or requires a ton of maintenance.
The Levoit Dual 150 Ultrasonic Cool Mist humidifier costs $43.99 on Amazon at full retail. To learn more about it, check out our full Levoit Dual 150 Ultrasonic Cool Mist humidifier review.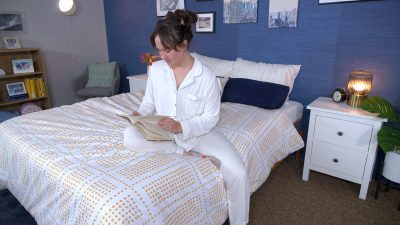 If you're shopping for someone who loves the little luxuries in life, look no further than the Cozy Earth Bamboo pajamas. Cozy Earth is a brand that's all about creating ethically-made, premium-quality products and personally, I'm a huge fan of them. Cozy Earth offers a variety of pajamas and loungewear, but I tested out their Long Sleeve Bamboo pajamas, which have a classic design with a collared, button-up top and loose, drawstring pants.
The bamboo fabric used to make these pajamas is luxuriously silky, cooling, and super comfortable. It's also moisture-wicking, so if you do happen to get the night sweats, it will evaporate quickly. The quality is also fantastic — I've been wearing these pajamas for months and they are still just as soft as when I first took them out of the packaging. There are no signs of pilling or other deterioration. Plus, Cozy Earth actually backs these up with a 10-year warranty if you do run into any defects.
The Cozy Earth Long Sleeve Bamboo pajamas cost $175 at full retail price. Cozy Earth also offers other similar pajama sets at various price points. To learn more about these ultra-cozy jammies, head over to my full Cozy Earth Long Sleeve Bamboo pajamas review.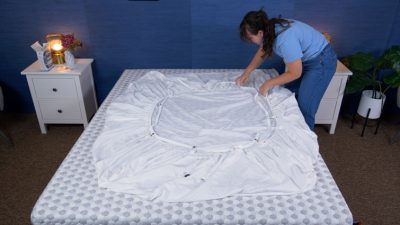 Do you know someone who absolutely hates their fitted sheet popping off the mattress? Or maybe who loves the look and feel of a wrinkle-free sheet? The Bed Scrunchie could be just the gift for that person on your list.
The Bed Scrunchie is a "360-degree bed sheet holder, tightener, and extender." Essentially, it holds the fitted sheet tight to the mattress so it can't shift or come loose. It's easy to assemble and use, making it a convenient solution to an ill-fitting fitted sheet.
When I tested the Bed Scrunchie, I put it through the ringer — rolling around the bed, jumping on the bed, and even trying to get the sheet loose from the bed. It stayed put no matter what.
The Bed Scrunchie costs $39.95 on Amazon at full retail. Learn more about it in our full Bed Scrunchie review.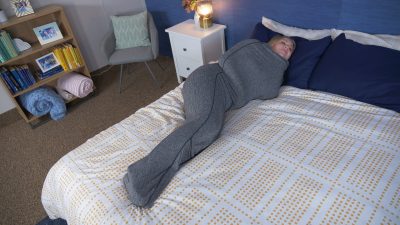 The next item on this list is a little more out there, but for the right person it could be the perfect gift. The Sleep Pod by Hug Sleep is essentially an adult swaddle and gained popularity after appearing on the hit show Shark Tank. It's designed to make you feel like you are receiving a gentle hug, reducing anxiety and helping you to fall asleep easier.
There are a few different versions of the Sleep Pod, but all are a bit like a fitted sleeping bag — a stretchy sack that you climb into and pull up over your shoulders for a full-body swaddling effect. For the Sleep Pod Move, which we tested, there's a flap at the bottom for your feet, so you can either tuck them in or keep them out.
In testing, we found the Sleep Pod's material to be buttery soft, breathable, and stretchy. It provides a snuggly and cozy vibe that anyone who loves being snuggled or wrapped up will likely enjoy. It's also a great option for folks who like the idea of Deep Pressure Therapy (DPT) from weighted blankets, but don't want to sleep under a heavy blanket all night.
The Sleep Pod Move is $119.99 at full retail, while the original pod and the kids' pod are $99.99. You can also upgrade to the Hooded Sleep Pod Move for $129.99. To learn more about this unique sleep product, check out our full Hug Sleep Pod review.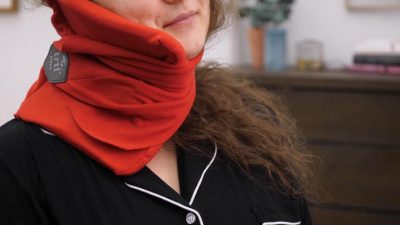 Shopping for a frequent traveler this holiday season? If your jet-setting loved one doesn't have a trusty travel pillow yet, consider gifting them the trtl Travel Pillow. This travel pillow is unlike any other — it resembles a cross between a neck brace and a scarf more than a conventional travel pillow. It actually functions somewhat like a neck brace, with a C-shaped plastic support system tucked in the cover fabric that keeps your head and neck in a safe position as you sleep on a plane, train, or in the passenger seat of a car.
In testing, we found the trtl Travel Pillow to be extremely effective at providing head and neck support to sleep comfortably. No more sore necks or awkward struggles to find a comfortable sleeping position! Plus, it's lightweight, compact, and easy to store on the go.
The trtl Travel Pillow is $59.99 on Amazon before sales. To learn more about it, check out our full length trtl Travel Pillow review.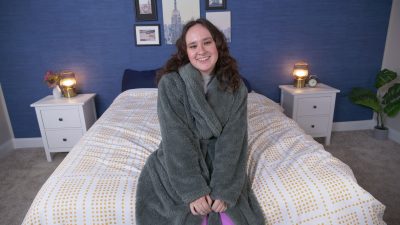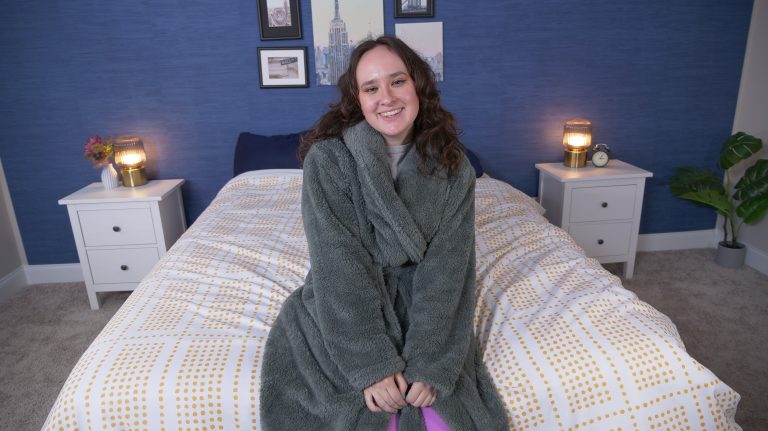 Do you know someone who feels like they have the weight of the world on their shoulders? Usually that phrase means someone is stressed, but Gravity has reversed the meaning with their Fleece Weighted Robe. It features a weighted collar to provide a relaxing, stress-relieving effect.
The robe is a classic bathrobe design, with a two-lapel collar and a rope belt to tie the robe shut, as well as a pocket on each side. The robe is made from an ultra-soft, fuzzy polyester fleece and features a three-pound weighted insert in the collar.
The Gravity Fleece Weighted Robe is available in four sizes and costs $130 at full retail. For a more in-depth look, check out our full Gravity Fleece Weighted Robe review.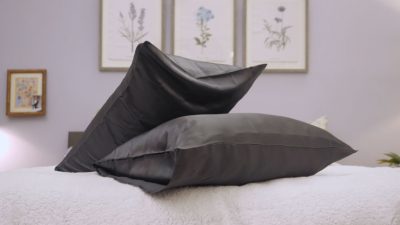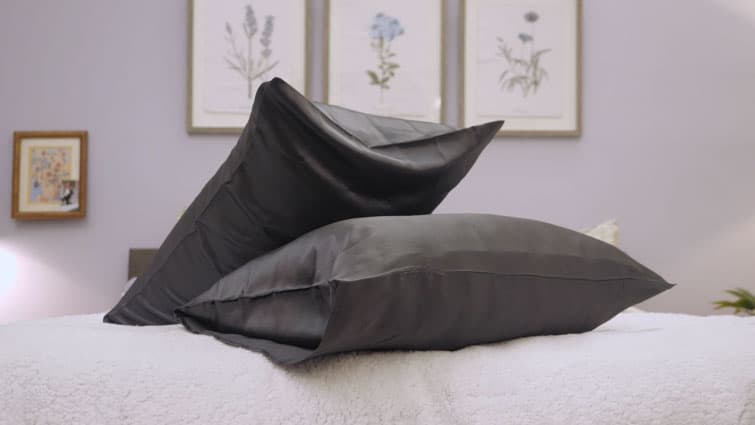 If you have someone on your shopping list who puts a lot of effort into their hair and/or skin routines, the Brooklinen Mulberry Silk pillowcase is a great gift choice. Silk pillowcases are slick and less absorbent than cotton, making them popular for skin and hair care. Nighttime face creams or even natural facial oils are less likely to be absorbed by a silk pillowcase — and the smooth material is hypoallergenic and soothing. For hair, the lack of absorbency and lack of friction prevent frizz and "bed head."
The Brooklinen Mulberry Silk pillowcase is made with high-quality charmeuse-woven Mulberry silk — it's both luxuriously smooth and super durable. It's available in a standard or king size and a variety of color and pattern options.
This Mulberry Silk pillowcase from Brooklinen costs $59 at full retail. To learn more, read our full Brooklinen Mulberry Silk pillowcase review.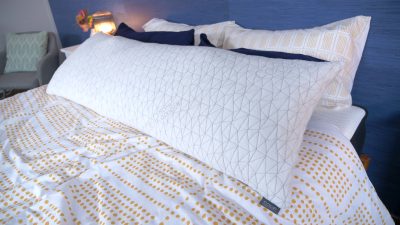 Body pillows are popular among side sleepers, pregnant people, people with chronic pain, and many other sleepers for the support and pressure relief they can offer. For someone on your list who falls into one of these categories, a body pillow like the Coop Home Goods Body pillow could make a wonderful gift.
The Coop Home Goods Body pillow is filled with shredded foam and microfiber. This fill is adjustable, so you can open the pillow and remove fill to lower the loft and adjust how the pillow feels. That's great for gifting, as the receiver can adjust the pillow how they like it. Additionally, the cover is soft and uses bamboo for a cooling effect. The cover is also machine washable!
I loved how this pillow felt when I tested it out — I found the memory foam fill conforming around my arms and legs super cozily, but the pillow was still firm enough to provide support while lying on my side.
The Coop Home Goods Body pillow costs $80 at full price. Learn more about it in our full Coop Home Goods Body pillow review.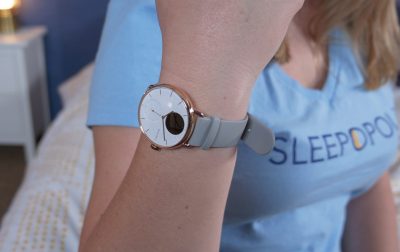 The Withings ScanWatch is another sleep and fitness tracker, but it also serves as a functional watch. It could be a great gift option for the health and wellness junkie in your life who also values style.
The watch has a classy, stylish, and functional analog watch design, so it doesn't immediately stick out as a fitness tracker. The tracker works in tandem with an app, which is free to download. In our testing, we found it easy to set up and found the tracking to be really thorough, tracking the amount of sleep our tester got down to the minute.
The tracking also isn't based on sleep debt, so the tips for improving your sleep routine don't shame you for getting less sleep one night. Additionally, the watch has a 30-day battery life, so no worries about constant recharging.
The Withings ScanWatch costs $275.95 at full retail. Learn more about it in our full Withings ScanWatch review.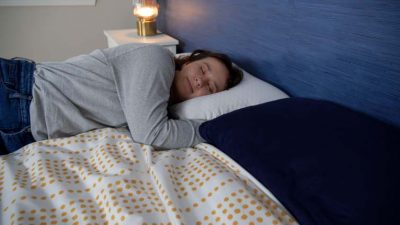 Shopping for a pillow for someone else can be tricky, but the Purple Harmony pillow is a good bet for a variety of different sleepers. The Purple Harmony is made with a core of latex foam and a breathable cover lined with a thin layer of the Purple Grid, a hyper-elastic polymer.
This pillow has a bouncy, buoyant feel and a medium firmness, making it a good choice for a variety of sleepers. It's also available in three different lofts, which allows you to choose the height that is best suited to your giftee's primary sleeping position.
Another great perk of the Purple Harmony is that it sleeps super cool, thanks to the latex and Purple Grid. It even feels cool to the touch. The Purple Harmony is one of my favorite pillows I've ever tested because it's perfectly supportive and comfortable.
The Purple Harmony pillow is $179 for a standard size at full price. If you want to learn more, check out our full Purple Harmony pillow review.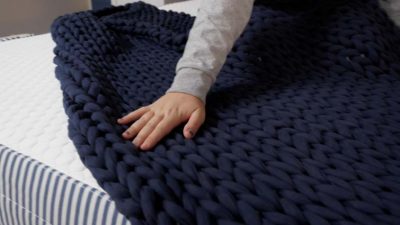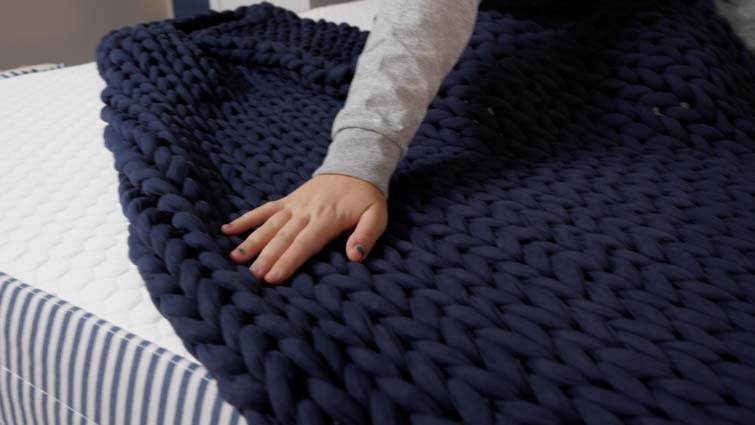 If you're shopping for someone who could benefit from a weighted blanket — maybe they experience a lot of anxiety, stress, or trouble calming down — the Bearaby Cotton Napper is a great choice for a gift.
This weighted blanket is made from a blend of organic, long-staple cotton and spandex. It's hand-knit in a large, open weave to form the blanket. What's really cool about the Cotton Napper is that it doesn't have any filling — the weight of the blanket comes solely from the weight of the fabric itself. That makes it a great option for anyone who has kids or pets in the house because there's no possibility of a choking hazard if the blanket tears, like there could be with more traditional weighted blankets.
The Cotton Napper feels super soft to the touch, like an old, worn T-shirt. It's also very breathable and has a nice textured feel, thanks to the chunky knit. The blanket is also completely machine washable, which is a rarity among weighted blankets.
The Bearaby Cotton napper comes in a few different weights and colors. For a 15-pound blanket, it costs $249 at full retail. Learn more about this weighted blanket in our full Bearaby Cotton Napper weighted blanket review.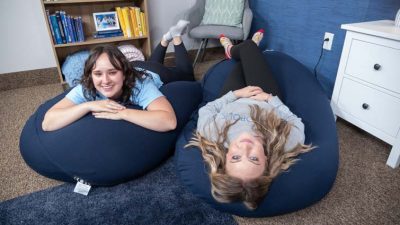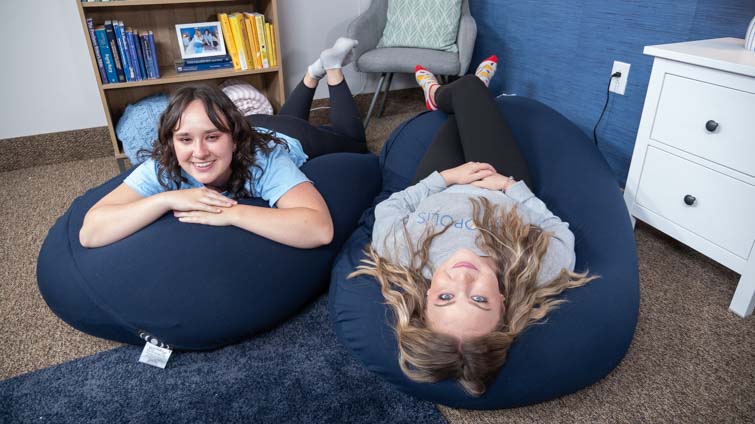 For a loved one who loves to lounge, look no further than the Moon Pod. This "adult bean bag" makes a great spot to sit, recline, or even take a nap.
It's just like a regular bean bag, but with a more oblong shape — more of a hotdog than a hamburger shape. It's filled with high-density beads that morph around your body to provide more support than a traditional bean bag. When you sit in the Moon Pod, it forms a "chair" shape so you can sit upright to watch TV, read a book, or play video games with back support.
The Moon Pod is available in five different colors and has a removable, washable cover. It currently costs $400. For more information, head over to our full Moon Pod review.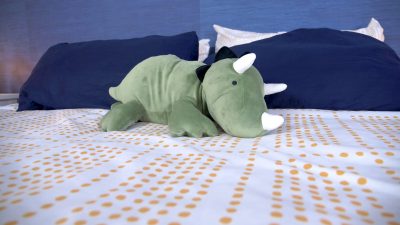 Another great present for kids and adults alike is the Weighted Plush Throw pillow from Target's Pillowfort™ brand. You might recognize this stuffed animal from TikTok — it started going viral on the app earlier this year as a popular anxiety-relief item.
This stuffed animal is weighted with polyester fiberfill and pellets to provide a calming sensation when you are snuggling up with it. I tested out sleeping with this dino stuffed animal for a week and found it extremely comforting. It's ultra-soft and velvety and the weight makes it feel a bit like cuddling with a pet.
This weighted plush is available as a green dinosaur, pink dinosaur, cheetah, or unicorn. It costs $20 at Target at full retail. You can learn more about it in our full Weighted Anxiety Stuffed Dino review.
Final Thoughts
Well folks, that's all for this gift guide. For more sleep gift ideas, be sure to check out our roundups of the best pillows, best sheets, best mattress toppers, best humidifiers, and best weighted blankets. Or if you want to go all out for yourself or a loved one this holiday season, check out our best mattresses!