If you're on the prowl for the perfect side sleeper pillow but aren't sure where to start, you've come to the right place. In this guide, I'm presenting my top four favorite pillows for side sleepers, as well as some expert tips and tricks for choosing the right one. And don't worry — I picked a variety of materials, firmnesses, and prices so that every shopper can find their ideal match!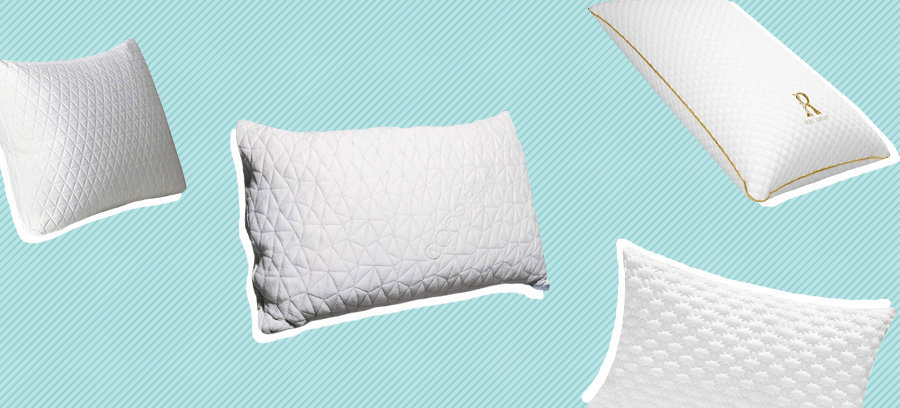 Editor's Pick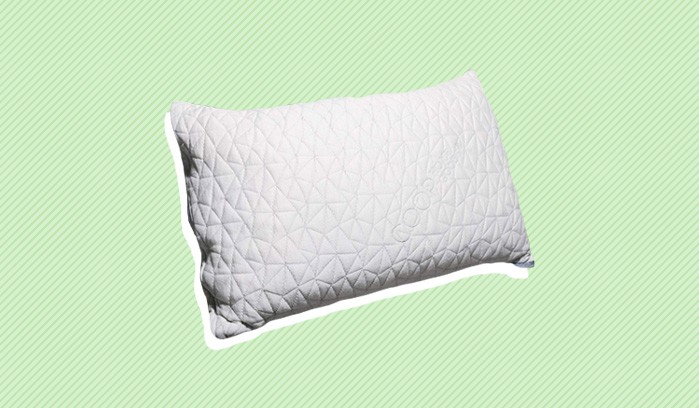 Coop Home Goods Memory Foam Pillow
Covered in bamboo-based fabric and stuffed full of shredded memory foam, this pillow is plush, supportive, and perfect for side sleepers. Plus, it features an adjustable fill that lets you manipulate the loft and firmness to your liking. 
Pros
Its cover fabric is made from a blend of bamboo and polyester, both of which are moisture-wicking materials. Additionally, it's easily removable and machine washable. 

This pillow is filled with shredded memory foam, and strikes a cozy balance between plush and supportive. It's also adjustable, which gives you the chance to personalize the loft and firmness to your liking. 

It comes with an additional bag of internal fill for folks who want an

extra

firm and lofty pillow.
Cons
In order to make this pillow's profile low enough for stomach sleepers, you should remove a considerable amount of internal fill. 

Wash care can be kind of a hassle, as you have to remove all internal fill before washing the cover fabric separately. 
Coop Home Goods Memory Foam Pillow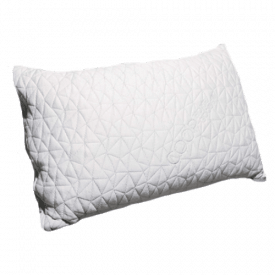 Coop Home Goods Memory Foam Pillow
The Coop Home Goods Memory Foam Pillow is filled with shredded memory foam and has a nice blend of plush comfort and support.
Best for Hot Sleepers
Royal Therapy Memory Foam Pillow
This pillow is covered in a soft, breathable, and moisture-wicking bamboo fabric that's ideal for sleepers who run hot. It's filled with shredded memory foam and offers a medium-firm feel, perfect for back and side sleepers. 
Pros
With its diamond-quilted, embroidered pillowcase, this pillow is as stylish as it is cozy.

This pillow is filled with shredded memory foam, which promotes better breathability as compared to one solid piece of foam. 

The cover fabric is made from a naturally moisture-wicking material, ideal for hot sleepers prone to night sweats. 
Cons
While this pillow is technically adjustable, things might get a little messy if you don't store the internal fill in a separate bag. 

This pillow has a lofty profile and medium-firm feel, which is not ideal for stomach sleepers. 
Royal Therapy Memory Foam Pillow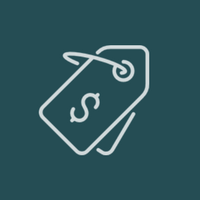 Royal Therapy Memory Foam Pillow
The Royal Therapy Memory Foam Pillow is stylish, cozy and ideal for hot sleepers.
Most Affordable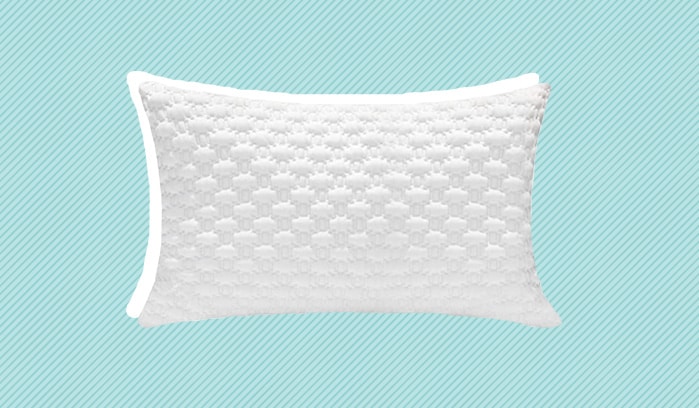 Milemont Memory Foam Pillow
If you're looking for a budget-friendly memory foam pillow that's perfect for side sleepers, this is a great way to go. It's covered in a soothing rayon fabric and filled with shredded memory foam, both of which are 100% CertiPUR-US certified. 
Pros
The materials used to make this pillow are CertiPUR-US certified, which means no harsh chemicals, pesticides, or dyes were involved in the manufacturing process. 

This is very reasonably priced for a memory foam pillow, making it a great pick for shoppers on a budget. 

This pillow has a medium level of loft and firmness, which makes it compatible with both back and side sleepers. 
Cons
Stomach sleepers will probably find that this pillow is a bit too firm and high-lofted. 

Unfortunately, there is no way to adjust the loft and firmness of this pillow. 
Milemont Memory Foam Pillow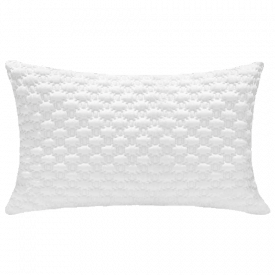 Milemont Memory Foam Pillow
The Milemont Memory Foam Pillow is reasonably priced and has a medium level of loft and firmness.
Firmest Feel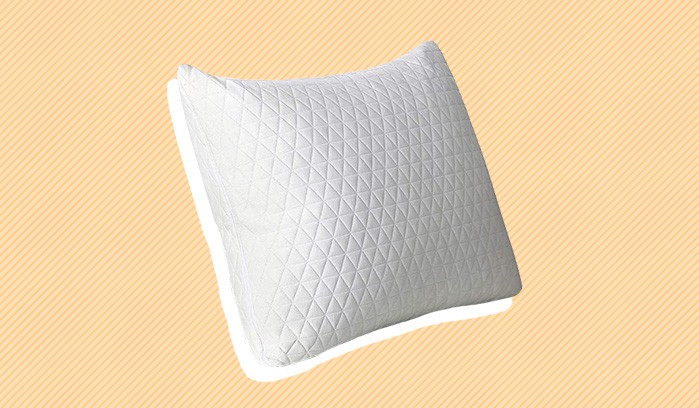 INGALIK Memory Foam Pillow
Covered in a bamboo blend and filled with shredded memory foam, this pillow is perfect for side sleepers in search of something firmly supportive. It comes in a variety of sizes, features an adjustable fill, and can be washed and dried from the comfort of your home. 
Pros
While the majority of memory foam pillows can only be spot-cleaned, this one can be washed and dried by machine. 

This pillow has an adjustable fill, which means sleepers of all styles can personalize its loft and firmness until it's just right. 

Its double zippered pillowcase design lets you wash the cover fabric

without

having to remove all the internal fill piece by piece! 
Cons
This pillow is a pretty good value for its high quality materials, but is still not going to fit in every shopper's budget. 

You may find that this pillow needs to be put through several dry cycles until it's completely dry. 
INGALIK Memory Foam Pillow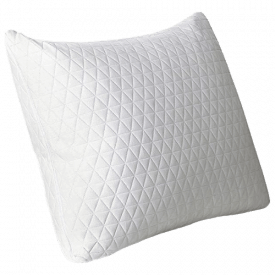 INGALIK Memory Foam Pillow
The INGALIK Memory Foam Pillow is machine washable and has an adjustable fill.
How We Picked
When it comes to picking the pillow that's best suited to your sleeping position, spine alignment is the name of the game. For side sleepers, it's typically best to use a pillow that's firmly supportive with a lofty build. This way, when you're on your side, your shoulder is getting pressure relief and your head is held in neutral alignment with your spine. And once you've found a side sleeper pillow that does all that, you can dive deeper into the details.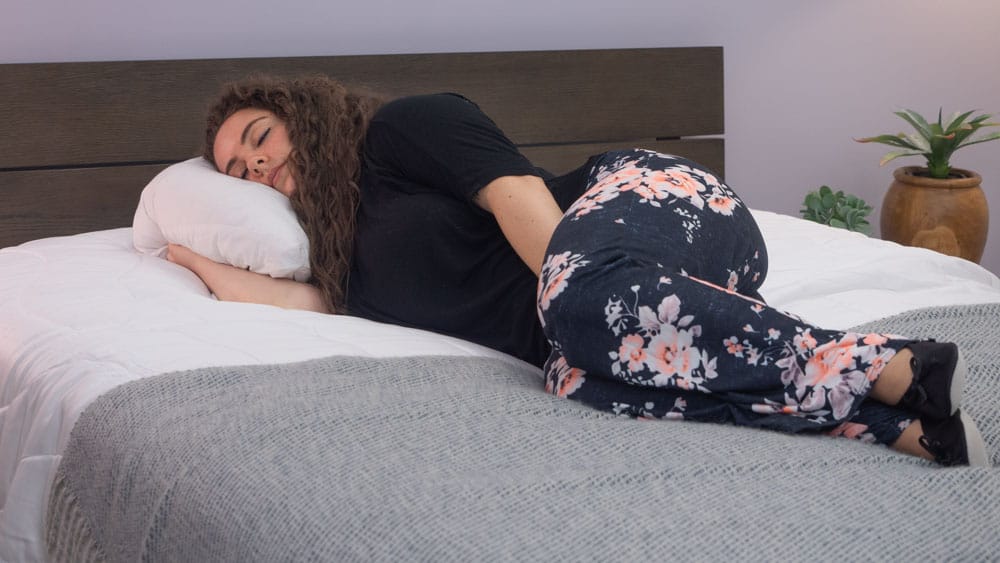 Loft
As I said, the first thing you want to pay attention to is the loft, or height, of the pillow. In general, side sleepers should aim for a pillow with a loft of 4 inches or taller. If you're taking a side sleeper pillow for a test run, ask yourself these questions:
Is this pillow lofty enough to keep my head, neck, and spine in neutral alignment?
Is this pillow so lofty that it cranes my neck upwards, out of alignment with my spine?
Is this pillow's loft relieving pressure in my shoulder?
When it comes to a pillow's loft, there's a bit of a Goldilocks situation going on, and it's important to find the height that's just right. The pillow should be lofty enough to support the natural C-curve of your spine, but not so lofty that your neck is too elevated. Conversely, a pillow that does not relieve pressure in your shoulder, or lets your head sink down past your shoulder is not lofty enough.
Firmness
Once you've landed on the loft that's right for you, it's time to examine the firmness. Though it can be tempting to just pick the pillow that feels the fluffiest, side sleepers should stick with pillows that advertise a medium-firm or firm rating. A pillow that's too soft is much more likely to compress over the course of the night, causing your head to sink down, out of alignment with your spine.
Though a firmer pillow can take some time to get used to, it's going to do a better job of holding your head in line with your neck and spine (which alleviates neck pain!). Not to mention, it's important to remember that side sleepers rest with one shoulder pressed into the mattress. Using a lofty, firm pillow goes a long way in relieving pressure in that shoulder, and makes sure it's not bearing the brunt of your body's weight.
Internal Fill
Okay, you've got the loft and firmness squared away… Now what? Well, in my opinion, diving into the internal fill is the fun part! Take some time to consider what materials and fabrics you're most compatible with. For example, sleepers who prefer a moldable pillow with a slow response to pressure are well-suited to memory foam, while those who prefer light, springy support are better off with latex. Here are some key things to keep in mind when you're thinking about a pillow's internal fill:
Memory Foam – Memory foam is known for its slow response to pressure, but can come in many different forms. When you see the words "traditional memory foam," you're working with one solid piece of foam.Meanwhile, shredded memory foam pillows are filled with popcorn-sized pieces of foam. Personally, I opt for shredded foam because it tends to do a better job of dissipating body heat.Lastly, some pillows feature a blend of shredded memory foam and other materials, which can be great for sleepers looking to experiment with different types of support.
Latex – Pillows that are filled with Dunlop or Talalay latex tend to be lighter in weight as compared to memory foam, and typically offer a much quicker response to pressure. Sleepers who prefer to rest on top of the pillow rather than deeply sink into it will likely be more compatible with the buoyant support of latex.
Down & Down-Alternative – Sleepers who prefer a feathery, fluffy feel will be best suited to pillows filled with down, or down-alternative. However, these materials tend to provide a softer level of firmness, so if you do opt for down or down-alternative, make sure it's got a very lofty build. The more feathery a pillow feels, the more likely it is to compress overnight.That said, side sleepers who like to fold their pillow or tuck an arm underneath might find that pillows filled with down or down-alternative are easier to manipulate!
Cover Fabric
Because the cover fabric is the first thing you feel when your head hits the pillow, it's important to consider what you want your cover fabric to feel like. Hot sleepers, in particular, should aim for cover fabrics that are naturally moisture-wicking and breathable. Polyester, lightweight cotton, Tencel, and anything bamboo-based are ideal for wicking sweat and dissipating body heat.
Additionally, some bedding brands (like Layla Sleep) weave copper and/or graphite into the fabric to boost cooling properties. If you've got allergies or sensitive skin, I suggest digging through a pillow's "product description" to find out whether the cover fabric is hypoallergenic, antimicrobial, or made from organic materials.
Adjustable Fill
While side sleepers should look for a pillow with lofty profile, an adjustable fill allows you to customize the loft and firmness to your liking. If you purchase a very lofty pillow and find that you want to decrease the height a bit, all you have to do is unzip, reach in, and fine-tune the stuffing until you reach the loft that's best for you.
An adjustable pillow is particularly beneficial for combination sleepers who usually sleep on their sides, but dabble in back and stomach sleeping as well. Additionally, adjustable contour pillows (also known as cervical spine pillows) allow sleepers to manipulate the fill within the pillow. Essentially, this lets you experiment with the loft and firmness until it's perfectly suited to your unique shape.
Shape
When you're shopping for the perfect side sleeper pillow, you'll notice that there are two main shapes from which to choose: traditional and contoured. A traditional shape is what most of us are familiar with, and features a standard, rectangular design.
A contour pillow, on the other hand, features a curved design meant to adapt to the shape of your head, neck, and shoulders. Contour pillows are also referred to as cervical spine pillows, as they are intended to support neutral spine alignment in back and side sleepers, specifically. Some contour pillows are built strictly for side sleepers, and typically feature a long, J-shape, or have two taller sides with a lower lofted center. Again, the idea behind a contour pillow is to keep your ears in line with your shoulders, and your chin in line with your sternum.
Meanwhile, contour pillows that are shaped more like a boomerang are great for back and side sleepers. Typically, these pillows feature two sides with higher loft (which is ideal for side sleeping), and a low-lofted middle area for back sleepers. If you opt for a contour pillow, I suggest taking some time to consider which shape is best for your body and your sleep style.
Price
Finding a great value is worth the effort, but remember — a pillow that's suspiciously inexpensive can be a warning sign of low-quality materials. Of course, your sleep accessories shouldn't break the bank either, so I suggest looking for pillows that offer a trial period.
A generous trial period and warranty inspires confidence in the shopper, and lets you know that brand proudly stands by its product. Not to mention, being able to try before you buy gives you some time to determine whether or not it's really worth the dough!
Sleepopolis Pro Tips
Not everyone has the means or the time to dedicate to complicated wash care, so I suggest checking a pillow's care instructions before you make your purchase.
Be on the lookout for materials that are antimicrobial and/or hypoallergenic. Dustmites, mold and mildew are very attracted to pillows and bedding (and can live there for a while), so I like to aim for fabrics like organic cotton, Tencel, and anything bamboo-based. These materials can serve to keep those icky allergens at bay, but you should still wash your pillow's cover every couple weeks.
If you're a hot sleeper shopping for a memory foam pillow, remember that a shredded fill typically does a better job of keeping you cool than a solid piece of foam does.
Final Thoughts
Well, we've reached the end of my guide, and you're that much closer to finding the perfect side sleeper pillow. Just remember: every body is unique, and our slumber habits evolve over time. So, take your time in finding the sleep accessories that match your unique needs. After all, a great night's sleep is always worth the effort. Happy shopping!
Sarah is the Senior Writer and bedding expert at Sleepopolis. Every week, she personally tests and reviews new pillows, sheet sets, and other sleep accessories. She accompanies every video review with a meticulously detailed article to ensure her audience has all the pertinent info they need for the best shopping experience possible. Perhaps that's why her fans have dubbed her "the most thorough pillow reviewer on the Internet." Having tested everything from sleep trackers to mattress toppers, Sarah's expertise runs deep and is always expanding. She received her degree in Creative Writing from Brooklyn College and spends her free time doing stand-up, making pasta, and hanging with her cats.